Technical Levels To Watch After Monday's Follow Through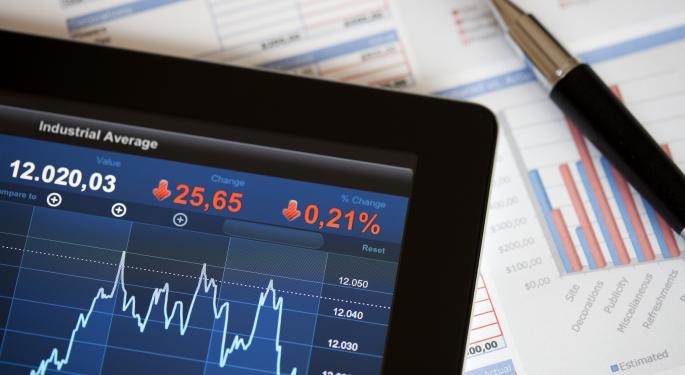 Monday, we saw markets do something that gave investors reason to be fearful: follow through.
After the worst drop of the year on Friday, the major indices fell sharply again Monday signaling that the correction that everybody has waited for could be in its beginning stages.
If you would push back saying that this is healthy bull market action, you may be right, but let's take a look at the charts for a bit more of an objective measure of where the levels are.
S&P 500
The S&P 500 closed at 1845.04—down 1.08 percent. Over April 4 and 7, the index was down 2.4 percent. Friday's selloff came with average volume but Monday, volume was significantly higher.
The selloff was also broad-based. No sector was spared.
Related: What Is Going On With The Financials?
But there is good news. The index bottomed at 1841.04—above its 50-day moving average of 1839.16. The charts also indicate a triple bottom going back to early March. It's definitely a bullish sign to see it hold this level three times, but equally bearish to see it unable to continue its breakout from the 1883 high.
If the index breaks its 50-day moving average, the only chart level below is the 1834 intraday low at the beginning of March. This means things could get ugly if it can't hold 1839. The stock is currently up 1864.50 or 0.68 percent.
Dow Jones Industrial Average
The Dow is in better technical shape than the S&P. It finished Monday down 166 points or 1.02 percent and has lost 2.3 percent since Friday. Both Friday and Monday's selloff came with higher-than-average volume, but the index didn't see such a large spike in volume Monday versus Friday.
The Dow reached an intraday low of 16,244.01 on Monday—well above its 50-day moving average of 16,141.62. If it does breach its 50-day, there are meaningful support levels below including 16,046.99. That may be moot, as the Dow is currently sitting at 16,389.59, up 0.82 percent.
NASDAQ
The NASDAQ, however, didn't look good. The big news over the past couple of trading days has been the en-masse-selling of tech names and when that happens, expect the NASDAQ to feel the pain. The index was down 1.16 percent Monday. Volume was sharply higher although Monday's volume was lower than Friday.
The index broke its 50-day moving average Friday and was 3.3 percent below the level. The index has shot back up to 4,164.92 in Wednesday's trading. Still, the NASDAQ could be considered that "falling knife" that investors are told never to catch. The performance of the NASDAQ proves that, at least for the short term, the market is in risk-off mode.
Posted-In: Dow Jones Industrial Average NASDAQ S&P 500Technicals Trading Ideas Best of Benzinga
View Comments and Join the Discussion!