Procter & Gamble Shares Under Selling Pressure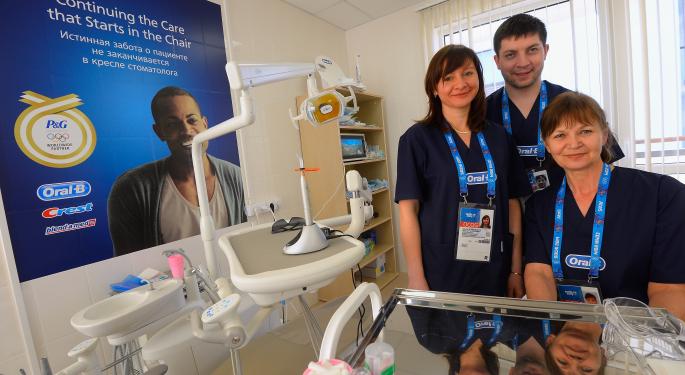 As the broad market inches towards new all time highs, one issue that is not fully participating in the rally is Procter & Gamble (NYSE: PG). In Tuesday's trading, Procter & Gamble is lower by 1.50 percent at $78.18.
Also, Procter & Gamble changes hands nearly eight points from its all time ($85.82) and less than three points away from its January 31 low ($75.26). The recent low coincides with major long term support for the issue at the 52 week low of $74.95.
If perusing the primary wire sources for information leading to the decline, you may not have found a reason for the sell off. On the other hand, if you had been following the Consensus Earnings Estimate EPS on Yahoo Finance, you would have noted a $0.021 downward revision for the quarter ending March 2014.
See also: Spotify May Be Eyeing An IPO
Procter & Gamble, which appeared to be heading towards the resistance at the $80.00 level off the open quickly reversed course in the first few minutes of trading. shedding a point and half within the first five minutes of the market open, reaching $78.14. As more investors digested the news, Procter & Gamble lost another $0.69 before finding temporary support at $77.56 and rebounding to $78.25.
Procter & Gamble, which posted better than expected Q2 EPS by $0.01, did so despite a decline in quarterly profit from $4.06 billion to $3.43 billion. The mixed news ignited a furious intraday rally from its previous close ($78.24) to an intraday high of $81.70. However, the issue was unable to sustain the gains and ended the session just off its low for the day at $79.18.
From that session on, Procter & Gamble drifted lower before bottoming at $75.26. The ensuing rebound was not able to surpass its closing on price on earnings day ($79.18), reaching $79.11 before turning South once again. Perhaps Tuesday's negative news was anticipated by shareholders calculating that any further declines in revenue would eventually have a negative impact on its EPS.
Another factor for the decline may be the disclosure after the close on Friday by Ackman's Pershing Square of a reduced position in Procter & Gamble in his recent 13F filing. There was no response to the news in the Friday's after hours trading or Tuesday's premarket action.
The company, which has been struggling to deal with Venezuelan currency exchange rate movements, that forced the Procter & Gamble to lower its guidance for 2014 on February 11. Procter & Gamble revealed that significant exchange rate movements in Argentina and other developing countries would have a negative on its core earnings.
Following the announcement, Morgan Stanley analyst Dara Mohsenian sees more headwinds from the currency rate fluctuations and reiterated an Equal-Weight rating. Procter & Gamble expects to incur one-time charges in the $0.08-$0.10 due to the revaluing of certain balance sheet items, which will be excluded from core EPS.
Any further adjustments to earnings based on currency fluctuations may have a more pronounced effect on the issue, as investors may lose confidence in the company to handle the problem. This is second time in the last two years such adjustments were necessary by Procter & Gamble, which appears to be the only multinational company having this problem.
From a technical perspective, Procter & Gamble is still trading three points above its major long-term support at $75. Investors that are confident the company will eventually overcome its missteps in the foreign currency arena, can invest in the issue which pays a three percent dividend, in anticipation of it catching up with the broad market and revisiting its all time high.
Posted-In: Dara Mohsenian Morgan StanleyTechnicals Movers Trading Ideas Best of Benzinga
View Comments and Join the Discussion!