S&P 500 Index ($SPX) & S&P 500 SPDRs (SPY) - Swift and Brutal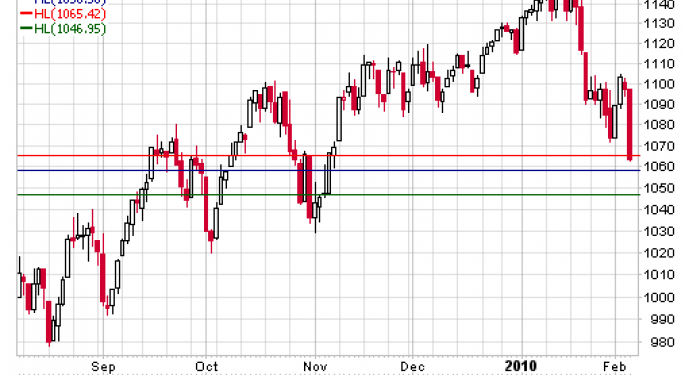 I said it many times. When the S&P 500 Index (NYSE:$SPX) reverses the action would be SWIFT and BRUTAL. Likewise the ETF- the S&P 500 SPDRs (NYSE: SPY) mimicked the action. The $SPX lost 34.17 points to close at 1063.11 and the SPY lost 3.39 to close at 106.44 as no mercy was shown to the Bulls.
The CCI indicator reversed its direction and closed below -100. As well the EMAs 4-9-18 remain in a inverted order which is not a bullish signal. With the reversal of the RSI(14) the descending channel of this indicator was preserved. All signs, to me, indicate that the preferred direction of the S&P 500 Index will be to the downside. It won't be a straight downhill plunge as there should be corrections along the way in search of support.
For the $SPX Index the close left it below a significant Fibonacci retracement level of 1065.42. Should there be a reaction "rally" in the next session there is significant resistance in the zone 1076 - 1080.
The close below the level of 1065.42 has set up a potential test of 1058.36 and 1046.9. Ultimately before this down leg is completed the Index might have to travel down to 1028 - 1026 to find support.
The calculated Resistance and Support values for the S&P 500 Index($SPX) are:
RESISTANCE
DR4- 1177.79
WR4- 1179.35
MR2- 1177.50
WR3- 1147.25
DR3- 1143.32
MR1- 1125.68
WR2- 1115.15
DR2- 1108.85
WR1- 1094.51
DR1-1085.98
WS1- 1062.41
DS1- 1051.51
WS2-1050.95
MS1- 1046.82
DS2- 1039.91
MS2- 1019.78
WS3- 1018.85
DS3- 1005.44
WS4- 986.75
DS4- 970.97
DEFINITIONS
DR-WR-MR

Daily Resistance- Weekly Resistance- Monthly Resistance Levels

DS-WS-MS

Daily- Weekly- Monthly Support Levels

DC

Daily Close of last Session
For the S&P 500 SPDRs (SPY) the daily Resistance and Support levels are:
DR4- 115.13
DR3- 112.52
DR2- 109.91
DR1- 108.17
DS1- 105.56
DS2- 104.69
DS3- 102.08
DS4- 99.47
Posted-In: CCI ETF Fibonacci ratiosBroad U.S. Equity ETFs Technicals Intraday Update Markets ETFs
View Comments and Join the Discussion!