How Are Corn And Soybean Prices Doing? Here's A Way To Play These Commodities With Low Collateral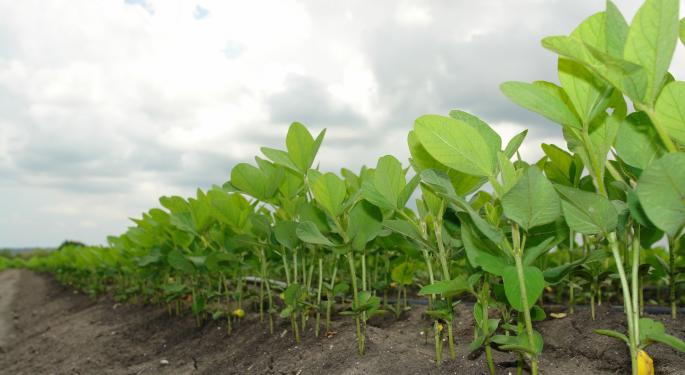 Corn prices experienced a steep decline this year, falling from above $440 to under $375.
Soybeans have also experienced a rough year, declining from around $1,030 to under $880.
So, one question arises: Is there a way for investors to capitalize from the continued decline?
After hitting historic highs earlier this year, corn and soybeans prices experienced steep declines as "better-than-expected crop yields, a flight of investment money out of commodities and the prospect of a global recession that will cut demand" led to an oversupply of the products, ABC News explained.
Consequently, many investors wonder how they could profit from these declines without actually being exposed to these quite volatile commodities.
Binary options might offer an interesting alternative.
Related Link: Natural Gas At 10-Year Low: One Way To Play Further Downside
What Are Binary Options?
Investing via binary options is just that: Playing a binary event. "Binary options are limited risk contracts based on a simple yes/no market proposition like will the markets go up by the end of the trading week," binary options trading site Nadex explained.
How To Trade Crops With Binary Options
Through binary options, people can invest in corn and soybean futures with relatively low collateral. Below are examples of how to trade corn and soybeans using binary options.
In the following example, the underlying corn futures market is trading around 375 and a trader thinks they will continue to decline. Thus, he chooses to Sell a binary option that looks something like Corn (Mar) > 375.0 (3PM).
If this imaginary investor believes corn futures would be trading above 375 at 3PM, it would have been best for him to Buy the binary options.
The case is very similar for soybeans, except for the fact that the contract would look something like this: Soybeans (Jan) > 877.0 (3PM) – in this example, soybeans trade at 877. If the investor believed soybeans would trade above 877, Buying the binary options would be the way to go. If, instead, he/she believed soybeans would continue to decline, he would be better off Selling the contracts.
Disclosure: Javier Hasse holds no positions in any of the securities mentioned above.
Image Credit: Public Domain
View Comments and Join the Discussion!
Posted-In: ABC News cornShort Ideas Commodities Options Top Stories Markets Trading Ideas Best of Benzinga