To Buy Or Not To Buy: A Nordstrom's Tale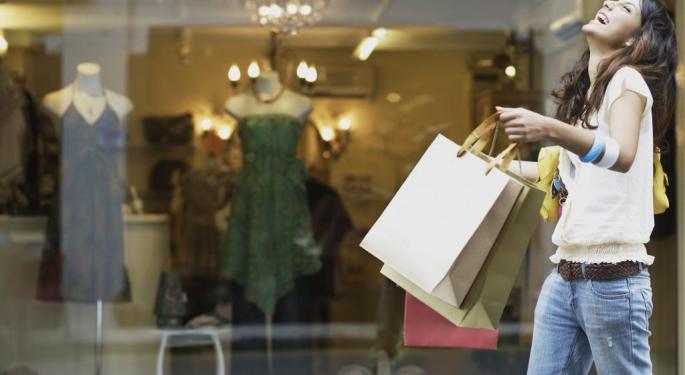 Editor's note: This article was originally published before Nordstrom reported earnings yesterday.
Sophia Prose is a young wardrobe stylist living in Chicago. Prior to moving to the Windy City, she styled country music stars in Nashville. So how did I cross paths with Sophia? She sent me a note via LinkedIn.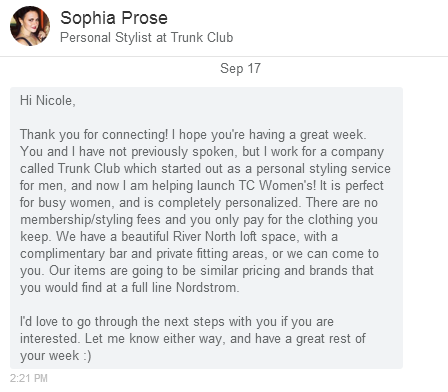 Now before you all start hitting me up on LinkedIn pitching me with the next best thing in financial services, let me say that I rarely, if ever, respond to LinkedIn notes. Sophia's note was well-timed. First, I'd been feeling a little frumpy lately. (Yes, it happens to the best of us.) With fall here I wanted to freshen up my look with some fab new pieces. But, between work and taking care of my 3-year-old son, I don't have a lot of free time to shop 'til I drop.
Second, my interest in Trunk Club had been piqued because a few of my male colleagues recently recommended that I check it out. Besides knowing that I'm always curious about new businesses, they thought the business model was perfect for someone like me. Prior to their acquisition by Nordstrom (NYSE: JWN), Trunk Club served an exclusively male audience, providing personal shopping services to time-pressed professionals. The Chicago location is the first to pilot an offering for women. I just had to check it out.
Try this on for size
On the day of the appointment, I arrived promptly after market close with my colleague, John Hart, who wanted to check out the men's offering. The receptionist greeted us and walked us to the bar where we enjoyed a complimentary glass of champagne while waiting for our stylists. Then Sophia came to meet me. We headed to the women's floor. The prior day, she had gone to the Chicago Nordstrom store and hand-selected items based on what I said I was interested in. She walked me to a beautifully appointed and delightfully feminine sitting area with a full-length mirror, couches, chairs, and a dressing room. And more champagne.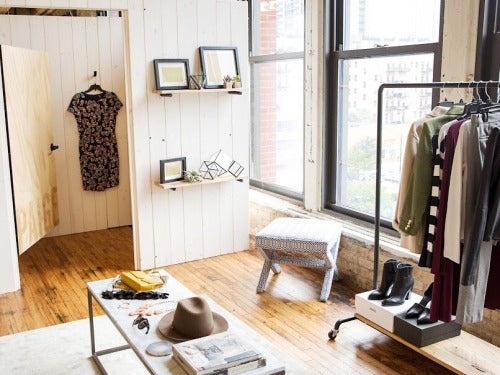 And then the fun began. She had a wide array of dresses, shoes, handbags, coats, jeans, and casual wear. All beautiful pieces that would have taken me hours to find if I was shopping on my own. The whole appointment took less than an hour, and I have to say, I had a wonderful time chatting with Sophia. It felt like I was hanging out with a bestie. When everything was said and done, here was the damage (thank God my husband never reads my tumblr):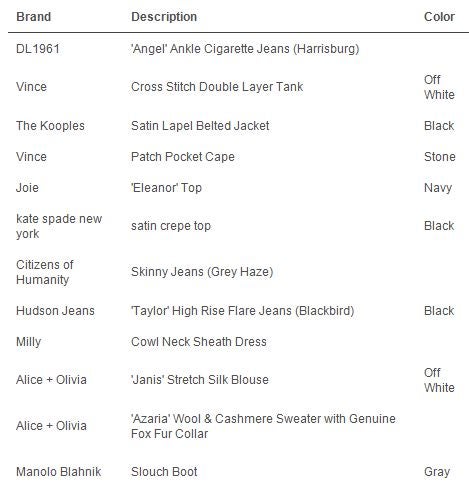 But it wasn't just me. John also found a lot of fantastic items: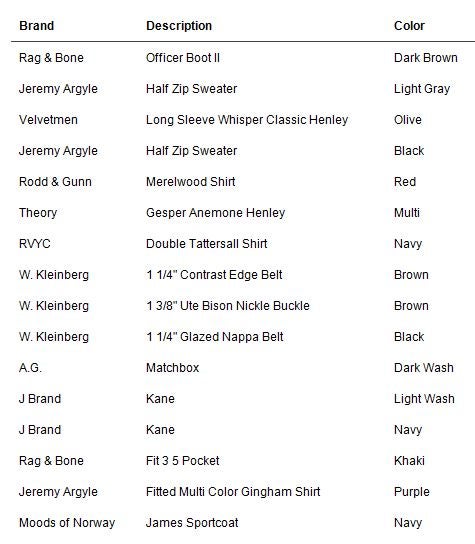 Where fashion meets finance
So I have to wonder, how might this new business line at Nordstrom going to show up in today's earnings? Word on the street in Chicago is that everyone is totally digging this new shopping experience. Even the local sports stars. People with big wallets.
In their 2014 Investor presentation, Nordstrom indicated that about 73% of their sales were from their full-price, higher-margin line. One thing I noticed at Trunk Club was nothing was on sale. It didn't need to be. They presented me with have-to-have items. The clothes were a definite buy. But does that mean the same for the stock?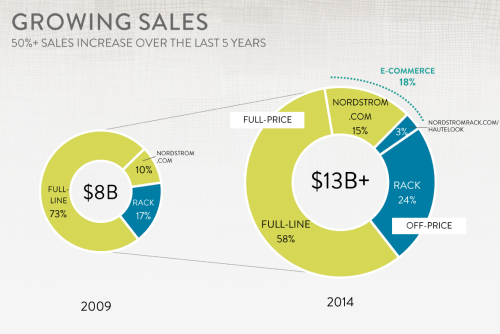 Market Maker Move in TD Ameritrade's thinkorswim trading platform is pricing in the potential for a $4.57 post-earnings move in the stock.* The big question is, will that be to the upside? Or the downside? One thing I do know is that this afternoon, I'll be heading back to Trunk Club. Sophia will be showing me a few frocks to wear out for a fun night with some of my favorite financial journalists. The Financial Follies are Friday night in Manhattan and I just haven't a thing to wear! (Wink wink.)
Disclosures: Commentary provided for educational purposes only. Investing involves risks, including loss of principal. *Market Maker Move analysis results are theoretical in nature, not guaranteed, and do not reflect any degree of certainty of an event occurring. Market volatility, trading volumes, system performance and other factors may delay system access and response times. Past performance of a security, strategy, or index is no guarantee of future results or investment success. © 2015 TD Ameritrade IP Company, Inc. All rights reserved. Used with permission. TD Ameritrade, Inc., member FINRA/SIPC.
Posted-In: Short Ideas Psychology Trading Ideas General Best of Benzinga
View Comments and Join the Discussion!