How T. Boone Pickens Wants To Transform Energy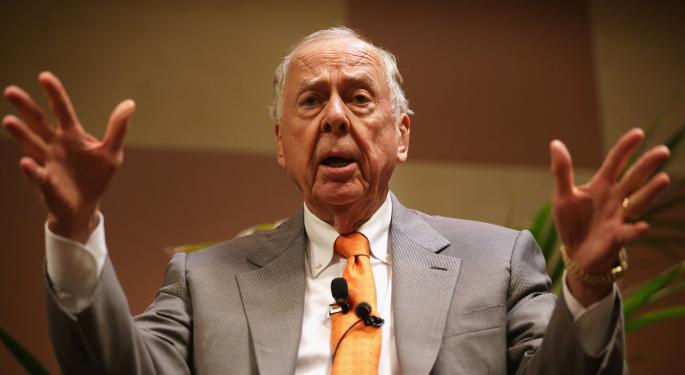 "There is no free market for oil." - T. Boone Pickens
We've Got An Energy Problem
On Monday we talked about commodities, basic goods that are traded at designated exchanges, usually in the form of futures contracts. Today we're going to go a little deeper on two specific commodities, oil and natural gas.
Oil Everywhere
In the early 20th century, America faced a critical energy question. We'd gone through the industrial revolution with coal as our primary energy source, but we needed to find something cheaper, cleaner, and more efficient.
We settled on crude oil: oil that's pumped from the ground in other countries and shipped to refineries in America.
Today, the United States is the largest consumer of crude oil in the world, using about 20 million barrels per day. To put it a different way, that's under 5% of the world's population using about 22% of the world's oil supply.
And that oil does not come cheap. Since 2008, the U.S. has paid $1 trillion (yes, trillion) to Organization Petroleum Exporting Countries, the international organization that controls most of the oil in the Middle East and Africa, Over the next decade, we're expected to spend another $2 trillion.
T. Boone Pickens wants to change all that.
The Man With A Plan
Pickens, the billionaire founder of investment firm BP Capital and co-founder of Clean Energy Fuels, believes the next American energy shift should be from oil to natural gas.
To further his cause, he has come up with the Pickens Plan, a plan that aims to shift America off its dependence on foreign oil in favor of natural gas produced domestically.
Pickens believes in natural gas because in his words, it's American and we've got a lot of it.
"Natural gas will do everything we want it to do," he said during a 2012 TED Talk. "It's 25% cleaner than oil. It's ours. We have an abundance of it, and it doesn't have to be refined."
According to the natural gas industry, we've got 4000 trillion cubic feet of natural gas at our disposal, or about 3x the amount of oil Saudi Arabia says it has. So we won't be running out any time soon.
Getting America to switch from oil to natural gas is a long process, and the Pickens plan is starting with transportation. Specifically, heavy duty trucks.
"You take 8 million trucks and take them to natural gas, reduce carbon by 30%, it is cheaper, and it will cut our imports [by] 3 million barrels," said Pickens. "So you will cut 60% off of OPEC."
It's important to note that the Pickens Plan sees natural gas as a "bridge fuel" and not as the long-term solution. The plan also calls for an increase development in alternative energy sources, such as solar and wind power.
Investing In Oil And Natural Gas
So with all that being said, is it a good idea to invest in natural gas? What about oil?
In March, when oil was trading at $43 a barrel, Pickens came out and said he believes oil could rise up to $70 by years end, and $90 in 18 months. But that appears to have been overly optimistic. With the market oversupplied, analysts are predicting the price will stay below $60 a barrel through 2016.
Pickens is also super bullish on natural gas, despite the fact that just two weeks ago it was announced that he intends to sell up to 3 millions shares of stock in his company Clean Energy Fuels, the leading supplier of natural gas in America.
But there are still several reasons to consider investing in natural gas. It just snapped a five-session losing streak, and this summer it finally topped coal as the primary source for electricity in the U.S.
Pickens believes natural gas will eventually rise up to $6 from its current $2.59. If that's the case, you may want to think about getting in on that action.
Atmos Energy Corporation (NYSE: ATO), one of the largest natural gas-only distributors, is up 11.2 percent over the last three months. Two gas and oil companies, AGL Resources Inc. (NYSE: GAS) and EOG Resources Inc (NYSE: EOG), are even seeing enough growth from natural gas to counteract the low price of oil. AGL is up 28.5 percent in the last 30 days, and EOG is up 10 percent since August 25.
Natural gas is still a very volatile commodity, but if you're looking to get in the game now you've got some options.
Posted-In: Commodities Natural Gas OilShort Ideas Hedge Funds Commodities Trading Ideas General Best of Benzinga
View Comments and Join the Discussion!