Barrick Gold Investors' Patience Being Stretched Thin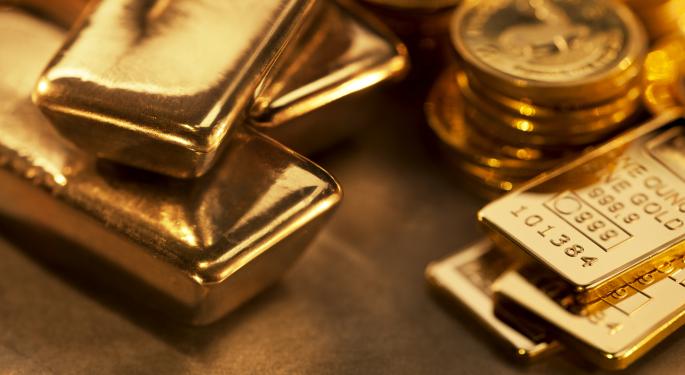 Barrick Gold Corporation (USA) (NYSE: ABX) has been facing headwinds for quite a while now – some from outside the company and some from within. Barrick investors were hoping for more of a boost in shares with the recent bounce in gold and silver, but the ABX rally seems to have petered out for now and gold and silver may be in for some rough sledding if the euro starts to see major selling again.
Can the company's fundamentals carry it through any rough times that may lie ahead (due to a falling euro/rising U.S. dollar)? Let's take a look at the company and the stock for an idea of what may be in store for shareholders.
What The Bulls See
A 1.6 percent dividend yield.
Reasonable valuation metrics: An estimated enterprise value of $25.53 billion versus a market capitalization of only $14.52 billion, a price-to-sales ratio of 1.56 and a price-to-book ratio of 1.51.
Still positive levered free cash flow of just under $18 million annually.
A current ratio of 2.47.
What The Bears See
A P/E ratio of around 16, which seems expensive considering the estimated revenue growth for next year of 3.7 percent. The estimated EPS growth for next year and for the next five years is all over the place – too much to be relied upon.
Negative net profit margins of -29.87 percent.
Weak management effectiveness ratios: A return-on-assets ratio of only 3.46 and a return-on-equity ratio of -20.62 percent.
A shaky balance sheet situation: Cash equivalents of only $2.26 billion versus over $12 billion in total debt and a debt-to-equity ratio of 100.90 percent.
The Technical Take
Technicians note the obvious bear market condition that ABX shares have been in ever since peaking in late 2011 at around $55. Now, ABX sits at $12.47 and looks to the technical crowd like it could decline to around $8.30 based on one measuring technique. The upper edge of their possible support range comes in at $9.37.
Overall…
With the euro starting to show signs of weakness again – giving a headwind to ABX instead of a tailwind - and the chart pointing to a potential slide down to $8.30 - $9.37, caution may be the best stance with Barrick Gold for now. Once the lower edge of the possible support range is tested, the technical value players will join their fundamental counterparts in sniffing around the Barrick Gold story.
Stock chart:


Posted-In: barrick goldShort Ideas Futures Technicals Commodities Forex Markets Trading Ideas Best of Benzinga
View Comments and Join the Discussion!