Coach: A Poorly-Performing Business (And Stock)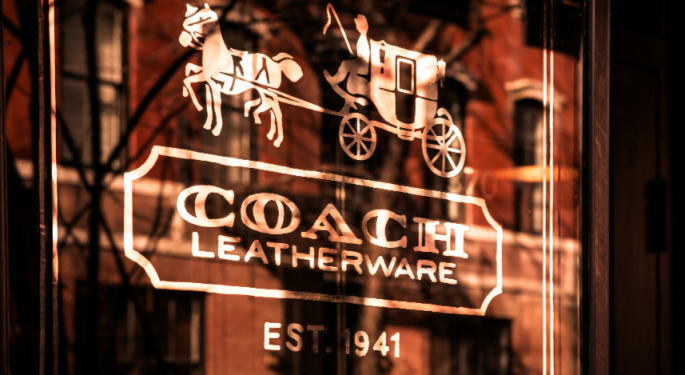 These graphs were produced by Capital Market Labs. Learn how the company is bringing the power of living data to the world of finance.
With a 26 percent decline, Coach Inc (NYSE: COH) has been one of the worst-performers in the S&P 500 over the past year. Let's plot a time series of Coach's stock price, along with Net Income.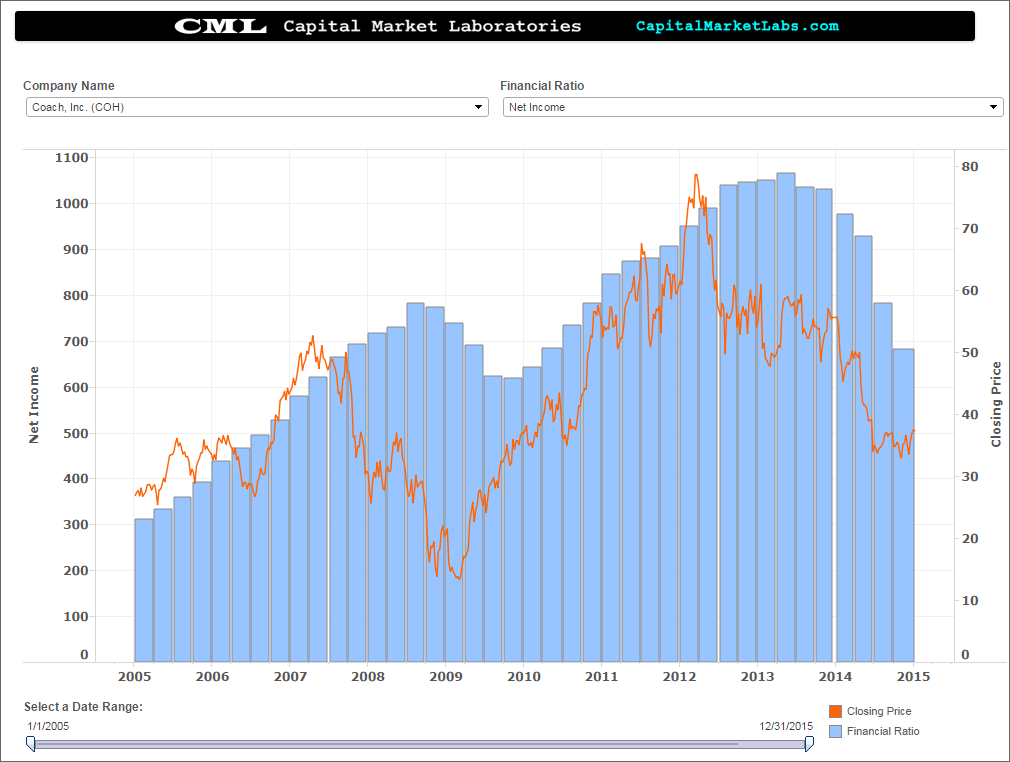 Not surprisingly, the two are well-correlated, with Net Income falling 36 percent from a high of $1.06 billion in early 2013 to $682.5 million for the quarter ending September 27, 2014.
The stock price has also fallen 36 percent during the same time period, from $58 to $37.
So, what's behind the drop in Net Income?
One problem is declining revenue.
Next, let's plot one-year Revenue Growth Percentage versus Total Same-Store Sales Growth.
Coach sticks out like a sore thumb and not just because it's colored red. Revenue is down almost 8 percent year-over-year, and same-store sales are even worse, showing a 15 percent drop year-over-year.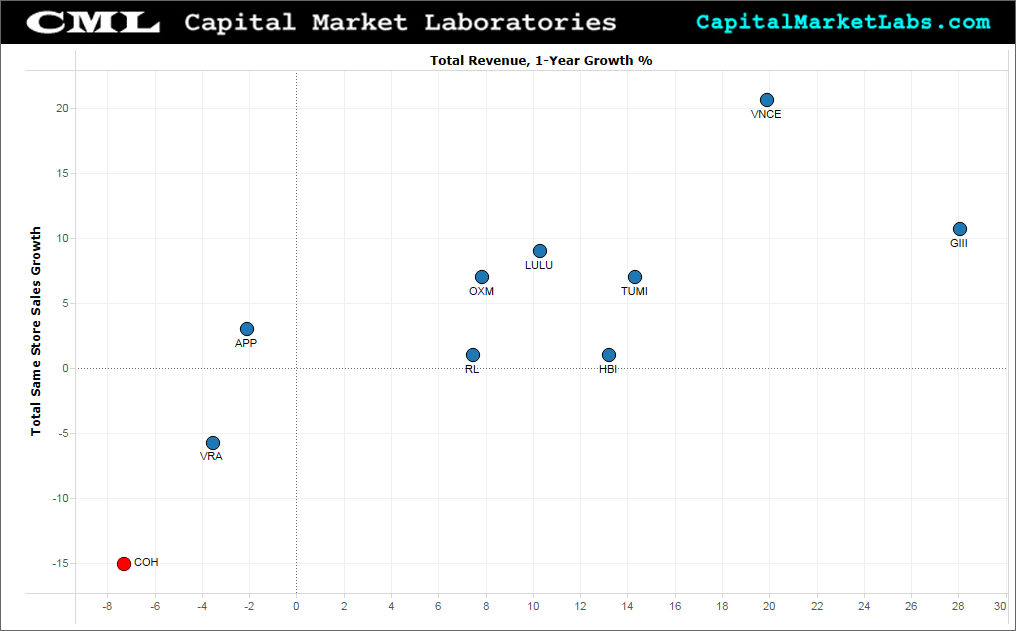 But Coach's problems are not just on the revenue side. They are compounded by increasing costs. Here, let's plot a time series of Revenue and Cost of Goods Sold.
As Revenues decline 7.5 percent from a high of $5.1 billion in mid-2013, Cost of Goods Sold increases 3.6 percent.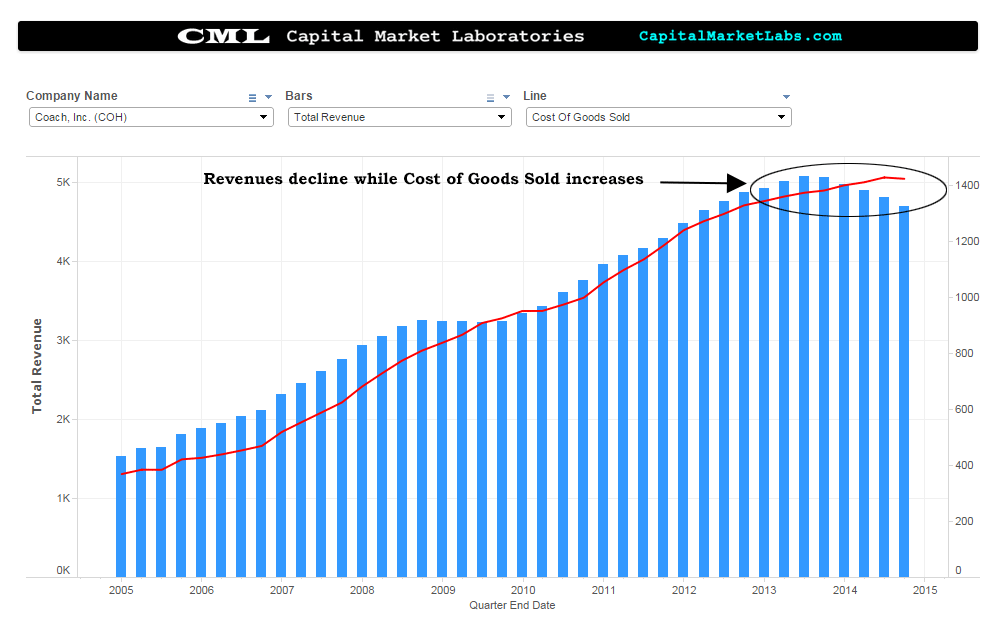 Looking at SG&A next, there's a 1.7 percent increase, as Revenues take a 7.5 percent tumble.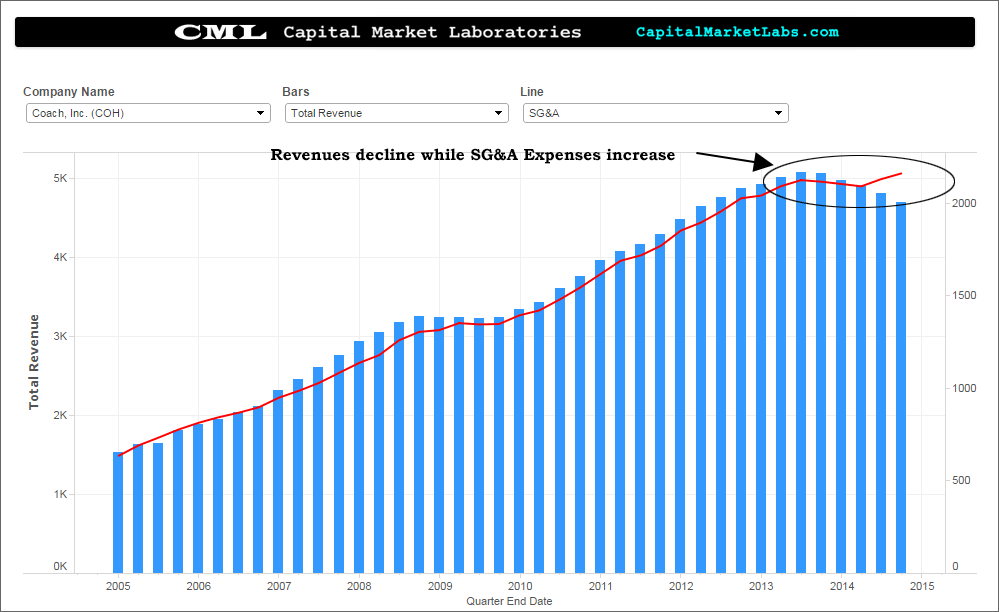 The cumulative impact is this: The ratio between Operating Revenue and Operating Expenses has fallen 9.7 percent over the last six quarters, from 1.45 to 1.31.
Put simply, Coach has been one of the laggards in the S&P 500 for the past year, and for good reason, due to its declining profitability.
The battle to turn the company around will be fought on several fronts, and revenue growth -- along with same-store sales -- have to improve.
In addition, both Costs of Goods Sold and SG&A need to be reined in if Coach is to recapture its 2011-2012 glory days.
Tom White can be found on Twitter @tbwhite67
Image credit: WestportWiki, Wikimedia
Posted-In: Capital Market Labs Coach stockShort Ideas Technicals Trading Ideas Best of Benzinga
View Comments and Join the Discussion!