Has Apple Peaked? These 5 Charts Tell The Story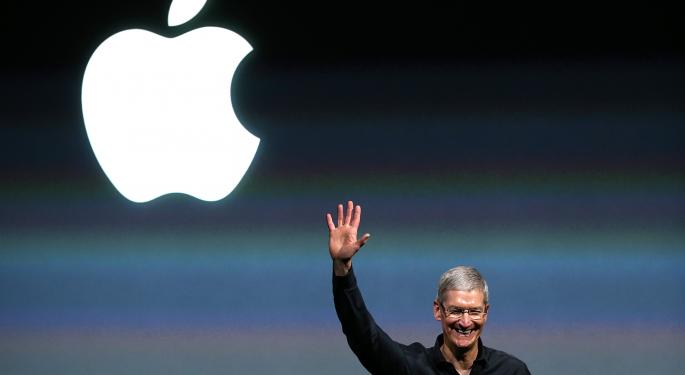 The graphs below were produced by Capital Market Labs.
Apple Inc. (NASDAQ: AAPL) is one of the most remarkable companies in the world, not just because it has the largest net income of any company in North America, the largest market cap in the world, or the singular defining technological breakthrough in the last decade.
It's remarkable because -- even with all of these phenomena -- it has maintained extraordinarily high gross and net income margins.
Apple has continued to grow, and has managed to remain incredibly efficient in that growth.
How Big Is Apple?
In terms of size within information technology, investors can see there's Apple, and then there's everybody else.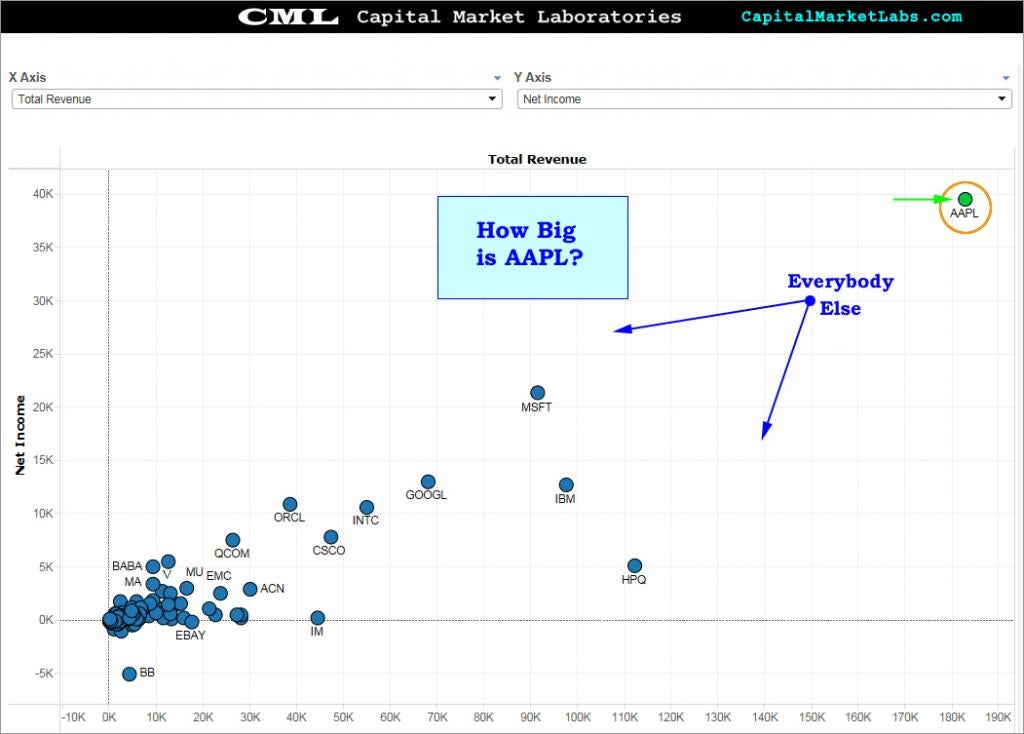 But, three charts now point to the unthinkable, or the inevitable, depending on one's point of view.
The following three charts ask the question: Have operating efficiencies finally peaked at Apple?
Related Link: Wages Are Down, But Are Corporate Earnings Up?
And a fourth chart adds fodder to the fire.
Total Revenue Per Employee Vs. Net Income Margin Percentage
The blue bars track Apple's total revenue over total employees, and one can see an incredible trend over the last decade, with that measure peaking at four-fold the value in 2002 as of 2012. But, for 2013 and 2014, that number has now dropped for two consecutive years.
At the same time, net income margin percentage (the red line) has also dropped in lockstep with the first measure.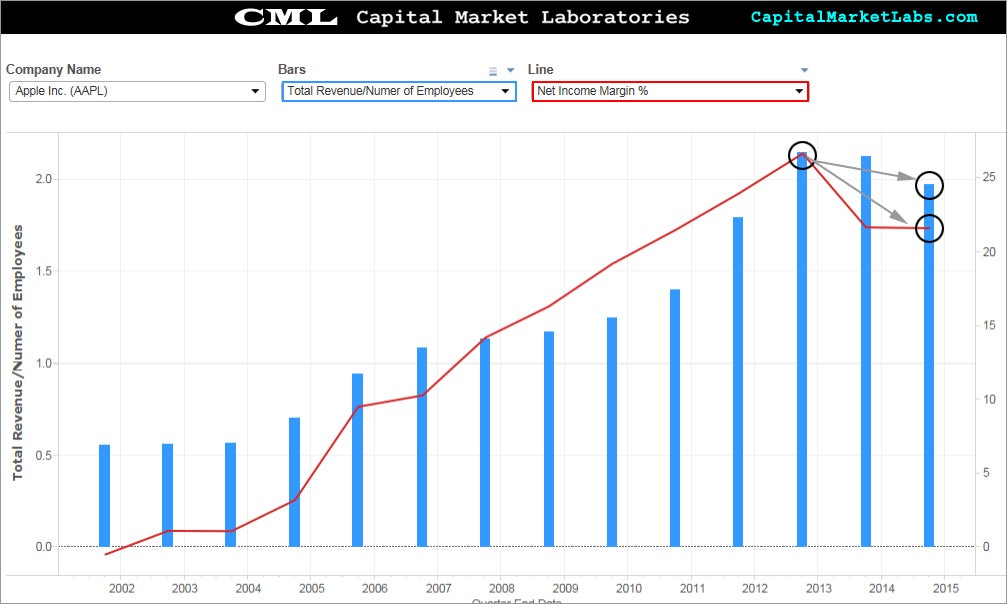 Number Of Employees Over Assets Vs. Net Income Margin Percentage
In this chart, the blue bars track the ratio of employees per thousands of dollars of assets.
The trend has been consistently downward moving, with Apple going from 1.6 employees per million dollars of assets to less than 0.4 employees per million dollars of assets.
But, like the chart above, that efficiency per employee number has reached what appears to be a base, and in fact, has changed direction and increased from 2013 to 2014.
The red line represents net income margin percentage again. Note the drop in both measures simultaneously.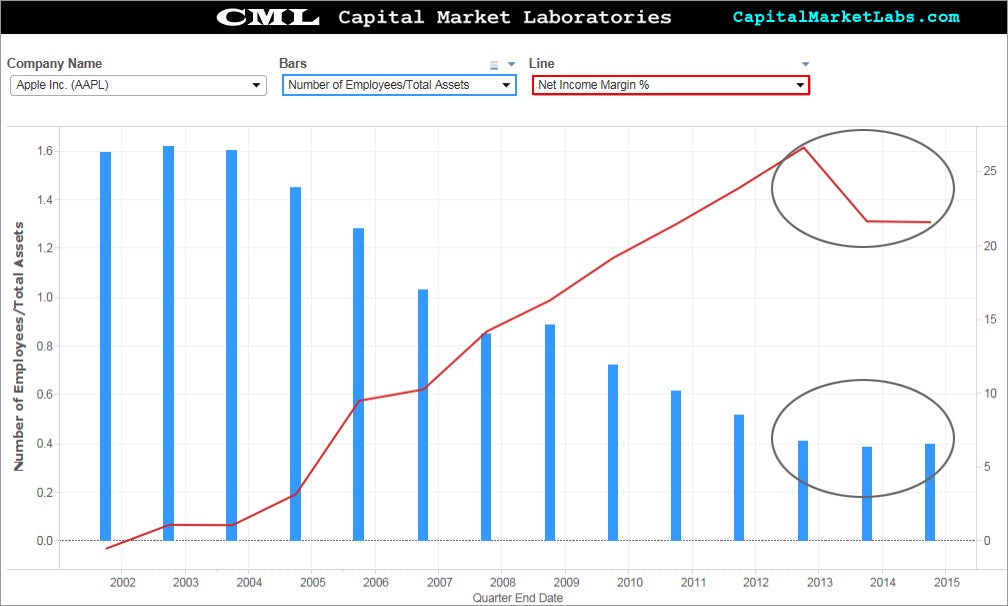 Operating Revenue Over Operating Expense Vs. Gross Margin Percentage
The blue bars chart the amount of revenue Apple generates for every $1 in operating expense it spends. The ratio peaked at over $1.50 -- an incredible margin for a firm so big -- but it has trended down for the last two years.
Superimposed on the blue bars is the red line, which represents gross margin percentage. Obviously, gross margin percentage will correlate to operating margin, but the obviousness is worth pointing out: Apple's operating margins and gross margin percentage have both dipped over the last two years.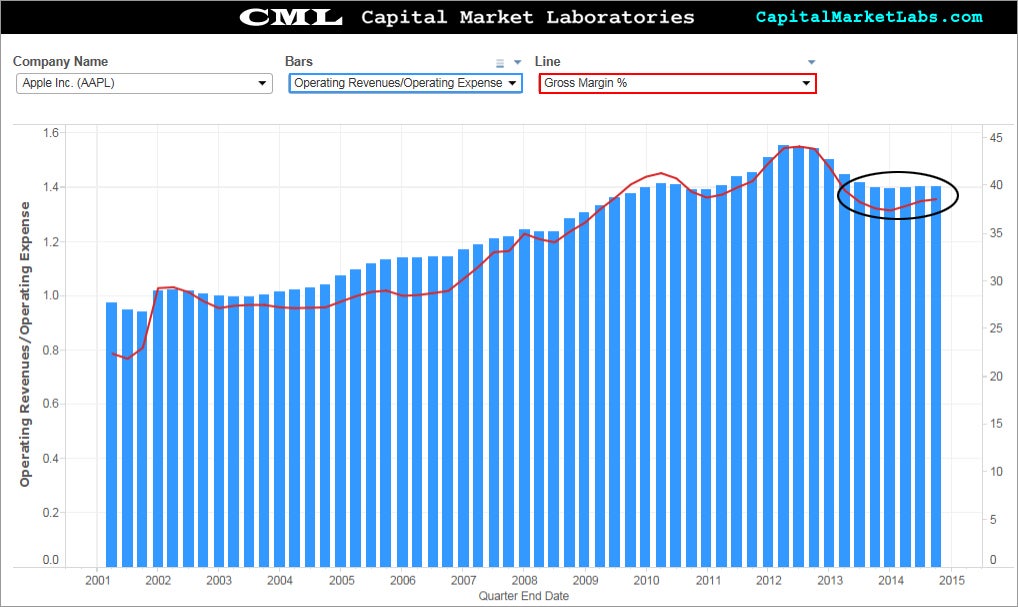 Stock Repurchases Over Total Assets
During this same time period where revenue per employee has dipped, the number of employees required per dollar of assets has increased and both operating margin percentage and gross margin percentage have fallen.
Apple has engaged in stock buybacks from zero to now nearly 20 percent of total assets in the trailing-twelve-months.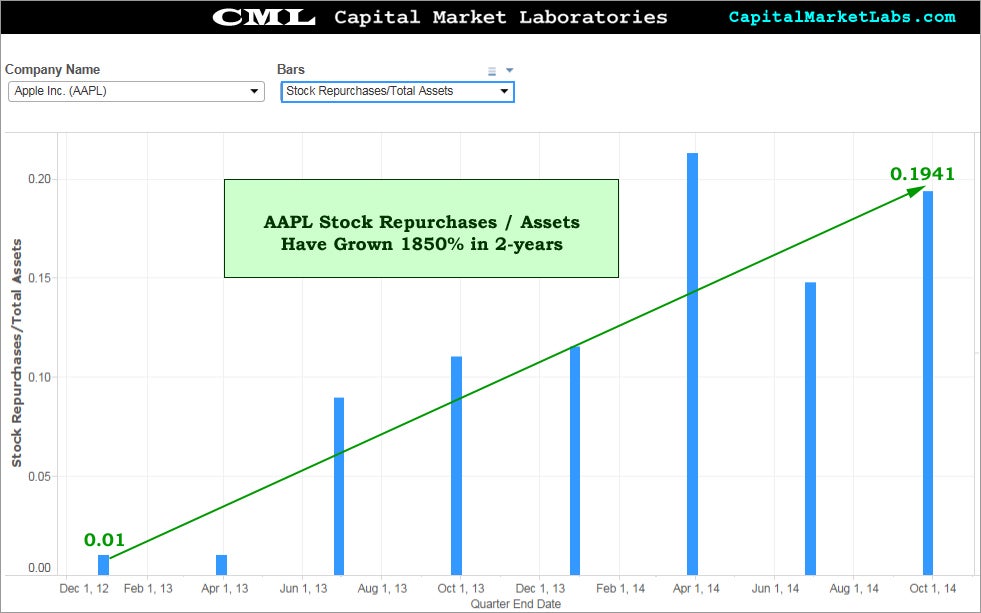 Ophir Gottlieb can be found on Twitter @ophirgottlieb.
Posted-In: Apple stockShort Ideas Tech Trading Ideas Best of Benzinga
View Comments and Join the Discussion!