Pfizer Inc. Stock Fails To Break Out: Is It Headed Back Down?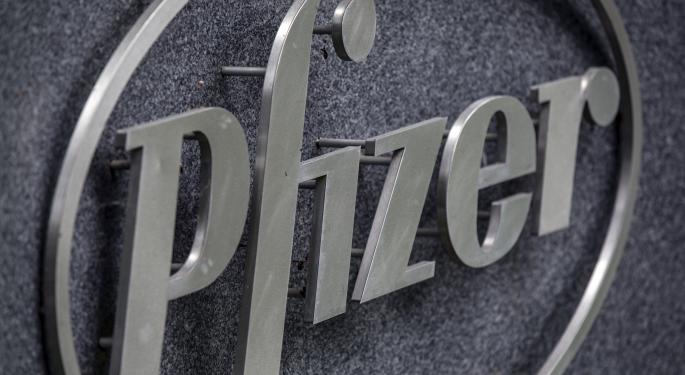 Pfizer Inc. (NYSE: PFE) shareholders have experienced the short-term euphoria of seeing their stock rally a massive 10 percent from August to September.
The stock failed to eclipse key "triple threat" resistance (created by a horizontal line, a downtrend line and Fibonacci projections) at around $31 per share, though, and technicians note that failure may be a pre-cursor to a substantial decline in prices.
Related Link: Digital Ally Finds Support And Resistance Within 24-Hour Period
What The Bulls See...
• A 3.6 percent dividend yield.
• Multiple cheap valuation metrics, including a price-to-book of 2.46, a price-to-sales of 3.74 and an enterprise value of $192 billion versus a market value of $189 billion.
• Profit margins of greater than 20.66 percent.
• A current ratio of 2.66, cash reserves of $34 billion and a debt to equity ratio of 49.27 percent.
What The Bears See...
• A company struggling to generate growth, including revenue growth estimates for 2015 of -2.3 percent, and EPS growth estimates for 2015 of -0.4 percent.
• A P/E ratio of just over 10, which can be viewed as very expensive (when compared with near non-existent revenue and EPS growth).
• A lagging stock that failed to eclipse key horizontal line and downtrend line resistance during its most recent rally.
The Technical Take
Technicians note Pfizer may have just completed an "abc" upside correction at just under $31 and that the next move lower may have started.
That move lower has three potential targets, created by a combination of Fibonacci projections and horizontal lines of support at $27.92, $26.80 and $26.12. Only a close above $31 will negate this potential bearish technical set up.
Overall...
Unless Pfizer surprises with very significant growth via M&A activity or a substantial addition to its drug pipeline, the fundamentals may not justify much from shares in the immediate future.
Disclosure: At the time of this writing, the author had no position in the equities mentioned in this report.
Stock chart:


Posted-In: Technicals Trading Ideas Best of Benzinga
View Comments and Join the Discussion!