Short Sellers Pick Up Some Avon And Rite Aid (AVP, RAD, SVU)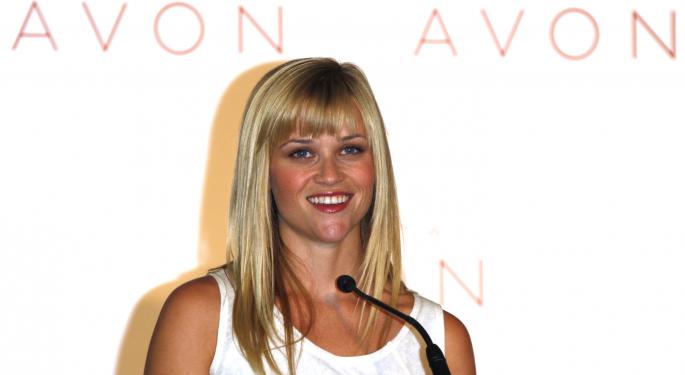 Among the struggling U.S.-based retailers, Avon Products (NYSE: AVP), Rite Aid (NYSE: RAD) and SUPERVALU (NYSE: SVU) saw significant swings in short interest between the January 31 and February 14 settlement dates.
Tuesday Morning and HHGregg also saw a double-digit increase in the number of shares sold short. Short interest in Barnes & Noble, Best Buy, J.C. Penney, Office Depot and Sears Holdings swelled more modestly during the period.
The short interest in Bebe Stores, GameStop and RadioShack was essentially unchanged from the previous period. And short sellers shied away from Aeropostale and Pacific Sunwear in early February.
See also: More Big Moves In Social Media Short Interest
Below is a quick look at how Avon Products, Rite Aid and SUPERVALU have fared and what analysts expect from them.
Avon Products
This beauty and personal care products purveyor saw short interest rise more than 30 percent in early February to more than 19.83 million shares. That was more than four percent of the float, and the fifth consecutive period of rising short interest. The days to cover increased to less than three.
Avon has a market capitalization of more than $6 billion and a dividend yield near 1.6 percent. It posted better-than-expected fourth-quarter earnings during the period. Its long-term earnings per share (EPS) growth forecast is more than 11 percent, but the return on equity is in the red.
The consensus recommendation of the analysts who follow the stock and were surveyed by Thomson/First Call is to hold Avon shares, as it has been for the past two months. Their mean price target, or where analysts expect the share price to go, is about 18 percent higher than the current share price.
The share price is down more than nine percent year-to-date but up almost four percent in the past month. The stock has underperformed not only competitors Procter & Gamble, Estee Lauder and Revlon over the past six months, but the broader markets as well.
Rite Aid
Shares sold short in this drugstore operator increased about 10 percent in the period to around 44.46 million. That represented more than four percent of the float and was the highest level of short interest since last March. It would take more than two days to close out all of the short positions.
Competitor Walgreen sued Rite Aid and others over mobile prescription refill technology. Rite Aid's market cap is more than $6 billion. Its long-term EPS growth forecast is more than 54 percent, and the price-to-earnings (P/E) ratio is less than the industry average. But here too the return on equity is in the red.
Of the 10 analysts polled, seven recommend buying shares, with two of them rating the stock at Strong Buy. The current share price has overrun their mean price, suggesting that no further upside is indicated at this time. But the street-high price target is almost six percent higher than the share price.
The share price is more than 18 percent higher than a month ago, though it has pulled back a bit from the recent 52-week high. The stock has outperformed larger competitors CVS Caremark, Walgreen and Wal-Mart, as well as the broader markets, over the past six months.
See also: Amgen, BioMarin Lead Biotech Short Interest Trend
SUPERVALU
After growing in three straight periods, short interest in this operator of various supermarket chains shrank more than 15 percent to 33.58 million shares by mid-February. But note that more than 16 percent of the float is still short, and the days to cover was more than seven.
During the period, SUPERVALU announced that it would host its first ever national sales expo. The company has a market cap of less than $2 billion. The long-term EPS growth forecast is more than 10 percent, and the return on equity is more than 111 percent.
Just one analyst of the 11 surveyed recommends buying shares, and only one rates the stock at Underperform. The analysts' consensus price target indicates more than 13 percent potential upside, relative to the current share price. But shares were trading higher than that last October.
The share price is up about 12 percent in the past month, though it is still down about 11 percent year to date. Over the past six months, the stock has outperformed competitors Kroger, Safeway and Wal-Mart. It has also outperformed the broader markets in that time.
At the time of this writing, the author had no position in the mentioned equities.
Keep up with all the latest by following us on Twitter.
Posted-In: Avon Products Barnes & Noble bebe Stores best buy Bon-Ton Stores cvs caremarkShort Ideas Trading Ideas Best of Benzinga
View Comments and Join the Discussion!