Short Interest Still Rising In Solar City, Falling In Advanced Energy (AEIS, GTAT, SCTY)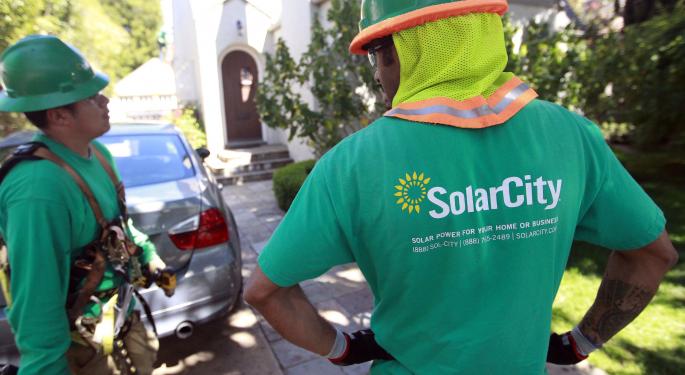 Among U.S. solar-related stocks, Advanced Energy Industries (NASDAQ: AEIS), GT Advanced Technologies (NASDAQ: GTAT), SolarCity (NASDAQ: SCTY) saw the most significant swings in short interest in late September.
The number of shares sold short in SunEdison (NYSE: SUNE) and SunPower Holdings (NASDAQ: SPWR) decreased modestly between the September 13 and September 30 settlement dates, while that in First Solar (NASDAQ: FSLR) was little changed. Real Goods Solar (NASDAQ: RSOL) saw its short interest grow somewhat.
Furthermore, the number of U.S.-listed shares (or ADRs) sold short of foreign-based companies China Sunergy (NASDAQ: CSUN) and Yingli Green Energy (NYSE: YGE) also grew in the period.
But short interest in Canadian Solar (NASDAQ: CSIQ), JA Solar Holdings (NASDAQ: JASO), LDK Solar (NYSE: LDK), ReneSola (NYSE: SOL), Suntech Power Holdings (NYSE: STP) and Trina Solar (NYSE: TSL) shrank.
See also: Short Interest Surges in Solar City, Falls in Advanced Energy
Here is a quick look at how Advanced Energy Industries, GT Advanced Technologies and SolarCity have fared and what analysts expect from them.
Advanced Energy Industries
After this maker of power conversion products saw short interest retreat about 10 percent in the previous period, it happened again, down about 20 percent to less than 692,000 shares. The number of shares sold short has declined for five consecutive periods to about two percent of the float. The days to cover was about two.
The company has not fallen short of consensus earnings estimates in recent quarters, and revenue is expected to be up almost 25 percent in the current quarter. Its market capitalization is near $710 million. The price-to-earnings (P/E) ratio is higher than the industry average, but the long-term earnings per share (EPS) growth forecast is more than 31 percent.
Only three of the nine analysts who follow the stock and were surveyed by Thomson/First Call recommend buying shares, while two rate it at Underperform. But their mean price target, which is where the analysts expect the share price to go, suggests there is more than 17 percent potential upside.
The share price has fallen more than nine percent over the past month, though it is still up about 21 percent year-to-date. The stock has underperformed competitor MKS Instruments (NASDAQ: MKSI) and the broader markets over the past six months.
GT Advanced Technologies
This crystal growth equipment provider for the solar and electronics industries saw short interest decline almost 10 percent in late September to 34.25 million shares. That represented about 28 percent of the float. It would take about six days to close out all of the short positions.
An analyst upgrade boosted shares of this Merrimack, New Hampshire-based company in mid-September. The company has a market capitalization of about $1 billion. The long-term EPS growth forecast is only about four percent, and the return on equity and the operating margin are both in the red.
The consensus recommendation of the analysts who follow the stock is to hold shares, and that has been so for the past three months. Their mean price target is less than the current share price, which means that they see no potential upside at this time.
Shares rose almost 28 percent in September, though they have pulled back more than five percent in the past week. The stock has outperformed larger competitor Applied Materials (NASDAQ: AMAT) and the broader markets over the past six months.
SolarCity
Short interest in this provider of solar energy systems to residential and commercial customers grew about 23 percent to 6.84 million shares. The number of shares sold short was almost 25 percent of the total float, and the highest since SolarCity began trading publicly in mid-December.
This San Mateo, California-based company set a clean energy deal with Viridian Energy during the period. SolarCity has a market cap of about $3 billion, but it does not offer a dividend. The long-term earnings per share (EPS) growth forecast is about 33 percent, but the return on equity is in the red.
None of the seven polled analysts recommends buying shares, while six of them recommend holding them. Here too the share price has outpaced the analysts' mean price target. Unless individual targets are raised, upside potential is not indicated.
Shares have traded mostly between $35 and $38 since early September, but the share price is still up more than 200 percent since the beginning of the year. Over the past three months, the stock has outperformed the Nasdaq and the S&P 500, but it has underperformed Renesola.
See also: Short Sellers Pile On Facebook and Google
At the time of this writing, the author had no position in the mentioned equities.
Posted-In: Advanced Energy Industries applied materials canadian solar China Sun Energy First Solar GT Advanced TechnologiesShort Ideas Trading Ideas Best of Benzinga
View Comments and Join the Discussion!