The Dumpling Top – Market Downdraft Imminent
The market is currently developing a Dumpling Top. This information will produce powerful and profitable investment results.
What if you had analytical tools that are highly accurate for evaluating price trends? Wouldn't you be able to establish profitable investment trades with a much higher degree of accuracy? Candlestick analysis provides these tools. One of them is the Dumpling Top pattern.
Knowing what formulates a Dumpling Top pattern allows investors to implement trading strategies that are highly effective. Once it becomes evident that a Dumpling Top pattern is in progress, two valuable pieces of information are known. Until the pattern is completed, price movements are going to be relatively indecisive. This information assists investors in making decisions that are most appropriate for trading the current market conditions.
The investor is going to have to be in and out of positions extremely fast, basically scalping. For those investors that cannot sit by the screen and trade actively, they should decide not to invest at all until the consummation of the pattern. Once the results of the pattern start to perform, huge gains will be produced when the uncertainty of the trend disappears.
Dow, October 11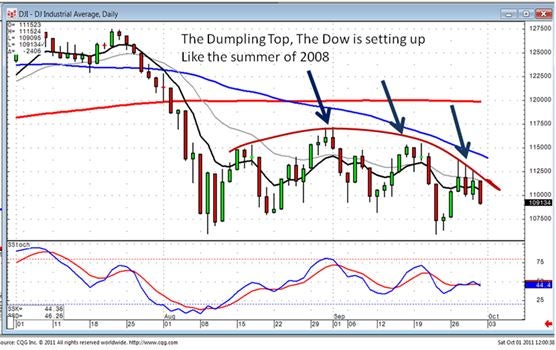 Candlestick analysis is a powerful investment tool due to the inherent probabilities built into candlestick signals. This information outperforms all technical trading methods. Additionally, the accuracy established with knowing what the signals and patterns represent, candlestick analysis can accurately project what investor sentiment will do to the near-term price trend.
The Japanese Rice traders provided valuable insights into price trends more than merely identifying reversal signals. Through centuries of analyzing 'why' the signals performed well, Japanese Rice traders formulated 'what' was in investor sentiment that created reversal signals. The identification of candlestick signals, that foretell a high probability trend reversal, also allows candlestick investors to be prepared for immediate shifts in portfolio positioning or reversing very short-term day-trading trades. Candlestick signals and patterns have extremely high probability results.
Dow, Summer 2008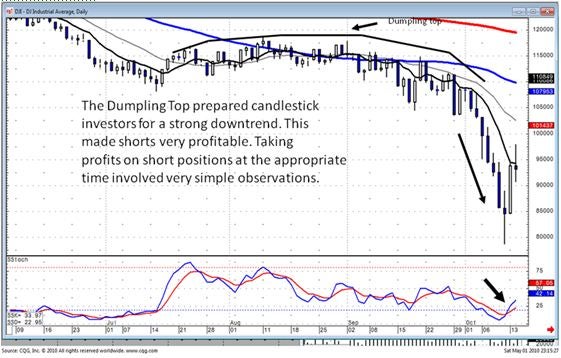 Because of the significant research that has been attributed to candlestick analysis over the centuries, there is much more to candlestick analysis than merely identifying trend reversals. Due to the accuracy of the if/then results of candlestick signals, the candlestick investor gains valuable insights into whether a trend is producing false signals or merely profit-taking in a major trend. This becomes an essential tool for not exiting big-profit trades too early. It becomes very easy to discern whether a selling day in an uptrend is a reversal day or merely a profit-taking day.
Having the ability to recognize and interpret candlestick reversal signals produces immense advantages. It allows an investor to close a position or to continue to hold a position. The difference is knowing the probabilities based upon witnessing a reversal signal or a non-reversal signal. A significant function that is built into the Japanese Rice trader's analysis is common sense investment principles put into a graphic depiction. This creates a frame of mind allows that investors to be prepared for a "potential" signal or pattern.
Candlestick analysis contains many factors that put probabilities greatly in the investors favor. Trading against the information provided by candlestick analysis is going against the odds. The Japanese Rice traders became legendarily wealthy by utilizing the simple common sense investment perspectives built into candlestick analysis. Candlestick signals work. When you learn how to use them correctly, you can extract excessive and consistent profits from the markets. The Dumpling Top pattern does project a high probability that a major market downdraft is about ready to occur.
Stephen W. Bigalow is author of "Profitable Candlestick Investing, Pinpointing Market Turns to Maximize Profits", "High Profit Candlestick Patterns" and "Candlestick profits – Eliminating Emotions wirh candlestick Analysis," is also principal of the www.candlestickforum.com, the leading website on the Internet for providing information and educational material about Japanese Candlestick investing. Over twenty-five years of extensive study and utilization of candlestick analysis has produced an array of easy-to-learn educational material about Candlesticks. As one of the leading Candlestick experts in the nation, Mr. Bigalow, through his consulting with major trading firms, has developed multiple successful trading programs, utilized in his candlestick trading hedge fund, for the day-trader to the long-term hold investor.
Posted-In: candle charting Dumpling Top marketsShort Ideas Technicals Markets Personal Finance Trading Ideas
View Comments and Join the Discussion!