Earnings: HAL + Crude Prices = Rough Q1?
Halliburton Company (NYSE: HAL), among the world's biggest energy industry providers of products and services, kicks off next week's earnings parade with Q1 results ahead of the bell Monday.
Taking into account how much HAL relies on the ebbs and flows of crude-oil prices, investor expectations are low. Consider how tight the ties to crude-oil prices are to oil-field services giants like HAL: Year to date, crude and the correlation to the S&P 500 (SPX), something we note quite frequently, is just under 90. When it comes to crude to HAL, the correlation is 95%!
So, Q1 is not going to be a pretty one for HAL, say some analysts. The lower the price of crude, the fewer incentives for oilers to do anything innovative, much less explore and drill, which can leave upstream-operations and oilfield-service players like HAL in a jam.
A Steep Slide
As a result, the top and bottom lines of HAL will likely suffer deep declines. Analysts reporting to Thomson Reuters are pegging a per-share profit of just $0.05, a white-knuckled 90% dive from $0.49 a share a year ago, against a 41% revenue retrenchment to $4.2 billion from $7.1 billion last year.
On the conference call, analysts will want to know what expectations are for crude ahead and what's up with the lawsuit filed by the Department of Justice to block its merger with Baker Hughes.
Short-term options traders have priced in a potential 4% share price move in either direction around the earnings release, according to the Market Maker Move indicator on the thinkorswim® platform from TD Ameritrade.
Options trading has been relatively sparse on HAL going into earnings. Going out to the May monthly, buyers have been active at the 42-strike calls and 35-strike puts. The implied volatility is at a low 20th percentile. (Please remember past performance is no guarantee of future results.)
Note: Call options represent the right, but not the obligation, to buy the underlying security at a predetermined price over a set period of time. Put options represent the right, but not the obligation, to sell the underlying security at a predetermined price over a set period of time.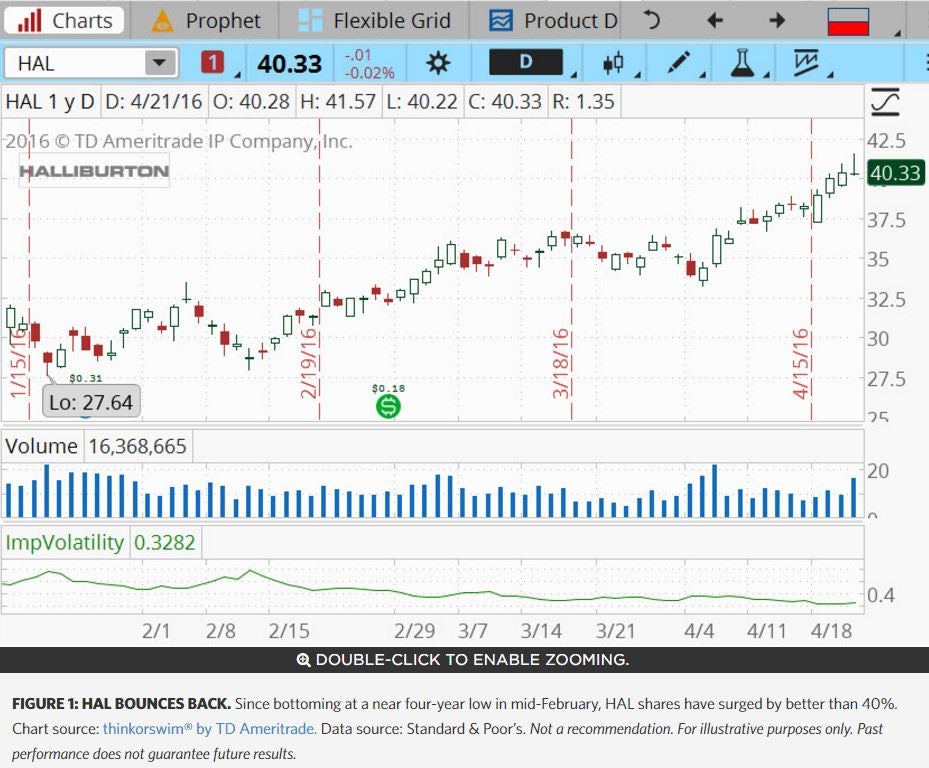 Probability analysis results from the Market Maker Move indicator are theoretical in nature, not guaranteed, and do not reflect any degree of certainty of an event occurring.
TD Ameritrade and all third parties mentioned are separate and unaffiliated companies, and are not responsible for each other's policies or services.
Inclusion of specific security names in this commentary does not constitute a recommendation from TD Ameritrade to buy, sell, or hold.
Market volatility, volume, and system availability may delay account access and trade executions.
Past performance of a security or strategy does not guarantee future results or success.
Options are not suitable for all investors as the special risks inherent to options trading may expose investors to potentially rapid and substantial losses. Options trading subject to TD Ameritrade review and approval. Please read Characteristics and Risks of Standardized Options before investing in options.
Supporting documentation for any claims, comparisons, statistics, or other technical data will be supplied upon request.
The information is not intended to be investment advice or construed as a recommendation or endorsement of any particular investment or investment strategy, and is for illustrative purposes only. Be sure to understand all risks involved with each strategy, including commission costs, before attempting to place any trade. Clients must consider all relevant risk factors, including their own personal financial situations, before trading.
TD Ameritrade, Inc., member FINRA/SIPC. TD Ameritrade is a trademark jointly owned by TD Ameritrade IP Company, Inc. and The Toronto-Dominion Bank. © 2016 TD Ameritrade IP Company, Inc. All rights reserved. Used with permission.
Posted-In: Previews Trading Ideas
View Comments and Join the Discussion!