What Do Consumers Buy On Black Friday?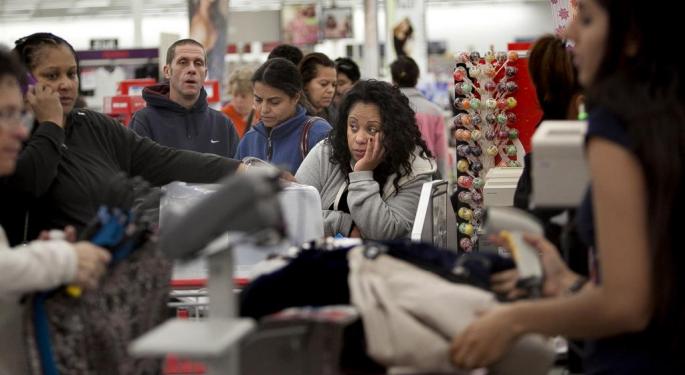 This article was written by Shawn Cruz, Trader Content Specialist, TD Ameritrade.
'Tis The Season
It's the time of year you love to hate: the holiday shopping season. For the largest economy in the world, consumer spending represents approximately 70% of all economic activity. It makes sense that economists and investors alike pay particular attention to spending patterns during the holiday season. Here's where we stand: After experiencing a slight hiccup during the recession, holiday spending has experienced a steady increase, with a nice pop above $600 billion in 2014 according to the U.S. Census Bureau. The National Retail Federation reports the average consumer spent $802.45 on holiday shopping last year. As investors, our question is: "Where are these holiday shopping dollars being spent?" The answer may not be as straightforward as we would like.
How are Consumers Feeling?
We've seen that the average shopper has been steadily increasing the amount they spend during the holiday season since the low of 2009. As we head into the holiday shopping season, we need to see if there is any indication that the current state of the U.S. consumer is capable of generating the type of sales needed to meet the expectation for a 3.7% rise in holiday shopping set by the National Retail Federation (NRF).
Our most recent look at the employment situation on November 6, shows that 271,000 workers were added to payrolls while wages increased 2.2% from the previous year. The University of Michigan provides a popular measurement of possible strength of consumer spending with its Consumer Sentiment survey. The most recent reading came in at 93.1, a nice recovery from the low near 85 over the summer. This increase may indicate solid momentum going into the holiday season. A healthy job market along with solid wage gains seem to indicate a healthy consumer base for retailers heading into the holiday shopping season.
What Do Consumers Buy?
What did people spend their holiday shopping dollars on last year? According to a report by Prosper Insights and Analytics, clothing and clothing accessories garnered a large percentage of consumer spending over the Black Friday weekend in 2014. Although the concentration of dollars was in that one category, consumer spending did span other expected gift-giving categories, to a lesser degree. At the end of the 2014 holiday season, according to the NRF, clothing and clothing accessories stores experienced a 4.4% increase in year-over-year growth.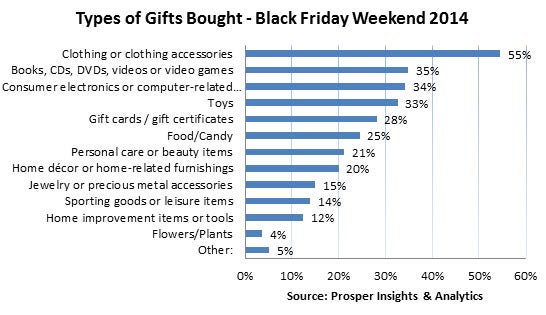 Brick And Mortar Vs. E-commerce
Traditionally retailers only had to think about the competitor next door. Abercrombie & Fitch Co. (NYSE: ANF) had to compete with American Eagle Outfitters (NYSE: AEO); Macy's, Inc. (NYSE: M) with Nordstrom's, Inc. (NYSE: JWN); and so on. These retailers could attract customers from their competitors by using some mix of discounts and advertising. But, the way consumers seek out and purchase goods today has added another level of complexity to how retailers compete for spending dollars. In an era where the willingness of shoppers to purchase goods is becoming harder to gauge, determining if they will choose to actually go to a physical store versus staying home and ordering from an online market place creates an entirely different debate.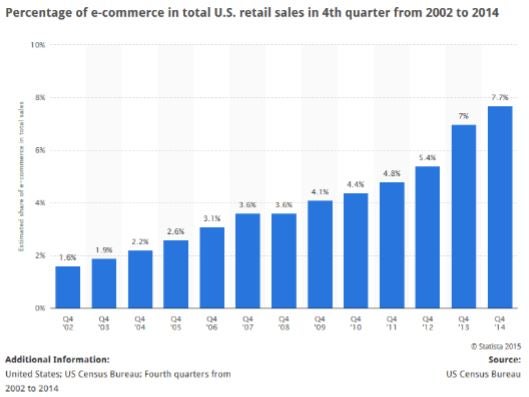 As online sales (aka "e-commerce") continue to be the chosen method for more and more shoppers, retailers that have historically operated out of physical stores are trying to adapt to the changing environment. As CEOs of many public companies work to pivot their strategies, investors should ask themselves if they're holding names that are taking appropriate steps to remain competitive and profitable.
Wrapping It Up
According to the NRF, some retailers generate as much as 30% of their annual revenues during the holiday season. If you're holding retailers in your portfolio or thinking about adding a few names in the near future then the best time to evaluate these companies may be now.
TD Ameritrade, Inc., member FINRA/SIPC. TD Ameritrade is a trademark jointly owned by TD Ameritrade IP Company, Inc. and The Toronto-Dominion Bank. Commentary provided for educational purposes only. Past performance is no guarantee of future results or investment success.
Posted-In: Previews Trading Ideas Best of Benzinga
View Comments and Join the Discussion!