Options Traders: Watch The Ranges This Week
I will break form and start this week's recap with the "ranges" as they were record-breaking today.
Ranges played out within our expectations from last Friday. Markets tested BOTH ENDS this week (actually they did that just today alone). Also the two scenarios I laid out last night for the Rally and Sell-off from the Jobs report BOTH came true. According to the media, this was the biggest short squeeze ever from a day's low to its high. What they don't count is that it was a round trip if you count the pre-open action. The S&P minis traveled over 106 points on Friday.
Scoreboard: Friday ended on a great note for the bulls. Markets closed +1.4% led by the Nasdaq with +1.8%. Apple acted the grown up again. It closed +.7% which is more reasonable than the markets'rally.
WHY the rally? Today markets got the confirmation that we will have no rate hike in October or not even this year. So I consider this a relief rally that something bad not happening happen. In my book, these are shortable but cautiously so.
It was not one sided. The day started in a scary manner when markets sharply dropped to 1885 (e-minis) in seconds from almost 1930 pre-open. The drop came on a bad jobs report which spooked markets. Then as the day went on, they realized that the bad economic news is good for stocks since Yellen will have more reasons to delay the hike.
So what about next week? The bulls might be in luck as China is closed for a few days so we will have a reprieve from its potentially bearish headlines. So they can continue the rally for another session or two. Also the financials lagged today (rates fell hard). Monday, if markets in general hold strong, the financials could play catch-up with incremental strength and boost markets further.
BUT nothing changed this week so I remain worried about the next few months and remain cautiously optimistic. It's too early to sound the all-clear for the bulls. Conversely, Bears should avoid short the short term (meaning avoid trades with days on the clock).
Apple Friday once again acted the grown up in the room. It was only up +.7%.
Small caps lagged most of the day and in fact ended the week in red. So I will be interested to see how they act on Monday.
- VIX (fear gauge) has been bouncing on floorboard of 20. If it holds then markets remain nervous for the near term. BUT with China's closure we could see a temporary relief on the VIX side and it dropping closer to 17.5. China has been the source for much of the recent malaise so the absence of its headlines may be a window for markets to rally and the VIX to break down a little.
Financials: XLF Needs to hold the red rectangle (22ish) or risk reverting to 20/21 area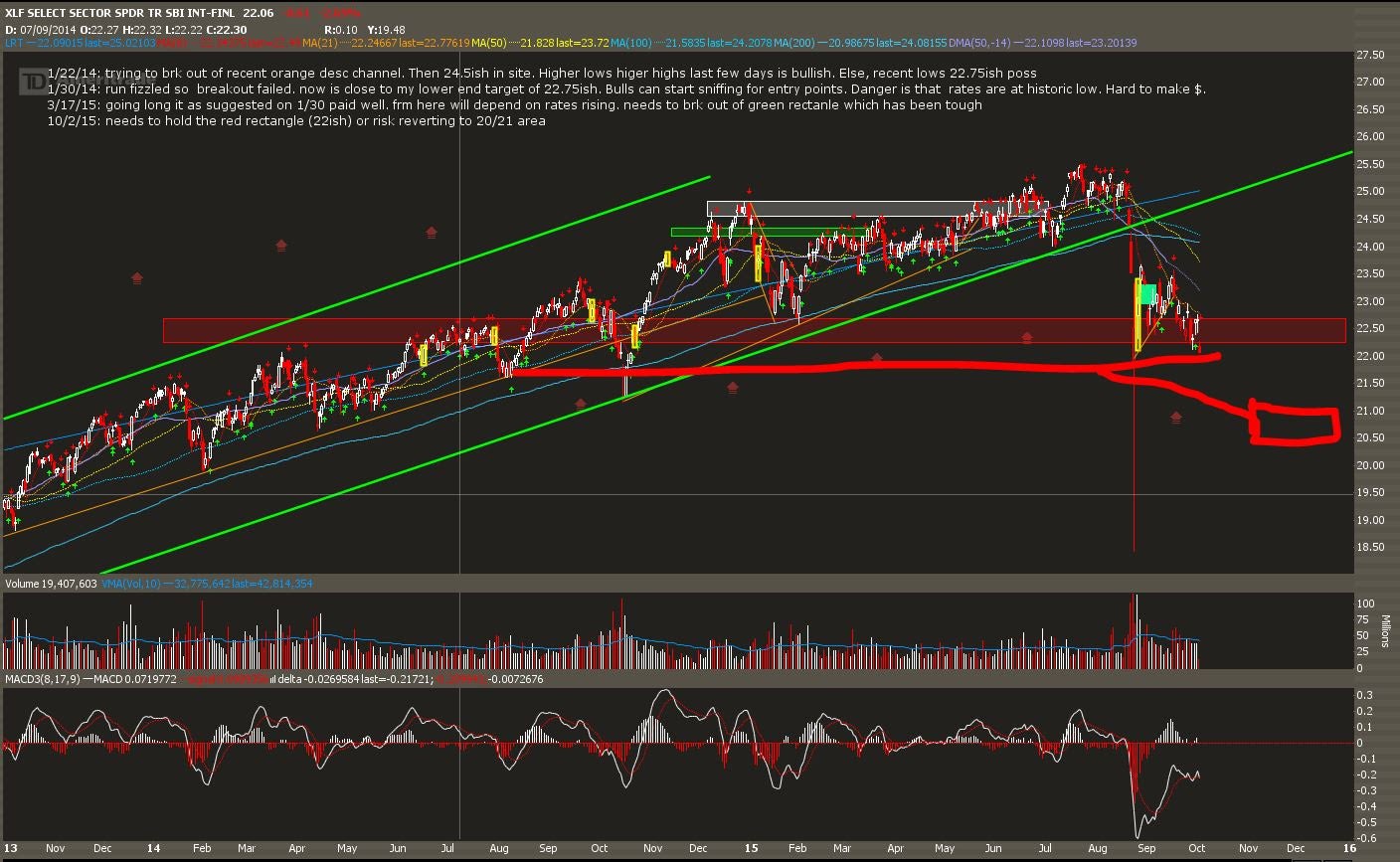 NO FEAR: Friday momentum stock (MOMOs) rallied hard. These are perceived froth and if they are buying froth... they have no fear. This tells me that we STILL have not seen fear selling yet. This is a risk that could price in on the next major negative headline. For this and other fundamental and technical reasons, I still think it's still appropriate to protect trades that were in trouble recently . There are too many instances of possible looming breakdowns in major players like Apple, IBB, Financials, etc. Long folios aught to be cautious. A few puts purchased would give one the time to react in case of a breakdown.
CNBC said that they could "see the change in psychology." That's not actionable information. I still prefer chasing fundamentals and shorting sentiment.
"Headline trading" visualized: Friday's price action illustrates well the notion of "headline trading." you've heard me say it; here it is in pictures below. In the span of hours, NOTHING changed fundamentally. Yet, markets went from 1929 to 1885 in seconds then back to 1925 then 1950 all within hours. All without an actual change in the fndamentals that we had until then; economies don't move this fast.
10/1: If we sell of, The S&P e-mini (ES) needs to hold the 1890 area. Else they risk a 35 point drop. If we rally on tomorrow past the Thursday preope high then the e-minis could 1945 area. Without any NEW fundamental information tomorrow I am not likely to chase either of those moves. If we rally, the small caps minis (TF) could be targeting 1105 to 1115 area as target #1. 1120 would then become a potential break out point to try and revisit the 1140s (9/25's highs). If we fall, the small caps minis (TF) would shoot for today's lows (1077.5) on their way to 1065ish. The Nasdaq Minis (NQ) is already at a breakout potential point that would cause a 70point rally (50 to 100) targeting the 4300 area. This in turn could trigger another run up to 4380ish.
Oil went for a wild ride today: They initially rallied crude to over $47 only to see it slip back down the 44.6. Now it's back in our range that we drew weeks ago. This is still uninvestable as it remains a rigged market and completely in the hands of Opec.

Tickers:
NVAX: 10/2/15: Early got killed down to 6.5 from 15 in aug. Then it closed +3%. Still it's worth noting that it came back to the pivot red line we drew a while back.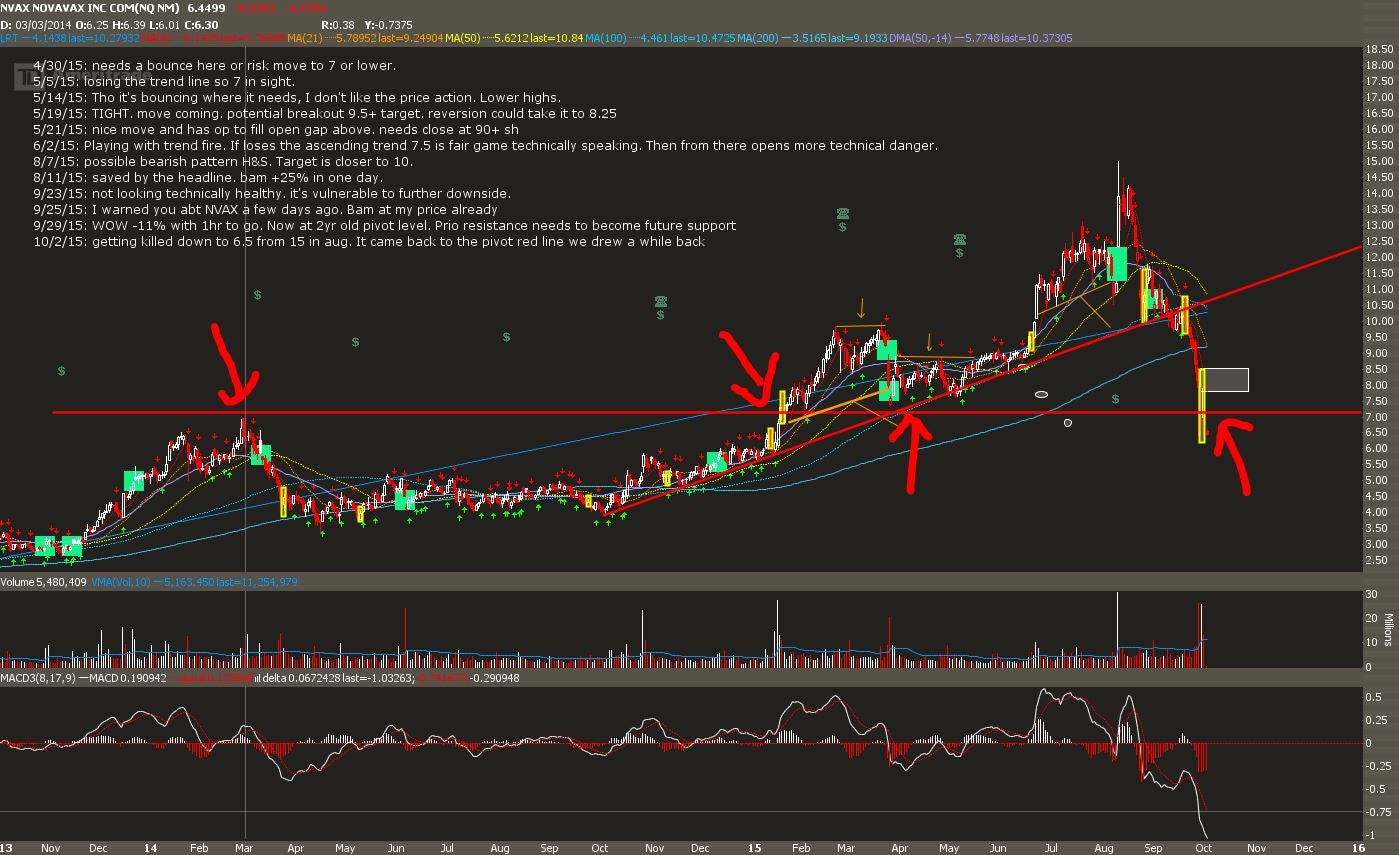 GLD: 10/2/15: rallied on bad econ report suggesting no rate hike. 110 gld is imp. brk out potential to shoot for 111.5 which in turn is another brk out potential to 114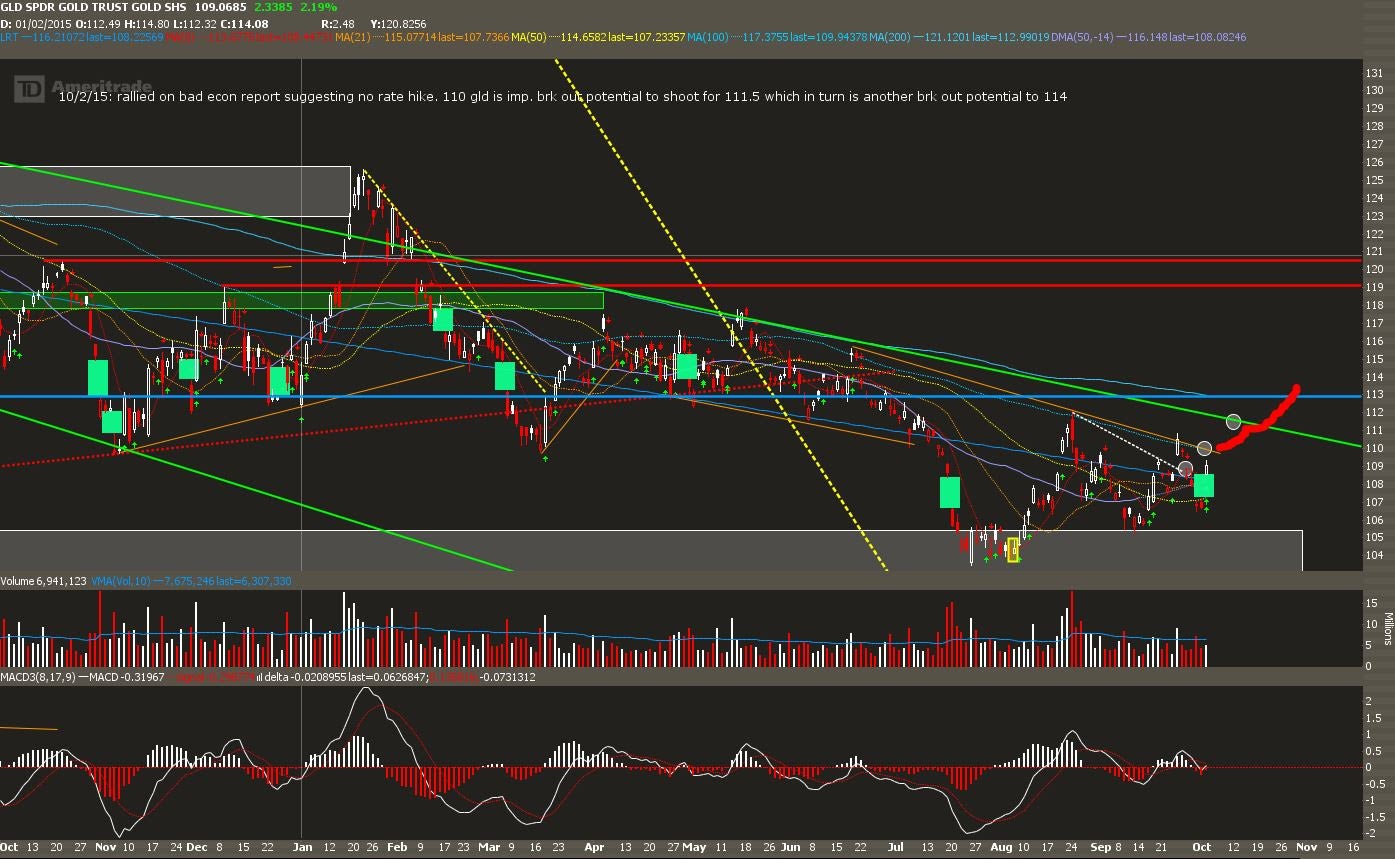 The preceding article is from one of our external contributors. It does not represent the opinion of Benzinga and has not been edited.
Posted in: Previews Options Markets Trading Ideas