Energy Weakness Skews Earnings View — Can The Rest Of Corporate America Deliver?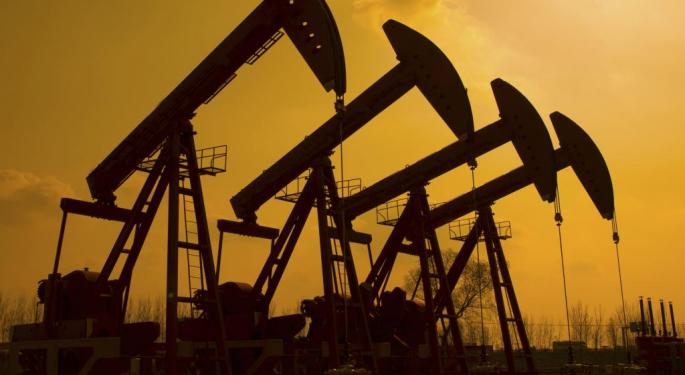 Friday was one of the wildest trading days in recent memory. Major stock averages were hammered after a September jobs report miss, only to bounce back in the final ticks of the trading day. Does anyone think that volatility will quiet down anytime soon, especially with earnings season on its way? Not likely.
In fact, last week kicked off with the worst single-day drop in a month. Mid-week, the books also closed on Q3—the ugliest quarterly performance for the broader stock market in four years. Yet when last week finished, the S&P 500 (NYSE: SPY), in figure 1 below, and the Dow Jones Industrial Average logged one percent weekly gains, snapping back-to-back weekly drops. The tech-heavy NASDAQ Composite scratched out a 0.5 percent gain last week.
The yield on the benchmark 10-year Treasury note fell below two percent on Friday for the first time since late August. Investors pushed up bond prices, dropping yields, on concerns about growth in the U.S. economy and amid fresh questions about how soon the Federal Reserve might act to reverse easy monetary policy.
Traders are rejoicing in volume and volatility, combining for what some see as a highly tradable market after narrow daily price bands and historically low volatility for much of the year. For traders and longer-term investors alike, this earnings round may well determine the next leg for stocks.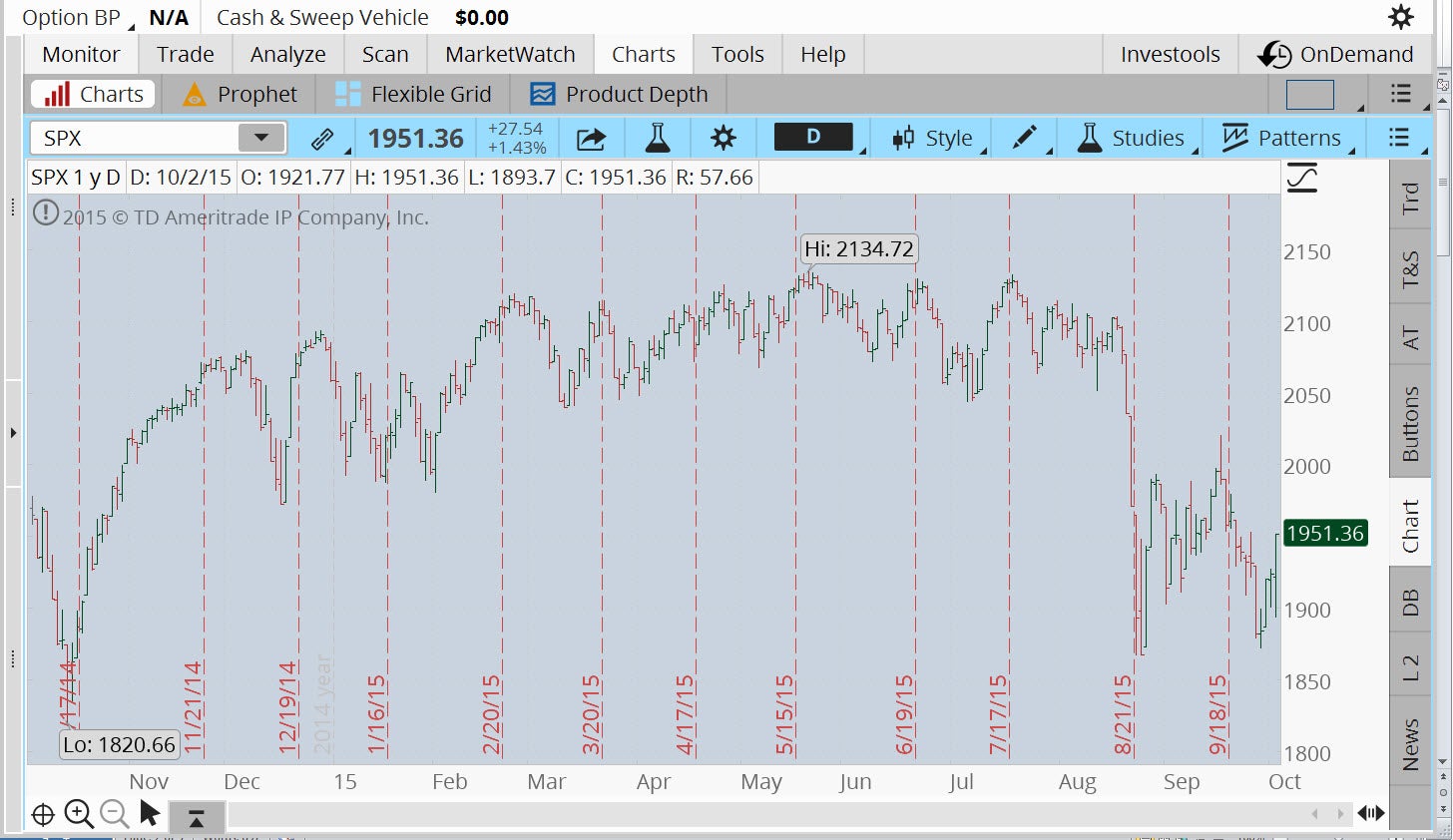 'Tis the Season
As historically volatile October begins, so does another earnings season. Alcoa (NYSE: AA) unofficially kicks off the Q3 reporting period after Thursday's closing bell. Johnson & Johnson (NYSE: JNJ), Intel (NASDAQ: INTC), Netflix (NASDAQ: NFLX), and a number of big financial names release results next week and then the heart of earnings season begins.
Most market observers have said major averages are on firm but vulnerable ground as another round of earnings news begins with Alcoa's October 8 post-close release. Broadly speaking, earnings are still expected to reflect a China-led global economic slowdown, weak commodities prices, and a stronger dollar.
In the past couple of quarters, forecasters called for the first year-over-year decline in S&P 500 earnings in five years only for companies to turnaround and beat lowered forecasts and show a net year-over-year rise. Forecasters aren't deterred. Overall, this reporting period's corporate earnings are expected to fall by 4.1 percent over the same period a year ago, according to Thomson Reuters data. That figure is skewed, however, by an expected 65% fall in energy sector results.
Earnings have been a moving target. Company executives and Wall Street analysts have done their best to handicap the tug of global economic shifts and currencies; they've lowered expectations repeatedly, although some analysts note that this season kicks off with fewer earnings warnings than in the past couple of quarters. As the Street braced for bad news, actual earnings results have outperformed Street forecasts by an average of four percentage points over the past 14 quarters.
Big Inflation Mystery
Back to last Friday's employment report for one moment. There was little to be excited about in that report, including the details: zero hints of a pickup in inflation. That's good news to a degree, but nonexistent inflation when the economy needs some pricing traction to return to the "normal" conditions desired at the Federal Reserve is not sustainable "good" news.
Thursday's release of Federal Reserve meeting minutes may shed some light on the Fed's inflation/no inflation quandary. The minutes are also hitting during a fairly light week for economic news (see the full calendar below), which means that Wall Street may be hungry for clues.
Maybe we have to dig deeper for hints of inflation? Hey, on Tuesday, McDonald's (NYSE: MCD) starts serving breakfast all day. For those of us who enjoy a Sausage McMuffin, it's good news. And it may be one of the first hints of inflation we've had in some time. Egg prices have already started increasing in anticipation of the extended McDonald's breakfast hours and other factors. Not sure who on the Fed eats at Mickey D's, but a price change there might be just what they ordered.
Inclusion of specific security names in this commentary does not constitute a recommendation from TD Ameritrade to buy, sell, or hold. Market volatility, volume, and system availability may delay account access and trade executions. Past performance of a security or strategy does not guarantee future results or success. Options are not suitable for all investors as the special risks inherent to options trading may expose investors to potentially rapid and substantial losses. Options trading subject to TD Ameritrade review and approval. Please read Characteristics and Risks of Standardized Options before investing in options. Supporting documentation for any claims, comparisons, statistics, or other technical data will be supplied upon request. The information is not intended to be investment advice or construed as a recommendation or endorsement of any particular investment or investment strategy, and is for illustrative purposes only. Be sure to understand all risks involved with each strategy, including commission costs, before attempting to place any trade. Clients must consider all relevant risk factors, including their own personal financial situations, before trading. TD Ameritrade, Inc., member FINRA/SIPC. TD Ameritrade is a trademark jointly owned by TD Ameritrade IP Company, Inc. and The Toronto-Dominion Bank. © 2015 TD Ameritrade IP Company, Inc. All rights reserved. Used with permission.
Posted-In: JJ Kinahan The Ticker TapePreviews Trading Ideas Best of Benzinga
View Comments and Join the Discussion!