Tale of Two Retailers' Earnings Shares Currency Thread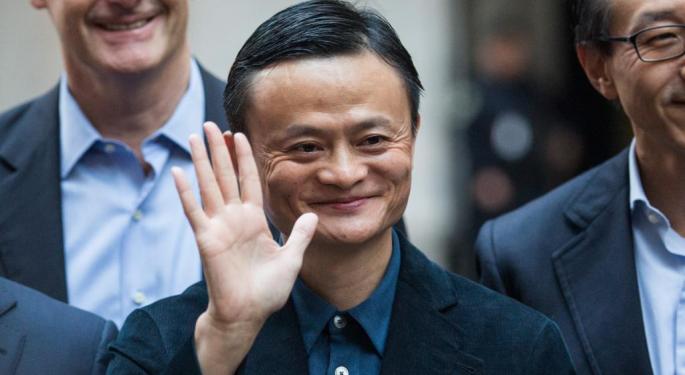 Alibaba Group Holding Ltd (NYSE: BABA) — the Chinese-based e-commerce giant that compares itself to Amazon.com (NASDAQ: AMZN) — is facing a number of headwinds as it reports earnings this week. Can its pricy cloud endeavor provide the puff its battered shares need?
Chief among those headwinds: China's sputtering economy and a flurry of government regulations that are eating into Alibaba's top and bottom lines, it says. Tuesday's surprise move by China's central bank to devalue its currency underscores the government's discomfort with its economy, could set off a worldwide "currency war," say many analysts, and creates chaos for Alibaba both within and outside its home territory.
When BABA reports earnings ahead of the opening bell on Wednesday morning, revenues are expected to vault substantially from the year-ago comparable. Analysts reporting to Thomson Reuters peg a 33.5% jump to $3.39 billion in revenue. Adjusted earnings per share are expected at $0.58.
Big Spender?
Its margins have likely eroded with a $1 billion, three-year investment into a bold cloud endeavor, plus increased spending in mobile map and food delivery, among other business units. Cloud is just one more area that BABA thinks it can take on AMZN. The increased spending looks to expand BABA's cloud capabilities as it's already the leading cloud-computing seller in China.
Of course, we're all looking for more insight into BABA's lofty $4.6 billion stake in Suning Commerce Group, a network of electronics and appliance stores. That's Chairman Jack Ma's biggest buy to date and could lay the groundwork for deeper involvement in offline retail by leveraging its physical infrastructure of more than 1,600 outlets in some 290 cities in China, say analysts.
But some investors are impatient for results, driving shares lower (figure 1). Listen for Ma's take on the yuan's devaluation and its impact on Alibaba sales worldwide.
As for the options market on Tuesday, data on the thinkorswim® platform shows traders have priced in an expected 6% move in either direction the underlying American depository shares (ADS) surrounding the earnings release; BABA has over 2 billion shares outstanding. Volume in BABA calls (they give a buyer the right, but not the obligation, to buy the underlying security) is four times its normal volume; put volume is five times its normal volume (puts give a buyer the right, but not the obligation, to sell the underlying security).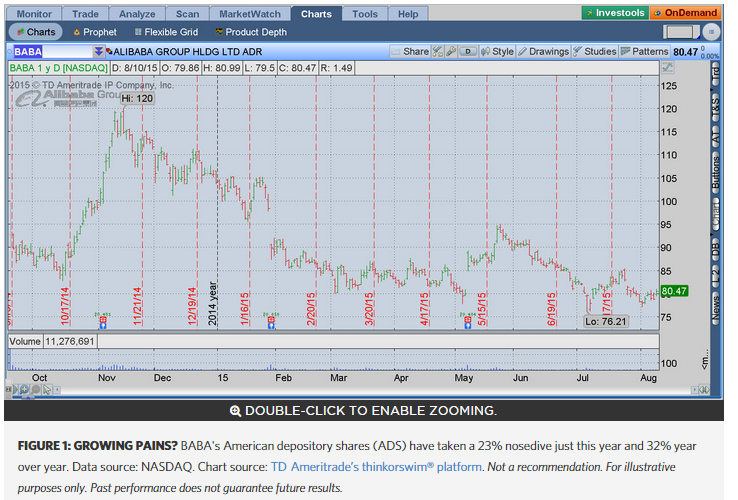 Currency Killer
A stronger dollar has hurt the global profit potential of multinationals this season. But that brawny buck hits home in another form for U.S. retailers like Macy's (M), which reports before the bell on Wednesday, too.
Check out the rest of the action, here.
It turns out the stronger dollar is also a tourist predator, keeping many international travelers at bay and holding down spending by those who do come to the U.S. and hit its well-known stores including Macy's. In Q1, Macy's said the lower spending levels of international vacationers at its flagship Macy's and Bloomingdale's stores in tourist meccas like New York, Chicago, Las Vegas, and San Francisco upended profit and revenue streams. It's not likely to have changed in one quarter. Domestic consumer spending isn't exactly soaring either.
Macy's missed revenue and profit expectations in Q1 and analysts are projecting slight declines for this quarter, with earnings of $0.77 cents a share on revenue of $6.27 billion, according to the Thomson Reuters survey.
Despite these miscues, the stock has held up remarkably well (see figure 2). Its fortunes could change with the seasons, especially if consumer spending improves. That strong dollar, however, could be a snag for some time.
Short-term options market positioning shows participants are expecting a 4.5% move in either direction in the underlying stock surrounding the earnings release. Macy's volatility is in the upper end—the 85th percentile in fact—of its historical tendency. The August 65 put buyers are logging above-average volume.
Posted-In: Previews Trading Ideas Best of Benzinga
View Comments and Join the Discussion!