Tuesday Earnings Preview: Disney, Zillow And Activision
Tuesday will be filled with interesting earnings reports. Among the more than 175 companies announcing their financial results, investors can anticipate hearing from Walt Disney Co (NYSE: DIS), Zillow Group Inc (NASDAQ: Z) and Activision Blizzard, Inc. (NASDAQ: ATVI).
Disney
Disney's results seem to be the most highly anticipated, scheduled for after the market closes on Tuesday. According to Estimize, the company is expected to deliver its strongest quarter ever. The Street is modeling consensus earnings of $1.39 per share on revenue of $13.169 billion, while the crowd is projecting EPS of $1.45 on sales of $13.256 billion.
These figures compare to EPS of $1.28 on revenue of $12.466 billion reported in the same quarter last year and EPS of $1.23 on sales of $12.461 billion registered last quarter.
It should also be noted from the chart above that Disney has a history of surpassing estimates. So, a beat this quarter would come as no big surprise.
Related Link: Is The Market Overlooking This Huge Disney Catalyst?
Zillow
On the other hand, Zillow is expected to deliver the worst quarter in two years.
The Street anticipates a net loss of ($0.21) per share on revenue of $168.87 million, while the crowd envisages a net loss of ($0.16) on sales of $166.76 million.
These estimates compare to a net loss of ($0.05) per share on revenue of $78.68 million reported a year ago and to earnings of $0.05 per share on sales of $127.27 million retrieved last quarter.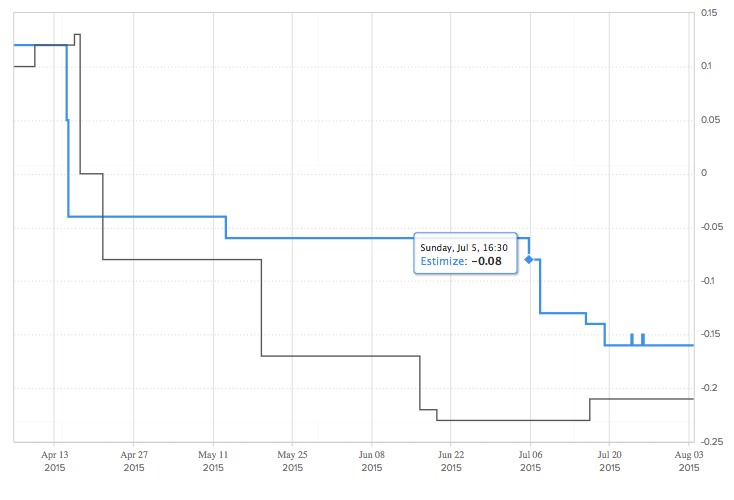 It is also interesting to see how expectations have been falling as earnings loomed, now standing close to their lowest.
Activision Blizzard
Finally, there's Activision Blizzard. In the second quarter of 2014, the company reported earnings of $0.06 per share on revenue of $658 million. For the second quarter of 2015, management guided EPS of $0.07 on sales of $650 million.
The Street, for its part, estimates consensus earnings of $0.09 per share on sales of $666.02 million. The crowd is the most bullish and anticipates EPS of $0.12 on revenue of $677.1 million.
It should be noted from the chart above that Activision Blizzard's earnings respond to a cyclical pattern and have tended to beat estimates.
Posted-In: EstimizePreviews Tech Trading Ideas
View Comments and Join the Discussion!