Apple & Asia Rule The Options Market: Here's What Else To Look Out For This Week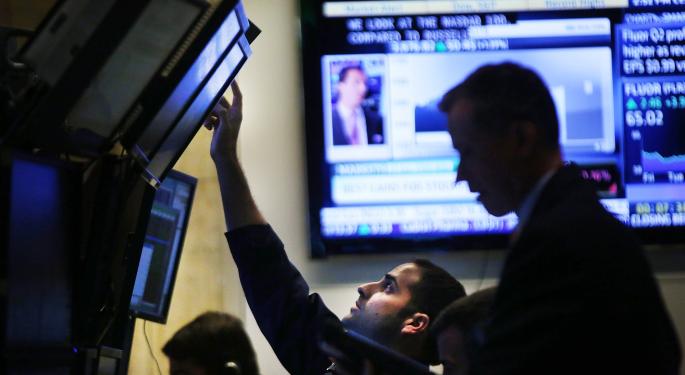 Scoreboard
Asian markets continue to be on fire. China markets led up +3 percent. Astonishingly, Asian markets are up almost 40 percent year-to-date and this could be a worry for the bulls.
U.S. futures were looking strong, aided by a nice move in Apple Inc. (NASDAQ: AAPL) to over $132.
Shorting markets could be hazardous this week. The run-up is serious and has potential punch power with several possible catalysts. First, there are earnings from heavyweights like Apple.
Next, there is a slew of economic events that can also ignite market moves. Markets should focus on Wednesday with the Fed event and GDP release. Janet Yellen said they won't raise rates this month, but traders will dissect every word for clues on when will the rate hike come. If the Fed hints at a delay, markets have energy to bust upwards and destroy tight short positions; the opposite is also true.
With strong corporate balance sheets, it would take an event other than just "high valuations" to scare these markets down.
Traders should expect the unexpected. Higher is definitely possible, especially after much time spent at these highs. Last week, a mega break-out was possible. This week, it's even more realistic with all the potential available catalysts. It will be interesting to see how the small caps behave, as they will be the least directly affected by the mega tickers' earnings reports.
Credit put spreads might work; credit call spreads will be tricky and hazardous this week. Indices have support, so they can chase higher levels.
Related Link: Apple & Other Earnings Expected To Dominate The Week Of April 27
Bulls definitely have the set-up for a break-out; it is telegraphed almost too well. In 2015, neither bulls nor bears have yet shown the desire to control. The bulls have that chance this week. Select longs could make sense especially for portfolios that are already geared short.
Apple
Levels shouldn't matter too much. The markets expect a $7 move on Monday afternoon's report. Calls were the right lotto to be taken and can be booked ahead of earnings if one wants to lock-in the profits.
The options markets is not giving clues that make sense. They are centered around $125, which doesn't seem right given the current level, but this is how they are set up. The potential move will be surprising to many, so there will be running for cover if there is a break-out and vice versa.
Earnings events override any clues this author can derive from the options markets.
Get the full outlook for this week in the video below:
Tags: Asia
Posted in: Previews Options Pre-Market Outlook Markets Trading Ideas Best of Benzinga