10 Charts Every Options Investor Needs To See This Week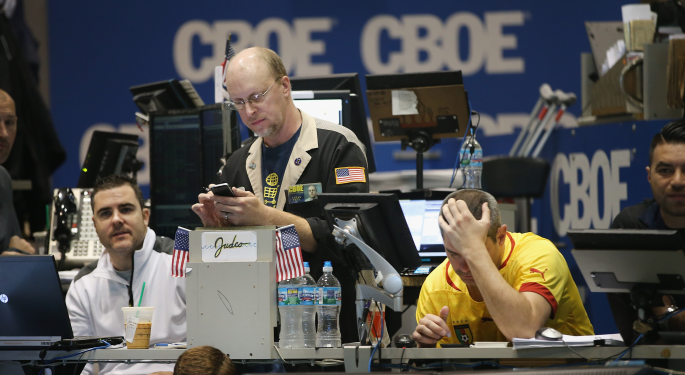 Scoreboard
Last Thursday was a decent way to end a shortened and red week for the broader markets.
However, markets have had two consecutive red weekly candles in a row.
On the upside, the small caps bucked the trend and closed the week green. In fact, all week they had a bullish setup and led upwards. Alas for the bulls, the broader indices never joined the fight.
Look Back On Last Trading Day
Thursday, the small caps finally stepped back from the leadership role and closed slightly lower than the Dow and S&P.
Related Link: Green Day Cannot Give The Bulls A Victory: Friday, March 30
Week Opener
The small caps not leading marks a change from recent action. Monday preopen levels were scary for bulls, but the open quickly went green. Yet, small caps are still lagging. Investors should be cautious of chasing aggressively. The ranges are still set up to mirror those of last week. Markets will need positive catalysts to run far. Good news from Greece could do it.
Recent rallies have mostly been relief pops based on the elimination of bad news; eventually, new bullish fundamentals will need to emerge on which to rally. Earnings season is here, but consensus is that the numbers won't be good enough to fuel a rally. Furthermore, companies are likely to be cautious in their forward guidance; thus, the proclivity to lean in favor of the bear trade.
The reason for Monday's run is attributed to bad economic news (bad NFP report) ultimately being good news for equity prices. There is a good chance that this is misplaced belief, as the Fed seems determined to raise rates in 2015 regardless of whether data suggests otherwise.
Related Link: Ben Bernanke Asks, "Why Are Interest Rates So Low?"
Weekly Trends
(Before Friday morning NFP action)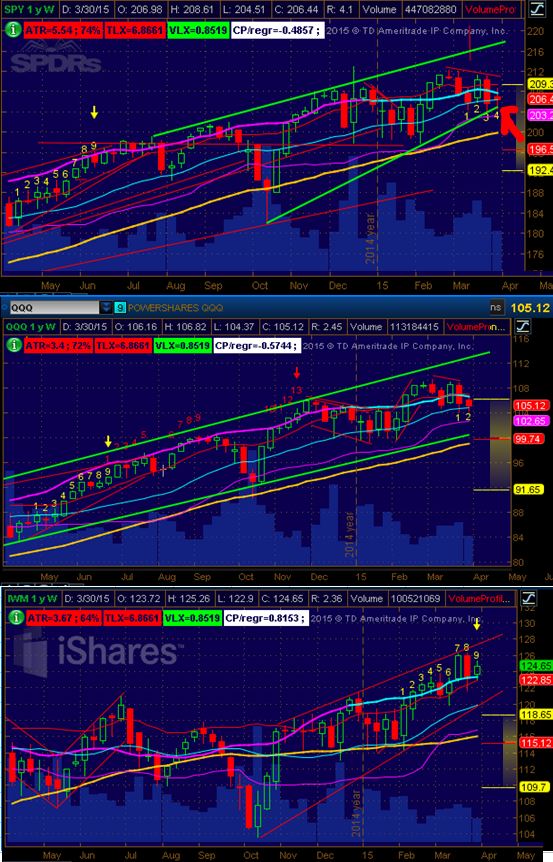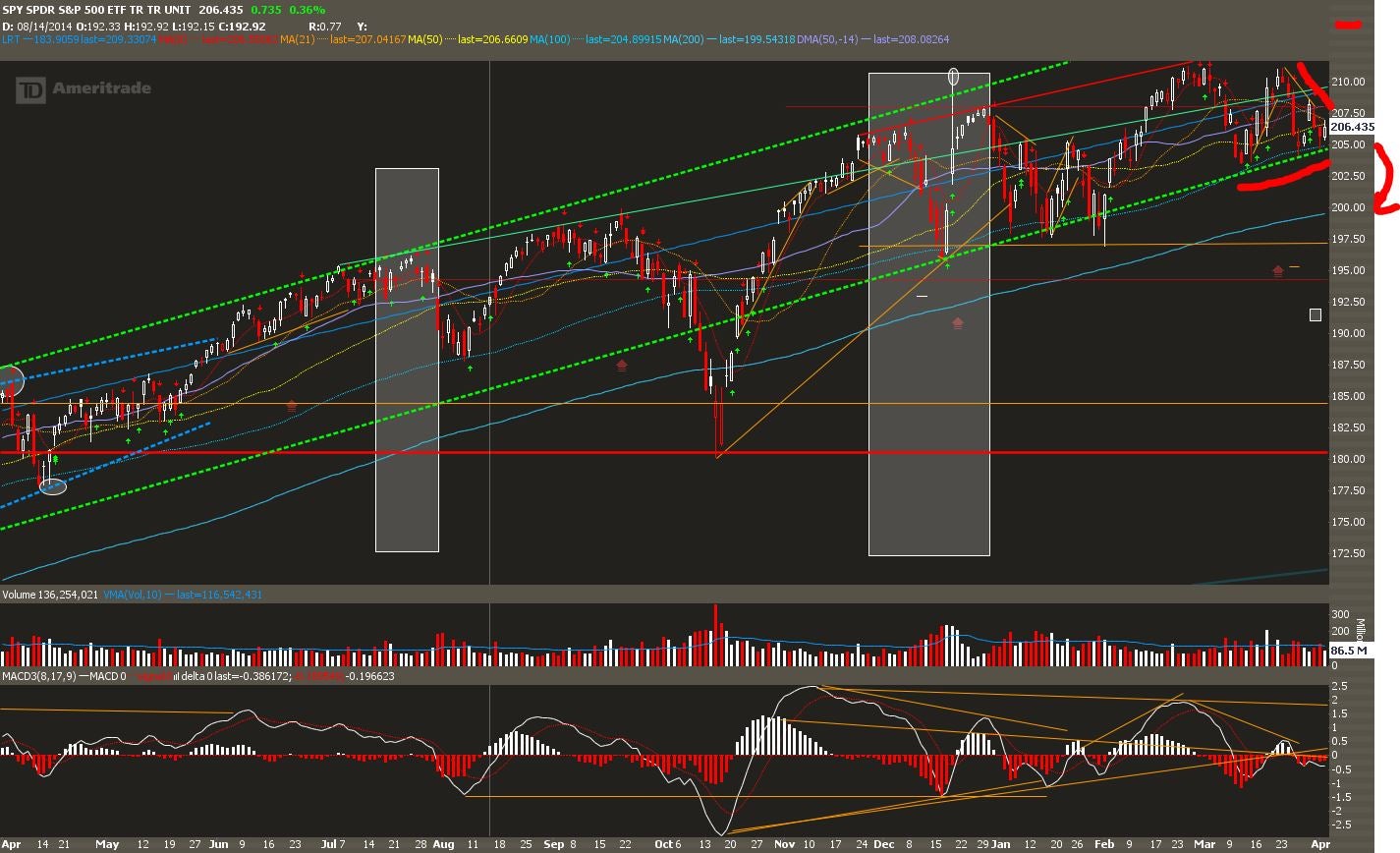 QQQ PowerShares QQQ Trust, Series 1 (ETF) (NASDAQ: QQQ): Doji candle 4/2 seems to be expressing indecision, which is dangerous to do at a support level.
In fact, this marks the junction of two support nodes, while it needs to hold at 105 – this is crucial to the trend. The bulls need to shrug the potentially bad Monday open.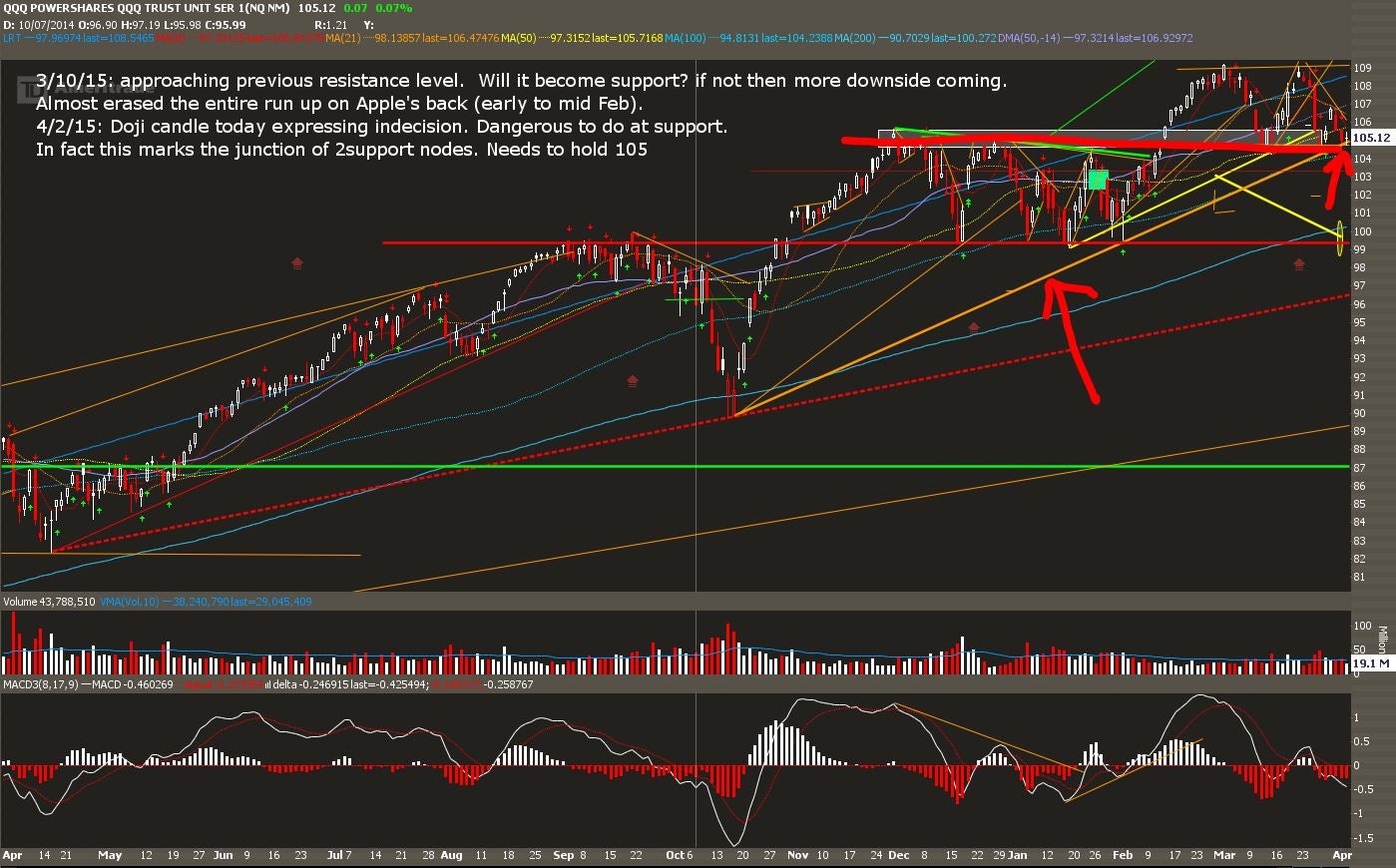 IWM iShares Russell 2000 Index (ETF) (NYSE: IWM): Still holding best and closest to all time highs. Ascending channel intact (yellow).
Tickers:
IYT iShares Dow Jones Transport. Avg. (ETF) (NYSE: IYT) is the chart to watch that can forecast the general market direction. IYT is teetering at the edge of disaster. This will likely cause a problem for the main market indices. 4/2 candle was terrible, especially after being green early. Furthermore, a rally could be expected in IYT on prospects of low oil. Unfortunately, the opposite happened, which is not a good sign.
BX Blackstone Group LP (NYSE: BX) seems to be topping out at its current level. It has done this before at around the 34 level, but then it broke out.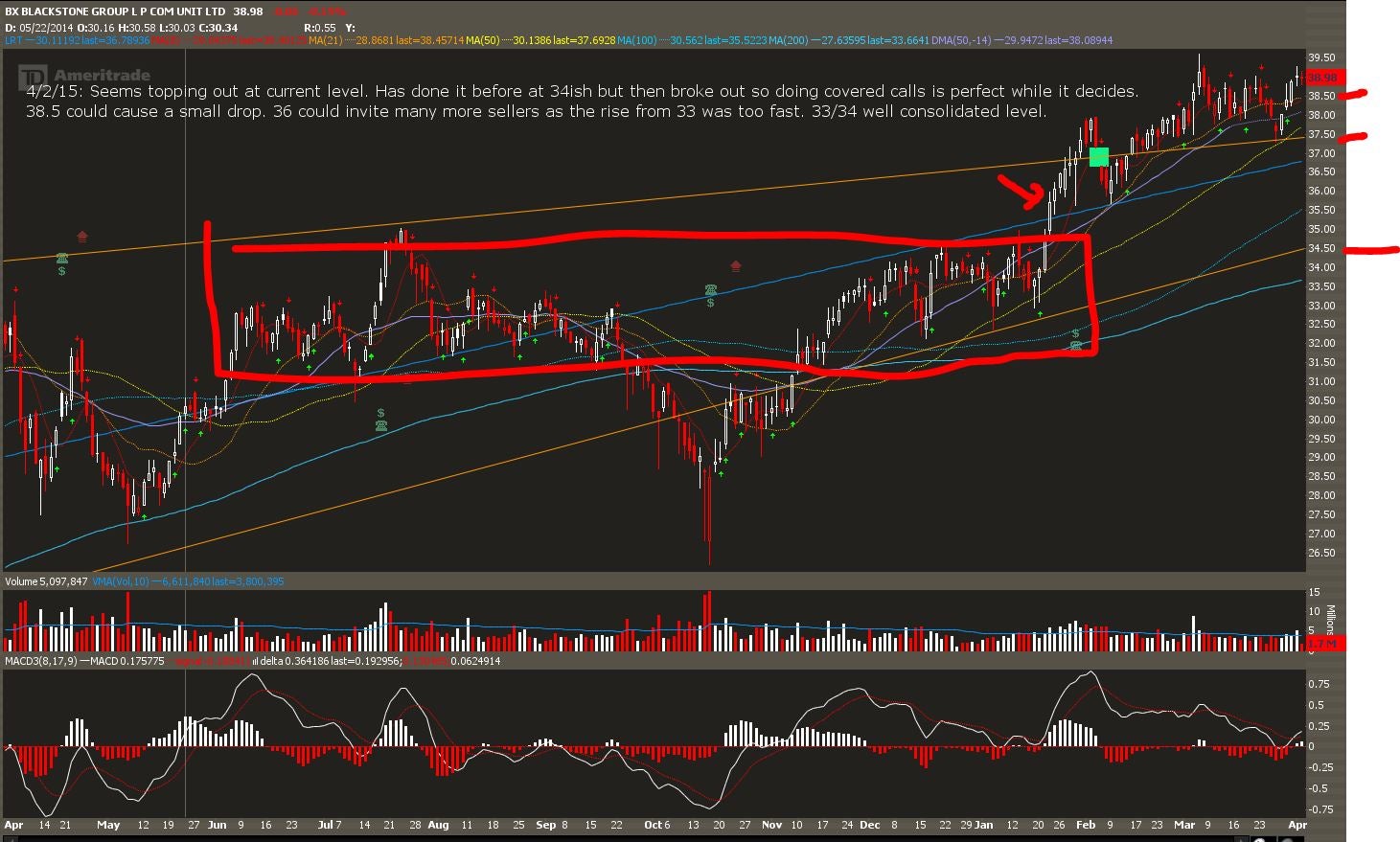 On the previous day, Starbucks Corporation (NASDAQ: SBUX) broke first line of support. This week, it bounced trying to recover the yellow line. The battle continues.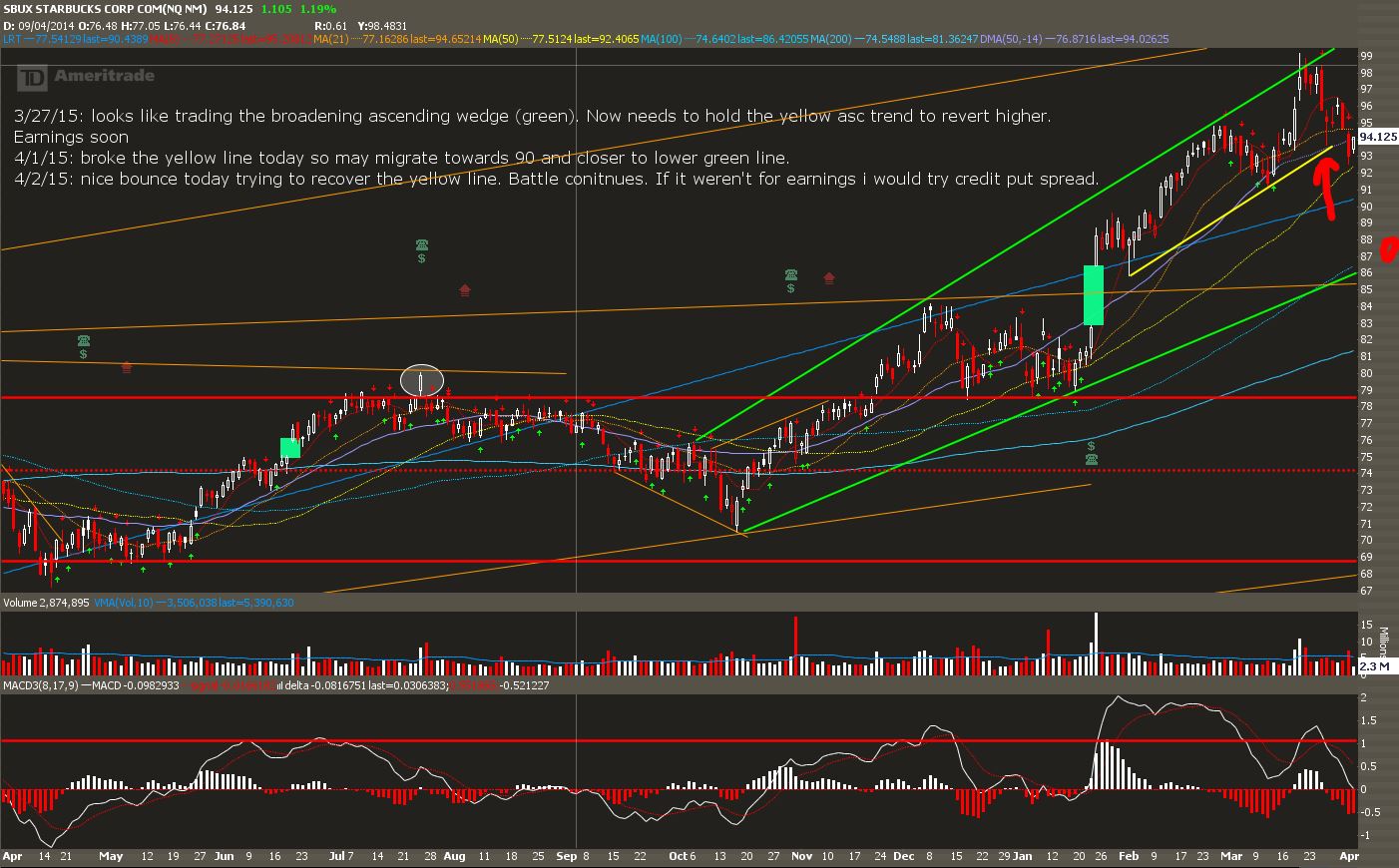 TSO Tesoro Corporation (NYSE: TSO) is showing possible head-shoulder, which is bearish. This on the back of a terrible day for refiners.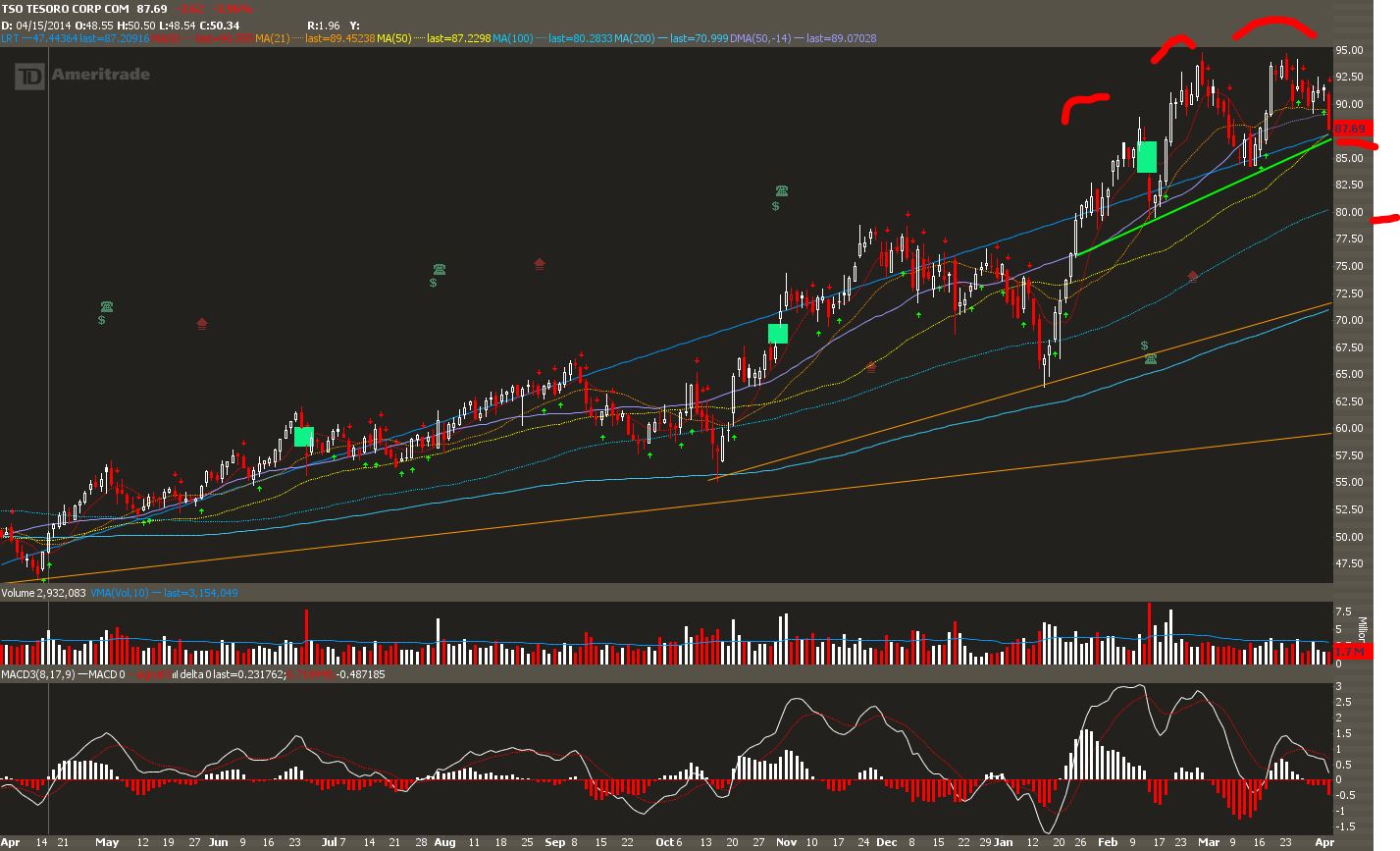 RSX Market Vector Russia ETF Trust (NYSE: RSX) looks like a break-out candle from the descending green trend. However, the trend is still hazy and thus an area of contention.
AAPL With 15 minutes left in Thursday's session, Apple Inc. (NASDAQ: AAPL) extended a spike that came out of nowhere, which took the S&P and Nasdaq past their breakout levels.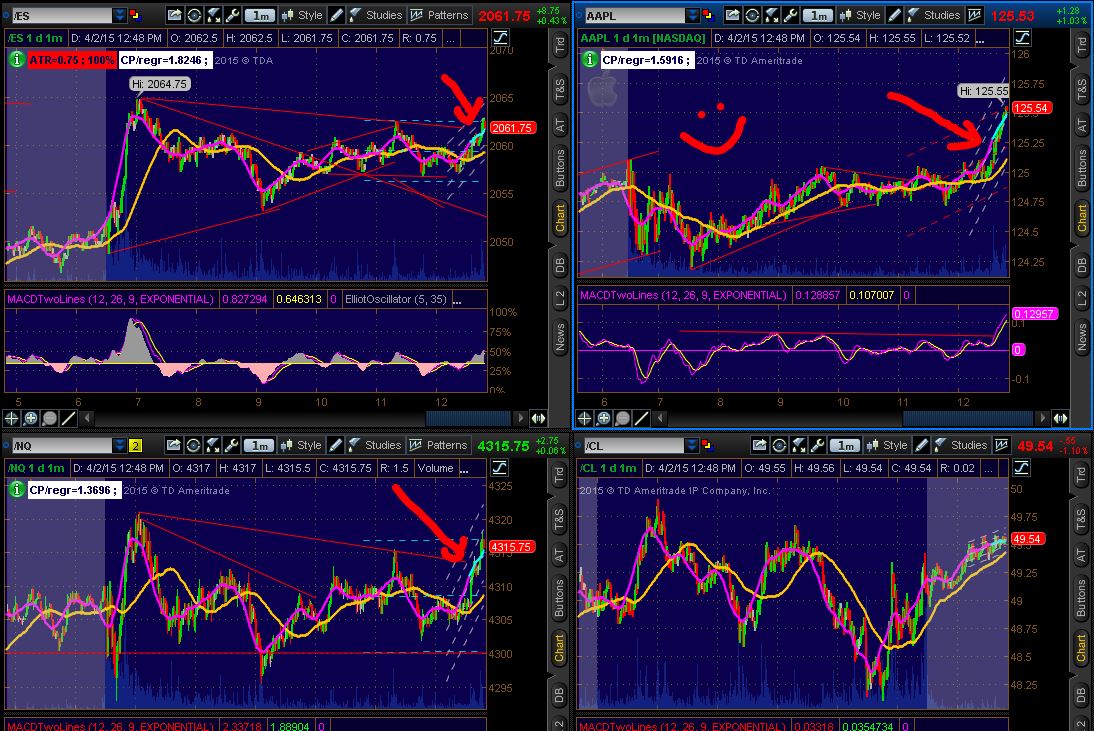 Check out the video below for a full recap of this week's outlook:
Posted in: Previews Options Markets Trading Ideas Best of Benzinga