Notes From The Street: 'Embrace The Volatility!!'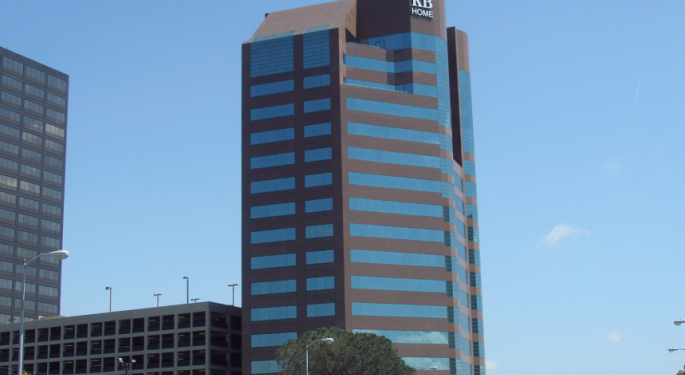 The following is Tim Anderson's (MND Partners) morning note.
The levels of volatility we've seen to start 2015 are a key ingredient of market behavior. Embrace it. Volatility is central to the markets core. Volatility helps define supply and demand. It helps us identify levels of support and resistance. Both are crucial to a healthy and normal functioning market. Large swatches of time during the last 2½ were marked by abnormally low periods of volatility as the market had been anesthetized by a hyperactive FED, petrified of a relapse to the symptoms of the Global Financial Crisis. When you hear regulators comment they need to do a better job of "managing volatility" THAT'S when you should worry.
Tuesday Recap: US Equity markets went on a wild roller coaster ride Tuesday, featuring a 2½% trading range for major market averages. We started with a very positive tone, featuring a +275 point rally for the DJIA and a +25 handle move for the S&P 500. We held most of these gains for the first 2+ hours until the bears got off the ropes and began to punch back around 12:00. Glaring weakness in the Financials and a violent reversal in the Home Builders, were the first signs of trouble. By 1:00 PM market averages had given up half their morning gains. Then came comments from Bundesbank president Jens Weidmann that were strongly against an ECB driven QE style stimulus package. While the Weidmann comments were not exactly "breaking news", the timing accelerated the reversal, and by 2:30 PM the DJIA was -150 and the S&P 500 had lost 40 handles in 3 hours. Markets did stabilize during the last hour and managed to finish the day with just fractional losses.
Tuesday Takeaways: There were both positives and negatives to take away from Tuesdays Market. Lets start with the positives:
Market Internals held their own as the a/d stats were just fractionally negative after having been negative by 3 to 2 at the markets lows.
Oil was not the driver in the market reversal Tuesday. Despite many people talking about the weakness in oil contributing to the mid day selloff, it had nothing to do with it. Oil started the day down 3% and gradually recovered to near even by day's end. Oil was much lower when the market was at its highs from 9:30 to 11:30 than it was at the 2:30 stock market lows.
Market averages held the January 6 lows and rallied off the lows of the day. The market seems to be in a range defining mode, bounded by resistance at the 50 day moving averages and support at the January 6 lows.
The Negatives:
Morning rallies have failed numerous times to start the year. Clearly Tuesday's fail was striking, given the extent of the initial rally. It's also the second day in a row that market averages failed to hold an early move above their 50 day moving averages. Stay Tuned.
Home Builders had an absolutely miserable day. The sector basically had negative "outside week" in 1 day. The catalyst was KB Home (NYSE: KBH) giving negative margin guidance at its conference call following their 4Q earnings report. The Home Builders had been one of the best performing sectors to start this year, and looked on the verge of assuming a market leadership role if the market were to take a fresh leg higher in 2015. As builders report earnings and give guidance for 2015 we'll get a read on whether the issues at KBH are a "one off" or an industry trend.
Financials were clearly a laggard even before the market started selling off. We get earnings reports from the big players in that sector starting today. It's hard to imagine the market making a meaningful move to new highs in the first half of 2015 with financials as a lagging sector.
The Day Ahead: Financial markets are off to a rough start around the globe after The World Bank has its global growth forecast for 2015 and 2016. Industrial Commodity markets are extending their recent rout as Copper is trading at a 6 year low, fueling concerns that cheaper Oil may not be enough to help weak economies around the globe beat back fears of deflation.
Overnight weakness is being tempered a bit in the Eurozone, following a Pro ECB legal decision from the European Court of Justice. The EUs highest court ruled the ECB has legal authority to implement their Outright Monetary Transaction program. Germany had challenged that the OMT program is in violation of the EU treaty. This removes a major hurdle for the ECB in initiating a more aggressive stimulus package at their Bd of Governors meeting next Thursday.
DISCLAIMER:: NOTICE REGARDING PRIVACY AND CONFIDENTIALITY This e-mail and any attachments thereto is intended only for use by the addressee(s) named herein and may contain legally privileged and/or confidential information. If you are not the intended recipient of this e-mail, you are hereby notified that any dissemination, distribution or copying of this e-mail, and any attachments thereto, is strictly prohibited. If you have received this e-mail in error, please immediately notify me and permanently delete the original and any copy of any e-mail and any printout thereof. E-mail transmission cannot be guaranteed to be secure or error-free. The sender therefore does not accept liability for any errors or omissions in the contents of this message which arise as a result of e-mail transmission. In accordance with SEC Rule 17a-4 and NASD Rule 3010; Emails sent to and from this address may be recorded and are subject to archival, monitoring, review and retrieval by the TJM Compliance Department. TJM and/or its affiliates are a member of FINRA, CBOE, NFA, SEC, and SIPC. TJM's main office is located at 318 W. Adams 9th Floor, Chicago, IL 60606. For more information about TJM, please contact (312)-432-5100 or fax (312)-432-4499.
Image credit: Kelly, Wikimedia
The following article is from one of our external contributors. It does not represent the opinion of Benzinga and has not been edited.
Posted-In: Previews Trading Ideas Best of Benzinga
View Comments and Join the Discussion!