Notes From The Street: 'Another V Reversal'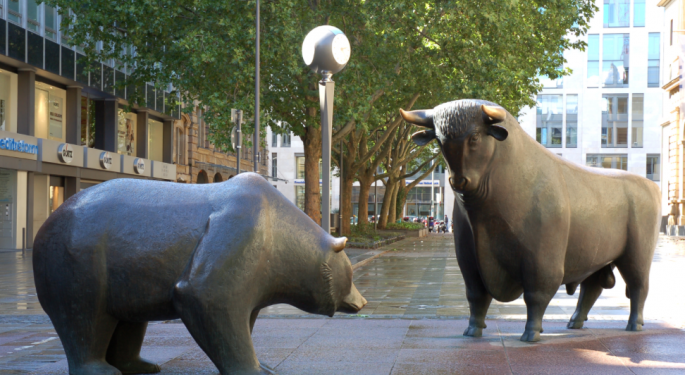 The following in an excerpt from Timothy Anderson's (MND Partners) morning note:

...So what we have now is another jet propelled V reversal nearly identical to the reversal off the October and December lows. The October rally lasted 6 to 7 week and took us easily to new highs on the major market indices in early November. The rally off the mid December lows lasted 8 trading sessions and took nearly all market averages to new highs on December 29.
The skeptics and cynics (Don't look at me) would say the late December highs were heavily influenced by end of the year window dressing, and the reluctance of taxable funds to incur a 2014 tax liability in the last few days of the year. The reality is the charts are what they are, and we're now approaching a critical inflection point for market direction early in the year, right on the verge of 4Q earnings.
So what's next? There are two possible scenarios for market direction from here. "No wise guy it's not just UP or Down!!" Simply project the daily charts out a couple weeks for any of the market averages and 1 of 2 things will take place.
1. We could make new highs on most or all market averages and hold those highs through 4Q earnings season. This would put us right on script for 8 percent to 12 percent gains on the year matching expectations of 80 percent to 90 percent of forecasts from market pundits and strategists.
2. If we fail to rally through the December highs and begin to sell off a bit, we'll be set up for a test of the lows from early this week and possibly the lows from mid December. Should this scenario develop the charts would have a classic "head and shoulder" pattern where a break could set up a more meaningful test of the mid October lows.
We're a long way from scenario #2, but it's there as plausible path if we don't make motor to new highs in the next couple weeks.
The Early Line: At 8:30 this morning we get the December NFP report, with consensus at+240K after the ebullient +320K reading for November. Don't be surprised if the November number is revised a bit lower. US equity futures are looking for a minor pullback to start the day, and after the strong rally from the lows mid Tuesday, it's not only warranted, but probably healthy. Next week we get into 4Q earnings season. Unless the NFP report is a real outlier, we likely to have a much quieter market than we've had all week.
Image credit: Eva K, Wikimedia
The following article is from one of our external contributors. It does not represent the opinion of Benzinga and has not been edited.
Posted-In: V ReversalPreviews Trading Ideas
View Comments and Join the Discussion!