Why You Should Be Watching Micron, Sonic & These Other Stocks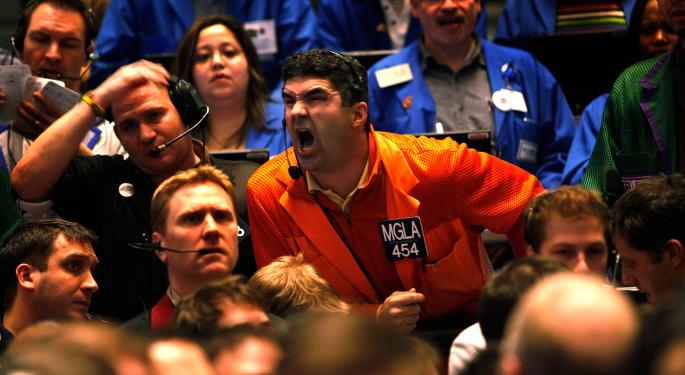 Micron Technology, Inc. (NASDAQ: MU) leads a handful of notable names reporting earnings this week on Tuesday. Last year Micron posted record earnings on revenue that came in 80 percent higher than 2013's yearly results.
In the first three years of the decade Micron struggled to meet expectations as the demand for PC's fell hindering Micron's DRAM flash memory business. Demand for PCs is continuing to fall overall, but in 2013 Micron Technology's business picked up speed.
In the quarter reported 1 year ago Micron saw its revenue rise 120 percent year over year. When Micron reports Tuesday it will be going up against its highest comp in the past 2 years by far, yet the Estimize community still predicts that sales will grow by another 13 percent. On the bottom line, Estimize contributors are forecasting 94 cents in earnings per share, which would be a 20 percent jump higher from the 77 cents reported this time last year.
Tuesday - Sonic
Drive-in fast food joint Sonic Corporation (NASDAQ: SONC) is also slated for a Tuesday afternoon report. The purveyors of slushes and hot dogs have been getting by just fine lately despite the issues that plague the industry as more consumers switch from greasy burgers to healthier fast casual alternatives like Panera Bread Co (NASDAQ: PNRA) and Chipotle Mexican Grill, Inc. (NYSE: CMG).
Sonic has managed to squeeze out earnings 1 cent per share higher than the Wall Street consensus in each of its last three earnings periods. Tuesday analysts on Estimize are looking for a fourth straight period where earnings narrowly top the Street's view.
Earnings of 17 cents per share would reflect a 4 cent (31 percent) gain compared to the 13 cents in EPS announced in Sonic's first fiscal quarter of last year.
Wednesday - Monsanto
Analysts on Estimize are looking for big numbers from Monsanto Company (NYSE: MON) on Wednesday. The Estimize consensus expectation is for the agricultural and chemical company to report earnings of 47 cents per share, which is 13 cents (38 percent) higher than the Wall Street Consensus.
In the past two years Monsanto has beaten the Street's consensus by 13 cents or more two times including once in the company's first fiscal quarter of the year two years back.
For Monsanto's upcoming report we are seeing the largest ever differential in earnings expectations between Estimize and Wall Street for the agricultural chemical company. The consensus on Estimize is telling us that the market may be pricing in higher expectations ahead of Wednesday's report. Shares of Monsanto have risen 9 percent over the past 3 months.
Thursday - Family Dollar
Contested takeover target Family Dollar Stores, Inc. (NYSE: FDO) will announce its quarterly earnings on Thursday. In December Family Dollar delayed a shareholder vote to sell itself to competitor Dollar Tree, Inc. (NASDAQ: DLTR). CEO Howard Levine is urging investors to take the deal, but has failed to muster the required the number of votes to his side. The vote is now scheduled for January 22.
Rival Dollar General Corp. (NYSE: DG) is also vying to acquire Family Dollar and has extended its $9.1 billion hostile takeover offer until the end of January.
While the spotlight is on the imminent takeover drama, Family Dollar does report quarterly earnings this week as well. Family Dollar's profits have shrunk in 4 consecutive quarters as Family Dollar has missed the Estimize consensus each period over the past year. All the while sales have remained close to flat, changing year over year between -6 percent and +4 percent in each period.
Thursday the Estimize community is predicting that earnings will drop from 68 cents per share last year to 60 cents per share this year. Estimize contributors predict that first quarter revenue will grow by 2 percent compared to last year.
Thursday - Bed Bath and Beyond
Specialty retailer Bed Bath & Beyond Inc. (NASDAQ: BBBY) also reports Thursday. In its past two quarters year over year earnings have been flat and up 1 percent respectively. This week Estimize contributors are predicting that the bed and bath retailer will beat the Street's EPS consensus by 2 cents per share, coming in a solid 9 cents per share (8 percent) better than last year's FQ3 results.
On the top line revenue has grown by 2 percent and 4 percent respectively in the past two quarters. The Estimize community is looking for sales that are in-line with Wall Street's estimate and again 4 percent higher than last year's result.
The preceding article is from one of our external contributors. It does not represent the opinion of Benzinga and has not been edited.
Posted-In: Previews Trading Ideas Best of Benzinga
View Comments and Join the Discussion!