What Black Friday And Cyber Monday Sales Foreshadow For Retailers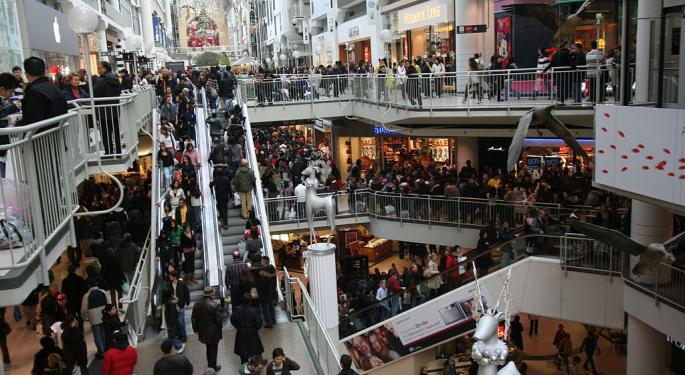 The numbers are in, and they are telling us that Black Friday weekend doesn't matter as much anymore, and it doesn't necessarily kick off the holiday shopping season as it once did. We think there are three culprits for the changing face of the Black Friday shopping event, and certain companies that are poised to benefit this holiday season.
The National Retail Federation released their results for Black Friday weekend which showed sales from Thursday - Sunday fell 11 percent from the year-ago period.
Data also solidified a growing preference towards online shopping (ie: why deal with lines and crowds when you can shop from the comfort of your own home or anywhere on your mobile device?), with comScore Inc. reporting record Cyber Monday sales that grew 17 percent year-over-year and topped $2B in sales to become the heaviest online spending day in history. With many retailers offering the same discounts online as they were in their brick-and-mortar stores, as well as free shipping, the choice seemed obvious.
Not only did online shopping hurt the traditional Black Friday sales, but promotions and discounts were offered a lot earlier this year, and have extended well beyond the weekend. Consumers have learned from last year that there is no longer just one finite weekend to take advantage of holiday deals, and that better discounts may even come in the week or two leading up to the holidays. Many retailers even turned Cyber Monday into "Cyber Week."
The last factor which seems to be playing into shopping patterns this season are the improvements in the job market. We all know the the employment situation plays a big role in how confident consumers feel about spending, and this morning we got the best jobs data of the year.
Nonfarm payrolls for November came in at 321,000, only the second time we've been over the 300k mark this year, and the highest reading since January 2012 turned in 360,000. Unlike during the recession when Black Friday promotions were critical, consumers seem more confident and not as desperate to jump onto deals. Today's consumer is valuing different things such as free shipping this season.
To determine which retailers are poised to benefit the most this holiday shopping season, we looked to see which companies had the largest fourth quarter deltas between the Estimize EPS consensus and the Wall Street consensus.
Amazon
This first one might be surprising as it posted a big disappointment in the third quarter. The Estimize community expects Amazon.com, Inc. (NASDAQ: AMZN) to post Q4 EPS of $0.50 vs. the Wall Street expectation of $0.26. That is based on 43 estimates and would be the first positive EPS report after two down quarters.
In the third quarter sales were not the problem for the internet retailer, with revenues of $20.6B increasing 20% YoY, but the bottom-line suffered due to $170M in charges related primarily to Fire Phone inventory.
At the end of Q3 there was still $83M in Fire Phone inventory, that could once again put a dent in income, however, sales are once again expected to very strong at $30.1B, an 18% increase YoY. Amazon has traditionally done well during the holiday's, with that year's Q4 EPS growing 143% with sales up 20%.
CFO Tom Szkutak said he feels confident about the selection that they have added and continue to add for the holiday season. "We think from an operations standpoint each year we try to get better, and we believe that we'll be even better this year than we have in previous years."
Ralph Lauren
Ralph Lauren Corp (NYSE: RL) is expected to be another winner in the fourth quarter. Currently the Estimize consensus for the clothing retailer stands at $2.67, $0.12 higher than what the Street is anticipating.
If the company comes in at $2.67 this would represent 4 percent growth from the prior year, and revenue expectations of $2.1B would show growth of 6 percent. With the fall season shaping up nicely thus far, the company is happy with their position heading into the holiday season, and feel they are "well set up for the right appeal of product to their customers."
The one warning was in regards to foreign currency impact. Ralph Lauren adjusted their fiscal 2015 outlook, now expecting net revenues to increase by 5 percent-7 percent compared to its previous outlook of 6 percent-8 percent growth.
Target
For the fourth quarter, Estimize contributors are expecting the discount retailer to report EPS of $1.33 vs the $1.22 Wall Street estimate, which would imply YoY growth of 163 percent growth after being negative in six of the last 8 quarters and flat in Q3.
Last holiday season Target Corporation (NYSE: TGT) suffered from a large data breach, something that has negatively impacted earnings by $140M this year.
The company has found success in offering free shipping on all target.com orders over $50 which they began in the second quarter, with all holiday season offers eligible for completely free shipping.
Since the announcement the company has seen a meaningful increase in both orders and conversion compared with trends prior to the announcement. Target also experimented with offering a pre-sale of select Black Friday deals online and in stores on November 26.
The result? "By 9 a.m., online sales had already exceeded total sales from the same day last year. Top online and in store items were the iPad Air 2, Beats by Dre Solo HD headphones."

Best Buy
After an excellent third quarter, Best Buy Co Inc (NYSE: BBY) is expecting continued progress in the fourth quarter. The Estimize consensus is predicting EPS of $1.42, $0.11 higher than Wall Street, a 15 percent increase on top of the third quarter's growth of 78 percent.
On the recent third quarter call, CEO Hubert Joly said the sales trends entering the fourth quarter were encouraging from a top-line perspective.
The company's holiday plan includes several tactics including more customer-facing changes on their website and in stores (ie: more highly trained associates in store to help customers with buying decisions), offering installment billing plans in the mobile phone category, a more "inspirational gifting strategy," a targeted marketing strategy and increased inventory.
Image credit: Skeezix1000, Flickr
The preceding article is from one of our external contributors. It does not represent the opinion of Benzinga and has not been edited.
Posted-In: Previews Trading Ideas Best of Benzinga
View Comments and Join the Discussion!