1 Question Traders Need Answered This Week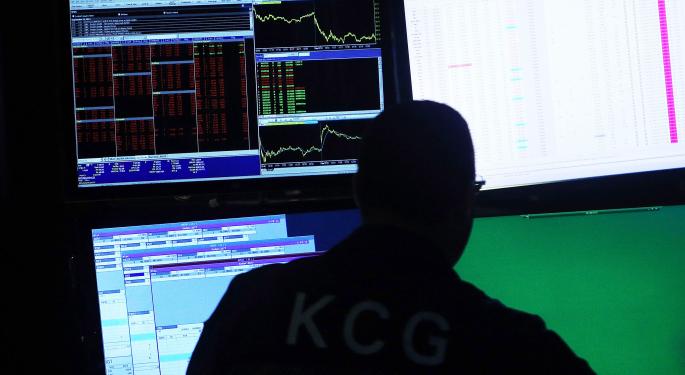 Last Friday was a complete surprise with a 1.1-percent move for the Dow Jones Industrial Average (INDEXDJX:.DJI) and S&P 500 (INDEXSP:.INX), along with a 1.4-percent gain on the NASDAQ Composite (INDEXNASDAQ:.IXIC).
A Few Points
The S&P's V-shaped recovery is more than 11 percent from the lows in just 11 trading days.
On a slightly negative note, even with a surprise Bank of Korea rate move, the S&P could not recover its all-time high as of this writing.
Technically speaking, the last two bullish candles that ushered in this recovery are less than half of the size of the red candle that took the S&P down the week prior.
A Look Ahead
In a way, it seems like all traders and investors are on the same side of the proverbial boat to start this week.
Including Thursday's interruption in quotes, last week had many strange price-related occurrences. It will, most likely, take a few days of trading without headlines to get more clarity so traders can realign a few of those pieces for longer-dated trades.
Related Link: Another Reason To Keep An Eye On Options During Earnings Season
Meanwhile, some are going long on a few good names who already reported, like Google and Apple. One strategy concerns credit put spreads, debit call spreads or both (for the really bullish traders).
Early this week will likely carry upside bias, but many market participants could already be expecting a "surprise" move from the European Central Bank (ECB).
The ECB's rate decision is not scheduled until Thursday, so any sell off may be shallow in anticipation of a potentially positive headline from the institution. If Mario Draghi fails to deliver an impressive action (or a plan), there could be some risk for the broader markets.
The Real Question
So, what would happen to the markets if nothing comes out of the ECB?
In an effort to avoid inflammatory remarks, the real question traders need answered is: Have the fundamentals changed this week?
If not, expecting another 11 percent in 11 days might be overzealous.
In the past few weeks, markets have been trading in reaction to headlines.
On the way down, markets reacted violently to the Ebola scare, for example.
Last Friday, it was the opposite when markets ripped higher on a surprise headline concerning quantitative easing in Japan.
Although headline trading is exciting to watch, it ultimately "levels the playing field," so to speak.
For a full recap of this week's outlook, check out the video below:

Tags: Options Outlook
Posted in: Previews Options Markets Trading Ideas Best of Benzinga