5 LED Companies With Plenty Of Spark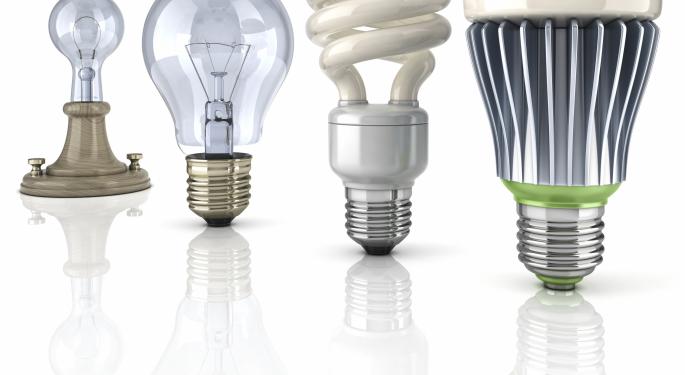 When I was younger, I remember being told that the everlasting light bulb had already been invented. According to my friend, the problem, was not one of invention, rather it was that no company wanted to produce one, since if they did, they would have no repeat business model and would therefore be doomed to failure.
Many years later and I still do not own such a bulb. But what I do own is an LED. These bulbs are quickly changing the face of the lighting industry since they are brighter, more energy efficient and cleaner than any incandescent, halogen or CFL bulb on the market.
Indeed, LED bulbs are able to produce around 70 more lumens than incandescent bulbs and do so needing 75-80% fewer watts. They are extremely long lasting, with the ability to go on for 25,000 hours (CFLs are usually rated for 8000-12000 hours and incandescents 1500 - 2000 hours) and unlike other bulbs they carry no mercury.
Market outlook
Since the January 1st ban on incandescent light bulbs went into effect, traditional light bulbs are no longer available, meaning the future for LED is very bright indeed.
In fact, the LED light market is anticipated to grow 35.6% percent a year from 2012 to 2016, giving the market a total worth of around $42 billion by 2019.
Such exciting numbers prompt immediate analysis and these four companies present excellent ways to gain some exposure.
General Electric
General Electric (GE) has a rich history.
118 years ago, General Electric was one of the original 12 companies in the newly formed Dow Jones Industrial Average and today, GE is the only one of those 12 to still be listed in the index.
It's also fitting that this $269 billion company first came together thanks largely to Thomas Edison, popularly known as the inventor of the original light bulb.
And yet, despite it's rich history, GE has it's sights firmly on the future. The company is leading the way in solving the world's energy problems; through natural gas, thermal power and wind. It's also driving innovation in the Industrial Internet and aviation.
In lighting, GE supplies some of the most efficient and affordable LED bulbs on the market and the company's 60 watt 'Reveal' bulb is vivid, long-lasting and cheap at $18 a bulb.
Moreover, GE's lighting division has been able achieve growth of 33% year on year, with lighting now making up about 5.4% of GE's overall revenue.
Last month, Wal-Mart announced its largest ever purchase of GE lighting technologies, designed to save the firm 5% in lighting costs per store. Considering that amounts to well over 10,000 international and domestic locations, GE will need to shift an incredible amount of bulbs.
Koninklijke Philips Electronics
Netherlands based Koninklijke Philips (PHG) was a previous winner of the Bright Tomorrow Lighting Prize (L Prize), for its 60-watt replacement bulb. The competition, run by the Department of Energy, challenges the lighting industry to develop energy-saving replacements for conventional light bulbs and awarded PHG $10 million for its LED bulb.
The company is not only involved in LEDs, however, and it's focus towards health care is also a profitable segment. Nevertheless, the LED part of PHG is important in smoothing the company's profits and is growing fast. Indeed, LED lighting sales grew 33% in 2013 and now LEDs account for around 30% of Philips' total lighting sales.
What is also important for investors is the company's financial situation. Phillips has been able to grow EPS at an average of 73% over the last 5 years and employs a nice dividend of 2.88%. Sales have improved around 10% and this is despite continuing economic weakness in Europe, where Phillips does most of its business. With the possibility of more monetary loosening in the Eurozone coming next month, this year's drop in PHG stock could well be over.
CREE
Cree (CREE) is based out of North Carolina and was one of the first pioneers of LEDs. Last quarter, Cree saw roughly 58% of its overall revenue from sales of LED bulbs equating to around 9% of global market share.
While the worldwide push for energy saving light bulbs has seen plenty of demand for Cree's products it's also seen plenty of competition from larger players, such as GE and PHG discussed above.
However, Cree has been quick to target LED lighting specifically, and it's 60-watt TW series has gone down well among retailers and consumers alike. The bulbs render color exceptionally well and are some of the cheapest on the market at between $9 and $16 a bulb.
Recently, CREE reported earnings and saw record revenue expectations between $430-$460 million beat, and this was mostly down to the lighting segment.
Despite this, CREE is down nearly 40% since November 2013 as investors shy away from an EPS trend that has pretty much flat-lined since 2011.
Looking ahead though, CREE have plenty of cash to leverage and have been able to increase gross margins significantly. With a current ratio of 6.80 and with some of the best LEDs on the market, the bottom looks to be in for CREE now, and most analysts now hold price targets of over $60.
ForceField Energy Inc
Further down the ladder, at least in terms of size, is ForceField Energy Inc (FNRG), a distributor of alternative energy and LE products with a market cap of $84 million.
FNRG also owns 51% of TransPacific Energy, a renewable energy provider that turns waste into clean electricity, and recently entered into an agreement with Chinese LED manufacturer LightSky to be exclusive distributor of it's LED lighting products in North America.
In addition, the firm just acquired an award winning commercial lighting company from San Diego in the form of American Lighting & Distribution.
With it's focus on LED lighting and success in forging partnerships with LED pioneers, FNRG is definitely one to watch.
Novagant
Novagant (NVGT) is another company that specializes in developing LEDs but is considerably smaller and currently trades below $1 a share.
The company operates in the development and sale of LED 'grow' equipment that enhances and benefits the up and coming cannabis cultivation industry.
There are numerous LED grow lights makers on the market at the moment, all of whom aim to take advantage of the new medical marijuana legislations, but most of their products are inferior to Novagant's. While other products are controlled by a simple ON/OFF or dimmer switch, Novagant's LEDs are unique in that they allow up to 1000 combinations of different color and intensity settings.
The upshot of this is that Novagant's LEDs are able to adjust depending on the environment or growing stage of the crop. It's called 'lighting by numbers' and means that the Novagant light box can be used for any indoor growing need, not just for cannabis cultivation.
At this stage, Novagant predicts sales of around 594 units in the first year, with a first production run scheduled for delivery by July 2014 and a profit margin per unit of $200 ($850 retail cost).
As over 20 states are proposing new medical marijuana legislations, there is plenty of growth in this industry. Indeed, a study from WinterGreen Research states the market for LED grow light modules could reach $3.6 billion by 2020, from $395 million in 2013.
NVGT deserves special caution due to the high risk nature of companies of this size. However, as one of (if not only) publicly traded company that offers a grow light line of products, NVGT could be a good speculative play on the LED industry. If producers cotton on to the company's technology, tremendous growth may be just around the corner.
The preceding article is from one of our external contributors. It does not represent the opinion of Benzinga and has not been edited.
Posted-In: Previews Trading Ideas
View Comments and Join the Discussion!