5 Stocks to Watch in 2013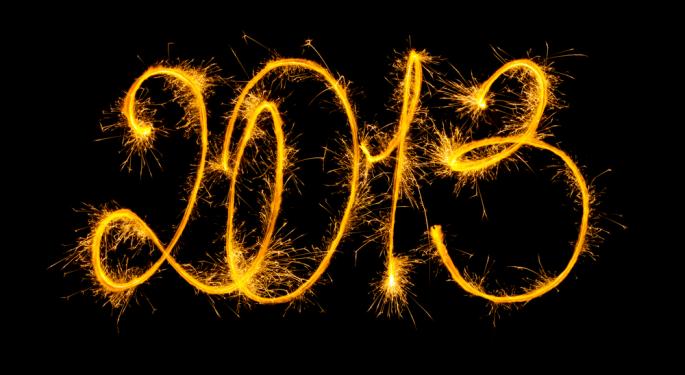 With only three full trading sessions left in 2012, traders may be looking for stocks that could be hot in 2013.
For its part, 2012 has been dominated by a number of stock-specific stories. Tech has been a popular sector, with Apple (NASDAQ: AAPL) maintaining its position as the most popular stock among investors.
Meanwhile, the year was tremendous for financial bulls, with the SPDR Financial ETF (NYSE: XLF) rallying over 25 percent.
What will 2013 bring? No one knows for certain, but as always, there will likely be a number of hot stocks. Here are a handful of companies that traders may wish to keep their eyes on going into the new year:
1) Apple: Once again, Apple will likely continue to dominate the conversation in investment circles in 2013. Barring a major, last-minute collapse, Apple should finish the year up about 26 percent. Still, the company's record share price runup and subsequent decline has kept it in the spotlight.
Key catalysts in 2013 may include the release of a television and an updated iPhone, along with improvements to the iPad and iPad Mini.
2) Smith & Wesson (NASDAQ: SWHC): The gun manufacturer is up over 80 percent year-to-date. Recently, shares saw a dramatic decline following the tragic incident at Sandy Hook Elementary in Connecticut.
Yet, reports indicate that gun sales have been stronger than ever in the wake of the shooting. Possible congressional action, including further measures to ban guns or restrict their sale, could keep this stock in the headlines in 2013.
3) Bank of America (NYSE: BAC): Shares of the financial giant more than doubled in 2012, as improvements in the housing sector and a stronger American economy supported the stock.
With shares doubling in a year, 2013 might prove to be less eventful for Bank of America. Yet, the company may retain its status as a bellwether stock. If the housing market in the U.S. continues to rebound, Bank of America could continue to trade higher; inversely, if the economy slumps back into recession, the company might be one of the Dow's worst performers.
4) Microsoft (NASDAQ: MSFT): The tech giant released its most ambitious version of Windows to date -- Windows 8 -- in the fall. Overall, 2012 was a brutal year for the PC space, with OEMs Dell (NASDAQ: DELL) and Hewlett-Packard (NYSE: HPQ) seeing their shares brutalized, while the shares of chip makers AMD (NYSE: AMD) and Intel (NASDAQ: INTC) dropped as well.
Some pundits are already proclaiming Windows 8 a failure, citing slow upgrade rates and tepid sales of Microsoft's Surface tablet.
It's still too early to dismiss Windows 8, but 2013 might prove to be a make-or-break year for the company.
5) Sprint (NYSE: S): If there's a shakeup in the telecom industry in 2013, Sprint could be behind it.
After Japan's Softbank acquired 70 percent of Sprint, the third largest wireless provider in the U.S. seemed poised to take a more aggressive stance. Since then, Sprint acquired the half of Clearwire (NASDAQ: CLWR) it didn't own. It has also been speculated that it would make a bid for Metro PCS (NYSE: PCS), countering the offer from T-Mobile.
Executives at Verizon (NYSE: VZ) and AT&T (NYSE: T) have made comments about further consolidation in the telecom industry. If that is to happen, it appears that Sprint could be the driving force.
Posted-In: Previews Trading Ideas General Best of Benzinga
View Comments and Join the Discussion!