6 Music Stocks To Watch In 2019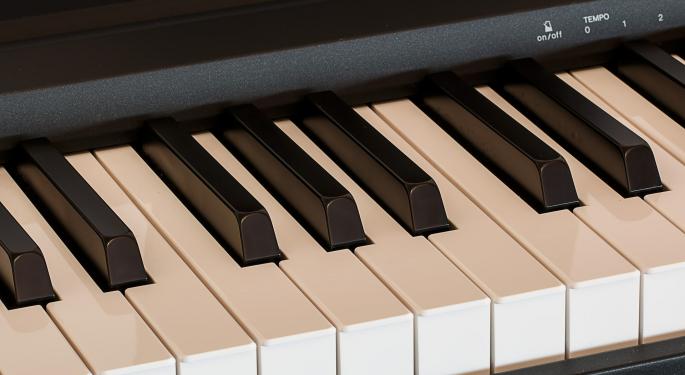 Technology is making it easier to create and consume music and that has resulted in major changes from everything from audio interfaces to online streaming. Major tech companies as well as manufacturers all have their eye on music, which means you should have your eye on these stocks.
Spotify
Spotify Technology SA (NYSE: SPOT) went public in early April. Since then, the company has had one major spike, but the stock eventually trading near its IPO price of $165.90.
What make the stock interesting are Spotify's 83 million paid subscribers and 100 million non-paid subscribers. That's 30 percent higher than the same period a year ago.
What might give prospective Spotify investors pause is the amount of competition it faces from tech giants Amazon and Apple. At the same time, the competition seems to be breeding innovation.
Spotify recently announced it's "changing the soundtrack" and partnering with studios to create playlists for movies rather than going the traditional soundtrack album route. Also in the works: software to allow musicians to directly upload music to the platform.
Being laser-focused on content is something Netflix, Inc. (NASDAQ: NFLX) has had success with. While Netflix produces original shows, Spotify does not appear to be taking on the role of record label.
Apple
It was recently reported by Digital Music News that Apple Inc. (NASDAQ: AAPL) now has more paid U.S. subscribers than Spotify. Apple has already taken down music streaming giants before — think Napster — and has endless funds for product development.
This is what makes the stock interesting to watch. The company has already bought Shazam and the music analytics platform Assai in the hopes of catching up to Spotify's music matching software.
Amazon
Amazon.com, Inc. (NASDAQ: AMZN) is already the leader in physical sales of music — CDs, DVDs, records and tapes — and this isn't a fact that should be overlooked. And when Amazon enters a market, it tends to dominate.
Amazon, like Apple, has a suite a products like Alexa and FireTV that it can leverage to promote their streaming service. Amazon also already has 100-million-plus Prime users that receive access to Prime Music. Prime users also pay a discounted fee of $7.99 a month to get unlimited music.
Avid
Avid Technology, Inc. (NASDAQ: AVID) is the creator of the music making software program Pro Tools, which is widely considered the industry standard for music production and audio engineering. It's an interesting stock to watch because the company has been outperforming many other companies in the computer and technology sector.
The stock has been on an upward trend for close to a year since hitting a low of $4.28 in March. This upward trend has coincided with positive stories in the press as well as winning the 15th Emmy Award for Technology and Engineering Innovation.
The company has also been able to claim tremendous success with the announcement that blockbusters "Jurassic World: Fallen Kingdom," "Mission: Impossible - Fallout" and "Deadpool 2" all used the software for sound engineering.
Yamaha
Yamaha Corporation (OTC: YAMHF) is a Japanese multinational corporation and conglomerate and the largest piano manufacturer in the world. The future of piano manufacturing is in Asia, not the United States or Europe.
Being the largest piano manufacturer also bodes well for Yamaha's electronic piano devices like the MIDI keyboard controllers. Many of these types of devices also interface with software like AVID Pro Tools and are easily shipped and bought online. Yamaha, like the next member of this list, is involved in many other industries, so keep that in mind when looking at the stock.
Tencent Music
Tencent (OTC: TCEHY) is a multinational investment holding conglomerate in China. Tencent Music was set to file its U.S. IPO this month before being delayed, with the Sino-American trade war and other factors likely to blame.
What makes this stock interesting is the tech itself. The service is said to be a "hybrid of Twitch and Spotify."
Historically, music streaming is a hard business to monetize, and the fact that the "Twitch side" of the business might be pulling in the majority of the company's revenue is notable.
Related Links:
Spotify's Recent Weakness Doesn't Change Morgan Stanley's Bullish Tune
The Music Modernization Act, Explained
Posted-In: Streaming musicLong Ideas Tech Trading Ideas General Best of Benzinga
View Comments and Join the Discussion!