Cap-Weighted ETFs Are Still Pretty Good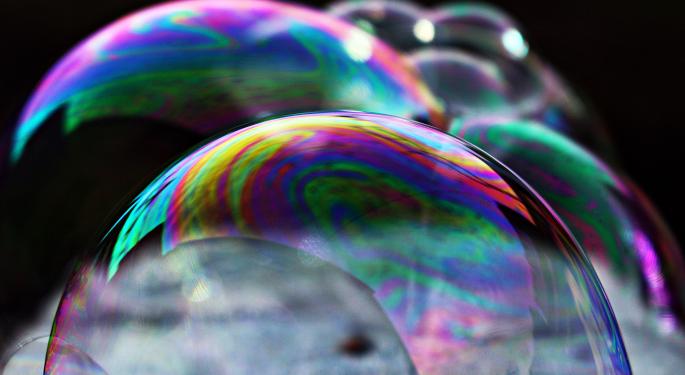 Index funds and exchange traded funds that weight stocks by market value are the dominant funds in their respective universes, but with that dominance comes some criticism.
The most frequent criticism of cap-weighted ETFs, such as the SPDR S&P 500 ETF (NYSE: SPY) and the Vanguard Total Market ETF (NYSE: VTI), is that the weighting by market value methodology potentially exposes investors to stocks that could be richly valued.
What Happened
Another criticism of cap-weighted funds is concentration risk. That critique is being renewed this year as small number of stocks, including Apple Inc. (NASDAQ: AAPL) and Amazon.com Inc. (NASDAQ: AMZN), are contributing hefty percentages to the broader market's upside. Some data points suggest today's S&P 500 concentration are inline with historical norms.
"If you fast forward to today, what you'd see is that to make up half of the current value of the S&P 500 Index it takes about 50 stocks, the long-term average is around 52," said Morningstar's Ben Johnson. "Concentration again which is more so a feature of market-cap-weighted indexing and not a bug, is within, at least by this measure, fairly normal ranges. Valuations, while in some cases quite high, certainly aren't nearly as elevated and out of range and completely out-of-whack as they were at the very pinnacle of the tech bubble."
Johnson cites the example of Cisco Systems Inc. (NASDAQ: CSCO) trading for 200 times earnings at the height of the tech bubble, but notes Apple, the largest U.S. company by market value, trades 20 times earnings today.
Why It's Important
SPY, the world's largest ETF by assets, devotes about 11 percent of its weight to just three stocks: Apple, Amazon and Microsoft Corp. (NASDAQ: MSFT). This year, that scenario is benefiting investors as Microsoft is the worst-performing member of that trio with a year-to-date gain of 34.62 percent.
"So the fact that a small minority of stocks are driving the majority of the market's returns, again feature not bug, as it pertains to cap weighted indexes and the funds that invest in them," said Johnson.
What's Next
As was the case following the bursting of the tech bubble in 2000, there will likely come a time when markets decline and cap-weighted funds received renewed criticism.
"It's important to understand that there will inevitably be points in time, like the tech bubble, where cap weighting exposed in hindsight looks like a bad idea, it's going to inevitably happen again," said Johnson. "What matters more than anything is that investors are aware of this, they understand this, and they can accept it and stick with this particular strategy if it's their strategy of choice, through thick and through thin."
Related Links:
Posted-In: Ben Johnson morningstarLong Ideas Broad U.S. Equity ETFs Top Stories Trading Ideas ETFs Best of Benzinga
View Comments and Join the Discussion!