REITs Dividend Rates Are the Lowest in Years (AVB, BXP, EQR, HCP, HST, PLD, PSA,SPG, VTR, VNO)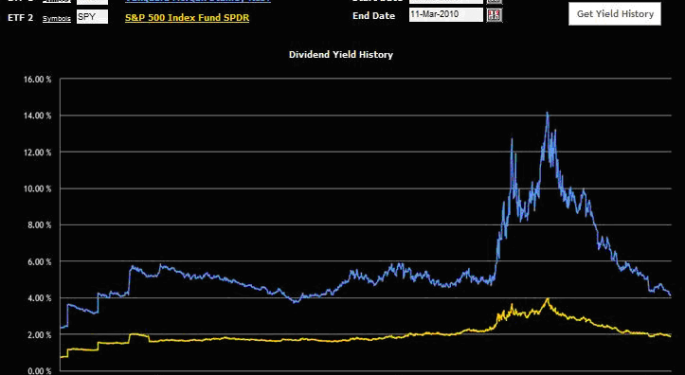 Last week S&P closed at 17-month high at around 1,150. After living through excessive volatility, investors get scared and are decreasing allocations to equity and searching for yields in this near zero rate environments. Investors had never seen anything like this before and lots of them are more focused on preserving capital today.
Main REITs
REITs give investors high dividends, diversification and hedge against inflation. They are one of my core holdings. Following are top 10 REIT stocks by market cap:
Name (Symbol) Market Cap P/E Forward P/E Yield
AvalonBay Communities (NYSE: AVB) 7.02B 45 22 4.2%
Boston Properties (NYSE: BXP) 10.28B 42 17 2.7%
Equity Residential (NYSE: EQR) 10.72B 30 18 3.5%
HCP, Inc. (NYSE: HCP) 9.43B 81 14 6.0%
Host Hotels & Resorts (NYSE: HST) 8.53B - 18 -
ProLogis Share of Beneficial (NYSE: PLD) 6.69B - 18 4.3%
Public Storage (NYSE: PSA) 15.68B - 17 3.0%
Simon Property Group (NYSE: SPG) 23.78B 78 13 3.0%
Ventas, Inc. (NYSE: VTR) 7.28B 27 16 4.7%
Vornado Realty Trust (NYSE: VNO) 13.37B 262 14 3.6%
Low interest rates benefit REITs by making it easier to finance acquisitions. REITs with deep pockets or backed by long term investors such as pension funds may be able to scoop up depressed properties and profit when the economy recovers.
10 Main Real Estate ETFs (by Net Assets)
Fund Name (Ticker) Net Assets Yield Expense Ratio
Vanguard REIT Index ETF (VNQ) 4.68B 4.6% 0.11%
iShares Dow Jones US Real Estate (IYR) 2.28B 4.4% 0.48%
iShares Cohen & Steers Realty Majors (ICF) 1.73B 4.1% 0.35%
SPDR Dow Jones REIT (RWR) 1.00B 4.3% 0.25%
SPDR Dow Jones Intl Real Estate (RWX) 975.38M 5.0% 0.59%
Ultra Real Estate ProShares (URE) 563.76M 2.1% 0.95%
Direxion Daily Real Estate Bull 3X Shrs (DRN) 136.95M n/a 0.96%
SPDR Dow Jones Global Real Estate (RWO) 100.51M 4.5% 0.50%
WisdomTree International Real Est (DRW) 80.17M 10.0% 0.58%
Claymore/AlphaShares China Real Est (TAO) 62.37M 3.6% 0.78%
On the other hand, if you want to short REIT sector, you might use UltraShort Real Estate ProShares (SRS) or Direxion Daily Real Estate Bear 3X Shrs (DRV).
Following dividend chart from EtfReplay (http://www.etfreplay.com/yield.aspx) compares VNQ's last 5-year-dividend-history (in blue) to S&P500 (SPY). It shows that VNQ's current dividend rate is the lowest in years.
REIT's Outlook is Bleak near Term
As Ivanka Trump writes in her book, The Trump Card, in a down economy, there are always great bargains to be had for investors with resource and vision – and perhaps the stomach to carry an asset through a prolonged downturn.
However, most REITs are more than doubled since I mentioned it in my previous article (http://static2.seekingalpha.com/article/127166-riocan-retail-reit-time-t...). REITs depend heavily on the capital market for funds. When the markets froze during the financial crisis, REIT shares collapsed. When they unfroze REIT stocks bounced back.
REITs sector is far from being stable. Property values continue to fall, rents are falling and vacancies are rising. Even though demand is on the rebound, the real draw for tenants is falling rents. Many economists are warning of a long, drawn-out crisis in this sector due to a weak economy, high unemployment and potential rising of interest rates. There are also concerns about their ability to roll over debt in coming years.
Data from Forbes (http://www.forbes.com/2010/02/11/reit-ratings-stocks-personal-finance-re...) shows that leverage ratio for different types of REITs range from 39% for Healthcare to 62% for shopping malls and industrial REITs. Here leverage ratio is total liabilities net of cash as a percentage of current value of assets.
Properties Leverage Ratio
apartments 59
health care 39
industrial 62
Offices 55
shopping malls 58
storage centers 41
strip malls 62
trailer parks 62
Conclusion
In his annual letter to shareholders ( http://www.berkshirehathaway.com/letters/2009ltr.pdf), Berkshire Hathaway (BRK.A)'s chairman Warren E. Buffett writes that though commercial real estate will face major problems in the next few years, long-term opportunities for Berkadia are significant. ( Note: BRK owns 50% of Berkadia Commercial Mortgage).
New housing stats are reduced to a number far below the rate of household formations. Within a year or so residential housing problems should largely be behind us, the exceptions being only high-value houses and those in certain localities where overbuilding was particularly egregious.
Unlike other high dividend stocks, REITs can't hold onto their profits because they must pay most of them out to shareholders every year. However, with such a high pay-out ratio, the spread between average REITs dividend rate and 10 year Treasury is less than 100 points now. Even though I am still long on Canadian REITs such as Riocan (RIOCF.PK), I am gradually reducing my position.
Disclose: long RIOCF.PK. Data are from Yahoo Finance as of March 12, 2010 .
Stocks: AVB, BRK.A, BXP, DRN, DRV, DRW, EQR, HCP, HST, ICF, IYR, PLD, PSA, RIOCF.PK, RWO, RWR, RWX, SPG, SPY, SRS, TAO, URE, VNO, VNQ,VTR
Posted-In: Long Ideas Short Ideas Dividends Dividends Markets Trading Ideas
View Comments and Join the Discussion!