A New ETF Finds Truly Sustainable Dividends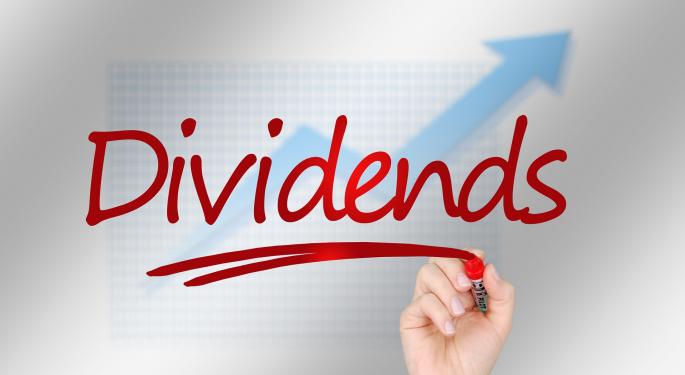 The name of the game when it comes to dividend investing is not just collecting payouts — it's finding companies that are consistent growers of their dividends. While S&P 500 dividend action, broadly speaking, has been largely positive in recent years, there remain cases of dividend cuts and suspensions.
Usually, negative dividend action occurs for a single reason: Companies view a dividend cut or elimination as a cost-cutting tool, meaning they needed to save cash in the first place. A new exchange traded fund helps investors find companies that are not only dividend payers, but ones that generate enough cash flow to sustain and grow payouts.
The AAM S&P 500 High Dividend Value ETF (NYSE: SPDV) debuted at the end of November. SPDV "is designed to provide current cash flow and adequate capital growth by targeting attractively valued U.S. large capitalization stocks that exhibit both a high dividend yield and sustainable dividend distribution characteristics," according to the issuer.
Inside Details
The S&P 500 is SPDV's selection universe, but that group is whittled down to 55 companies that meet the ETF's stringent requirements. There are advantages to SPDV's methodology.
Since dividends are paid out in cash, the amount of distributable cash flow that a company holds should be considered when evaluating the sustainability of dividends," according S&P Dow Jones Indices. "Distributable cash flow can be estimated from free cash flow, which is the excess cash generated by a company's operating activities, excluding capital expenditures. When a dividend-paying company demonstrates positive or growing free cash flows, it is an indication that the company has the financial strength to fund its future payout, since its dividends are supported by sufficient cash."
SPDV finds five stocks from each GICS sector with favorable cash flow and dividend yield traits. The ETF's dividend was nearly twice as high as the S&P 500 when SPDV debuted several weeks ago.
The Lineup
The materials, industrial and technology sectors combine for nearly a third of SPDV's weight. Health care, utilities, consumer staples, financial services and energy stocks all have weights of more than 9 percent but less than 10 percent in the new fund.
Importantly, adding cash flow to the dividend assessment process bears fruit.
"The percentage of dividend reductions for the S&P 500 Dividend and Free Cash Flow Yield Index has been lower than that of the S&P 500 in six out of 10 years," according to S&P Dow Jones Indices.
SPDV charges 0.29 percent per year, or $29 on a $10,000 investment.
Related Articles:
Posted-In: Long Ideas News Broad U.S. Equity ETFs Dividends Dividends Specialty ETFs New ETFs Trading Ideas Best of Benzinga
View Comments and Join the Discussion!