Opinion: Cardinal Health's Rising Dividends Make It Attractive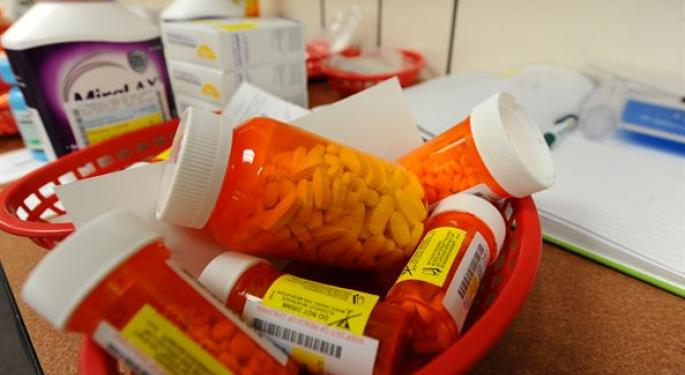 This is a guest contribution by Ben Reynolds with Sure Dividend. His opinion does not represent that of Benzinga.
Warren Buffett has amassed his $80 billion fortune largely by investing in great businesses that trade at discount prices with shareholder-friendly management.
The problem is, great businesses usually aren't on sale – especially in today's overvalued market. To buy at bargain prices, investors have to wait for pessimism or short-term negative events to happen to an otherwise outstanding business.
I believe these exact circumstances describe Cardinal Health Inc (NYSE: CAH) today.
Why Cardinal Health Is Attractive Today
Cardinal Health is one of the three largest publicly traded pharmaceutical companies, along with AmerisourceBergen Corp. (NYSE: ABC) and McKesson Corporation (NYSE: MCK). Together, these three companies have an oligopoly in the pharmaceutical distribution industry.
But unlike its peers, Cardinal Health has paid increasing dividends every year since 1983. This makes Cardinal Health a Dividend Aristocrat – one of just 51 S&P 500 stocks with 25+ years of rising dividends.
Cardinal Health currently has a 3 percent dividend yield and is trading for a price to earnings ratio of just 11.5 using adjusted earnings. The company looks undervalued relative to its own history and the S&P 500.
Cardinal Health's current price-to-earnings ratio is 11.5
Cardinal Health's 10 year average price-to-earnings ratio is 16.8
The S&P 500's current price-to-earnings ratio is 25.7
There's little doubt Cardinal Health is a high-quality dividend growth stock – the company's long history of rising dividends attests to that. Cardinal Health's long dividend history is clear evidence of a strong and durable competitive advantage.
The long-term driver for the company's growth is rising prescription drug use per capita in the United States. It's no secret that the United States' population is aging. It's also no secret that older people take more prescriptions. This bodes well for the long-term growth of Cardinal Health.
Why Cardinal Health Is Trading at Bargain Prices
Stocks don't become cheap for no reason, and Cardinal Health is no exception. The company's guidance for fiscal 2018 was not well-received by the market. Adjusted earnings-per-share are expected to temporarily decline from $5.40 in fiscal 2017 to $4.97 in fiscal 2018.
Fiscal 2018 will be a year of investment for Cardinal Health. The company expects to return to new all-time adjusted earnings-per-share highs by fiscal 2019.
The company is experiencing short-term headwinds and uncertainty. An ongoing pricing war in the industry has reduced margins. Secondly, uncertainty surrounding the government's role in health care in the United States has caused instability in the stock price.
Finally, there are rumors Amazon (AMZN) is planning to enter the pharmaceutical distribution business. Even if true, it is yet to be seen how this will impact the competitive landscape of this ultra-low margin industry.
A Look At Cardinal Health's Financial Metrics
Cardinal Health looks promising using The 8 Rules of Dividend Investing. The 8 Rules investing system uses metrics that have historically either improved returns or reduced risk to find the best dividend growth stocks for the long run.
In this case, CAH has:
Above average dividend yield
Strong long-term growth prospects
Long history of rising dividends
Systems based investing has significant advantages over stock picking. By using a quantitative system, investors can greatly reduce errors from cognitive biases. Fewer errors means, on average, better results.
The 8 Rules of Dividend Investing identifies undervalued businesses with strong competitive advantages likely to pay rising dividends far into the future. These are the type of businesses that Buffett has built his fortune on.
Disclosure: The author is long Cardinal Health
Posted-In: Long Ideas Dividends Health Care Opinion Trading Ideas
View Comments and Join the Discussion!