An ETF For Dividend Achievers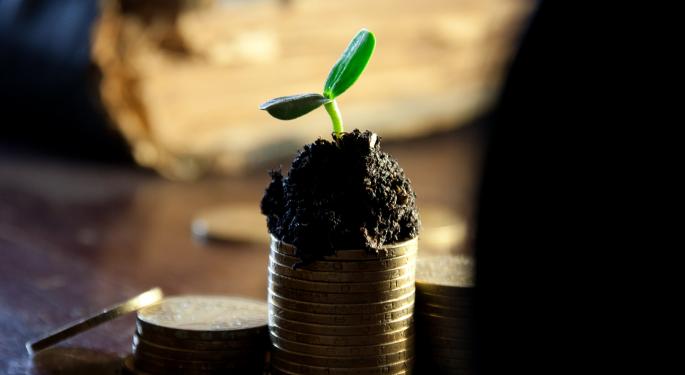 Income investors looking for stocks that have achieved dividend achievers status do not need to confine their search to large-cap equities. A new exchange traded fund from First Trust provides a basket of mid- and small-cap stocks with dividend growth potential.
The First Trust SMID Cap Rising Dividend Achievers ETF (NASDAQ: SDVY) debuted Thursday. The ETF tracks the Nasdaq US Small Mid Cap Rising Dividend Achievers Index, which "is designed to provide access to a diversified portfolio of small- and mid-cap income producing securities.
"The index construction process looks beyond just yield and analyzes the financial health of a company and its ability to maintain dividend increases by including a blend of historical and forward-looking factors to screen for high quality dividend growers," according to First Trust.
SDVY debuted with 100 stocks with a median market value of $4.23 billion, indicating this fund resides at the smaller end of the mid-cap spectrum.
Rules And Requirements
SDVY has a screening process that helps ensure illiquid and micro-cap stocks do not find their way into the portfolio. For example, SDVY holdings must have a minimum market value of $500 million. The ETF's smallest holding is well above that, with market cap north of $800 million. Member firms must also have a minimum average daily dollar trading volume of $2 million over a three-month period.
SDVY components must also have "paid a dividend in the trailing 12-month period greater than the dividend paid in the trailing 12-month period three and five years prior and had positive earnings per share in the most recent fiscal year greater than the earnings per share three fiscal years prior," according to First Trust.
To ensure reliable dividend growth, SDVY's index mandates a cash-to-debt ratio of more than 25 percent and a trailing 12-month payout ratio of 65 percent or less.
Sector Heavy
While SDVY minimizes individual stock risk, with none of its holdings commanding weights of more than 1.2 percent, there is some sector heft to consider. For example, financials account for 31.6 percent of the new ETF's weight, while consumer discretionary and industrial stocks combine for nearly 46 percent.
"High quality dividends are often associated with larger, well-established companies. However, smaller companies with strong balance sheets and financial flexibility may also provide a good source of income as well as capital appreciation and dividend growth potential," according to First Trust.
SDVY charges 0.6 percent annually, or $60 on a $10,000 investment.
Related Links:
Posted-In: First TrustLong Ideas Broad U.S. Equity ETFs Dividends New ETFs Trading Ideas ETFs Best of Benzinga
View Comments and Join the Discussion!