The Kingdom Enters Another ETF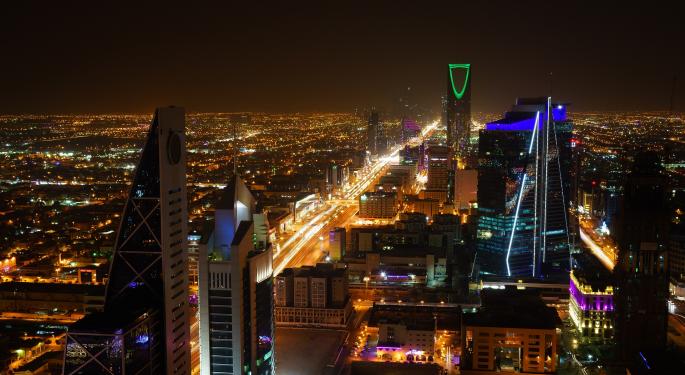 Saudi Arabia is the kingpin in the Organization of Petroleum Exporting Countries and one of the largest economies in the Middle East, but even with those feathers in the kingdom's cap, the country is lightly represented in the world of exchange traded funds.
That's starting to change.
WisdomTree Investments Inc. (NASDAQ: WETF) announced that it added Saudi Arabia to the WisdomTree Middle East Dividend Fund (NASDAQ: GULF). Saudi Arabia is now that ETF's largest country allocation at 25 percent, just ahead of the 23.7 percent GULF devotes to the United Arab Emirates.
The iShares MSCI Saudi Arabia Capped ETF (NYSE: KSA) is the lone ETF dedicated to Saudi stocks. With GULF's move to add Saudi Arabia, only it and KSA feature notable Saudi equity exposure.
Possibly A Good Move
Earlier this year, index provider MSCI Inc. (NYSE: MSCI) placed Saudi Arabia on its list for possible upgrade to emerging markets status, which would include a spot in the prestigious MSCI Emerging Markets Index. Investors will have to wait until June 2018 for MSCI's decision on Saudi Arabia's market classification. If the index provider opts to move the kingdom to the MSCI Emerging Markets Index, that would be a two-phase process occurring in 2019.
Even passive products such as GULF and KSA would likely benefit from increased buying of Saudi stocks, assuming the country earns the MSCI promotion. Several years ago, GULF surged in anticipation of Qatar and the United Arab Emirates joining the MSCI Emerging Markets Index.
By some estimates, Saudi Arabia's equity market, the largest in the Middle East, could see inflows of $9 billion if the country is upgraded to emerging markets status. The MSCI promotion would affect 32 Saudi stocks, or less than half the membership in the MSCI Saudi Arabia IMI 25/50 Index.
Changing For The Better
When GULF debuted more than nine years ago, Saudi Arabia's equity markets were hard to access for foreign investors, making it difficult for even passive funds to hold the country's stocks.
In recent years, the kingdom has taken steps to liberalize its markets in an effort to attract more foreign investment and to possibly gain favor with MSCI and other index providers. Several years ago, the country open its markets to qualified foreign investors and earlier this year, Saudi Arabia shifted to T + 2 settlement.
GULF's underlying index, the WisdomTree Middle East Dividend Index, has a dividend yield of nearly 5 percent.
Related Links:
Posted-In: Long Ideas Dividends Emerging Markets Emerging Market ETFs Commodities Top Stories Markets Trading Ideas Best of Benzinga
View Comments and Join the Discussion!