A Dynamic Avenue For Long-Term Asset Allocation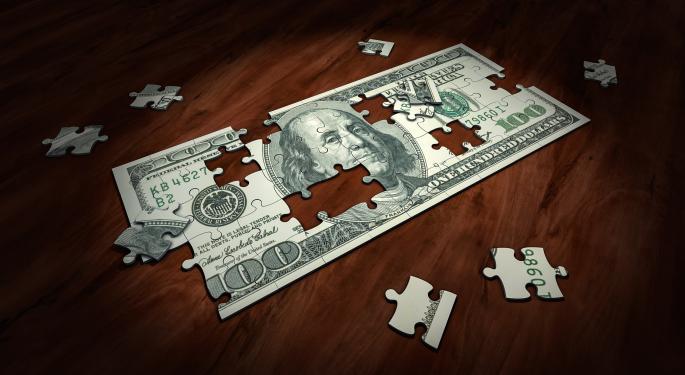 Knowing when to be fully allocated to stocks and when to lower equity allocations while raising cash can vex even the most seasoned investors. A new exchange-traded fund helps with those burdens.
The VanEck Vectors NDR CMG Long/Flat Allocation ETF (NYSE: LFEQ) debuted Thursday. The new ETF tracks the Ned Davis Research CMG US Large Cap Long/Flat Index, which follows a rules-based methodology that dictates long exposure in the S&P 500, no equity exposure and being allocated to T-bills or reduced exposure to the S&P 500.
"The Index's equity exposure is provided by the S&P 500 Index," according to a statement from VanEck. "Cash exposure is provided by the Solactive 13-week U.S. T-bill Index. The index may rebalance intra-month based on signals from the model. LFEQ will allocate to S&P 500 equities (through ETFs initially) and/or U.S. T-bills."
All In
The VanEck Vectors NDR CMG Long/Flat Allocation ETF debuts fully allocated to the S&P 500, exposure that is obtained via the Vanguard S&P 500 ETF (NYSE: VOO).
Related Link: Investors Love This ETF
LFEQ's underlying index "follows a proprietary model developed by NDR and CMG Capital Management Group, Inc. (CMG). The model produces trade signals that dictate the Index's equity allocation (100 percent, 80 percent, 40 percent, or 0 percent) and/or cash (U.S. T-bills) allocation," according to the statement.
In other words, if the index is not all in with VOO or T-bills, either 80 percent or 40 percent will be allocated to VOO with the remainder devoted to the aforementioned Solactive T-bill index.
History Lesson
"Many investors make an allocation to U.S. equity for the long-term growth potential, but most may not realize that since 1928 the S&P 500 has spent 70 percent of the time either in a bear market or recovering from one. That's not a lot of time spent growing new wealth," said Ed Lopez, head of ETF product management at VanEck, in the statement. "Your experience really depends on where in the market cycle you start investing. LFEQ provides investors with an ETF solution that offers a systematic approach that seeks to preserve capital by increasing cash when market health is weak, and participate in uptrends with a full allocation to equity."
LFEQ charges 0.59 percent per year, or $59 on a $10,000 investment.
Related Link: Small-caps And Dividends
Posted-In: Long Ideas News Broad U.S. Equity ETFs Specialty ETFs New ETFs Markets Trading Ideas ETFs Best of Benzinga
View Comments and Join the Discussion!