Make America Great Again With This New ETF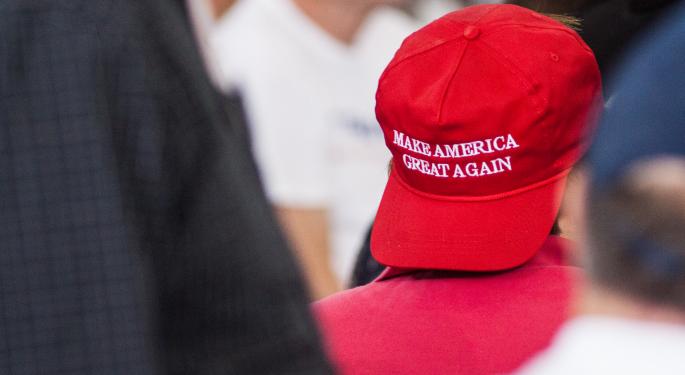 "Make America Great Again," or "MAGA" for short, was a centerpiece slogan of President Donald Trump's 2016 campaign and remains an oft-used phrase by the president himself and on social media.
Now, MAGA serves as the ticker for a new exchange-traded fund, the Point Bridge GOP Stock Tracker ETF (BATS: MAGA).
The Point Bridge GOP Stock Tracker ETF, which debuted Thursday, tracks the Point Bridge GOP Stock Tracker Index. That index "uses a rules-based methodology to follow the performance of companies whose employees and political action committees are highly supportive of Republican candidates. Construction of the Index begins with the S&P500 Index. Stock selection is rules based meaning the personal opinions of the manager are not part of the stock selection. The Index is the first in the Politically Responsible Investing series," according to Invest Politically.
Politically Responsible Investing was developed by Point Bridge Capital. Companies can be added or removed from MAGA's index in accordance with additions and removals from the S&P 500. MAGA's index screens to eliminate firms "whose employees and PACs have made aggregate reported political contributions of less than $25,000 across the two most recent election cycle," according to the ETF's prospectus.
What's Missing
The largest holding in MAGA is Dow component Boeing Co (NYSE: BA) at a weight of 0.83 percent. While no single stock dominates the new ETF's lineup, what is missing from the new ETF is equally as important as what stocks resides in MAGA.
Perhaps not surprisingly, MAGA, the ETF, features essentially no exposure to the technology sector. Technology, the largest sector weight in the S&P 500, typically leans left when it comes to politics and many of the largest U.S. technology companies are based in California, the most liberal U.S. state. Politics aside, the absence of technology stocks in MAGA is notable for a more important reason: the sector is the best-performing group in the U.S. this year.
The new ETF charges 0.72 percent per year, or $72 on a $10,000 investment.
What's Inside
Not surprisingly, MAGA features ample exposure to the usually politically conservative energy sector, this year's worst-performing sector. Additionally, the new ETF is chock full of industrial companies, including plenty of aerospace and defense contractors. That could help the rookie ETF as aerospace and defense stocks and ETFs have been surging this year.
MAGA does feature some surprise holdings. For example, Goldman Sachs Group Inc (NYSE: GS), one of the most politically liberal Wall Street firms, is a MAGA constituent. So is Berkshire Hathaway Inc. (NYSE: BRK-B) although Warren Buffett is a Democrat.
Related Links:
__________
Image Credit: By Max Goldberg from USA - Roast and Ride, CC BY 2.0, via Wikimedia Commons
Posted-In: Long Ideas News Broad U.S. Equity ETFs New ETFs Futures Politics Markets Trading Ideas Best of Benzinga
View Comments and Join the Discussion!