Dollar ETF Looks To Shed Its Bearish Ways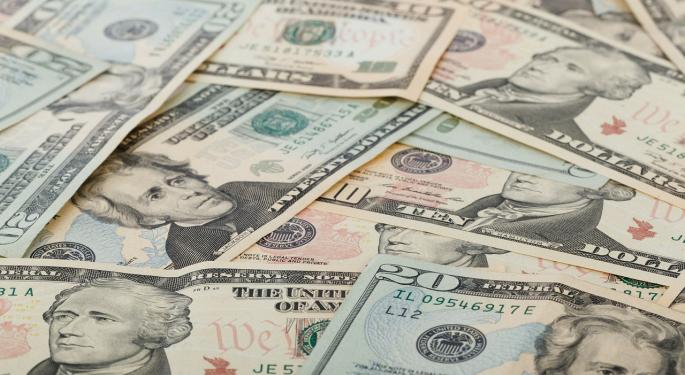 Vexing currency market observers, the PowerShares DB US Dollar Index Bullish Fund (NYSE: UUP) is down 8.4 percent year to date. That is an arguably stunning decline when considering the Federal Reserve has boosted interest rates twice this year.
UUP, the exchange-traded fund proxy for the U.S. Dollar Index, is also one of this year's worst-performing currency ETFs. The ETF measures the dollar's performance against the euro, Japanese yen, British pound, Canadian dollar, Swedish krona and Swiss franc.
Predictably, UUP's technical outlook is currently unappealing. The ETF resides nearly 10 percent below its 52-week high and more than 5 percent below its 200-day moving average. UUP has not closed above its 200-day line since May and resides 2.3 percent below its 50-day line.
Temper Those Expectations
The global interest rate outlook could be weighing on the dollar's performance this year even with the Fed having boosted borrowing costs twice with plans for another rate hike before the end of 2017.
"That is to say, if interest rates in Europe and other developed markets rise by a greater margin than rates in the US, tighter Federal Reserve policy wouldn't necessarily equate to a stronger dollar," said PowerShares in a recent note. "And indeed, this has been the case thus far in 2017. Interest rate spreads between the US and other regions have converged significantly. From Dec. 26, 2016, through July 31, 2017, the US dollar was down 10.1%, as measured by the US Dollar Index (DXY)."
Last month, interest rates rose in Canada for the first time in seven years and some bond market participants believe the European Central Bank could consider a rate hike next year, perhaps explaining why the euro is one of this year's best-performing currencies.
More Considerations
The dollar's gyrations can seep into other areas of financial markets. For examples, prolonged dollar weakness could fuel a rebound in commodities, potentially stoking inflation along the way.
"Rising commodity prices could raise inflation expectations — putting upward pressure on long-term interest rates and likely keeping the Fed on course for further monetary tightening," said PowerShares. "In turn, increased interest rate volatility often bleeds into equity volatility, as higher rates reduce the present value of discounted future equity earnings. During times of stock market turbulence, commodities can serve as a viable alternative for investors."
Traders betting UUP's weakness will not abate anytime soon can consider the PowerShares DB US Dollar Index Bearish Fun (NYSE: UDN), an inverse though not leveraged counterpart to UUP.
Related Links:
View Comments and Join the Discussion!
Posted-In: Long Ideas News Short Ideas Currency ETFs Forex Economics Federal Reserve Markets Best of Benzinga