Calm Down, Investors: OPEC Meetings Themselves Hold Little Weight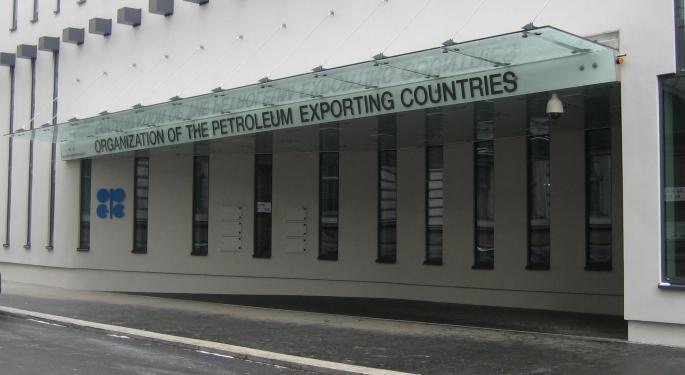 Members of the Organization of the Petroleum Exporting Countries and other oil producers are set to meet this Thursday to discuss extending output cuts. The current cuts, an output reduction of 1.8 million barrels per day for six months, were decided in November and implemented on January 1.
The cuts are expected to be extended by nine months under the urging of the Saudi Arabia and Russia, the world's top two oil producers.
Early in the week, oil prices were up in anticipation of the meeting, in addition to oil stocks, including Exxon Mobil Corporation (NYSE: XOM) and BP plc (ADR) (NYSE: BP).
On Monday, share prices took a dive, though, after the news that Iraq was resistant to longer extensions, but returned to pre-market levels when Saudi energy minister, Khalid al-Falih, flew to Iraq to gain its support for a nine-month extension.
A Brief Look Back
Volatile trades are to be expected in the coming week, but investors should be cautious of placing too much stock in any sharp movements in the near term.
Looking back at the week before and after the past five OPEC meetings, there doesn't seem to be any trend in share price movement in the short term.
The weeks surrounding OPEC's 167th meeting on June 5, 2015, and 169th meeting on June 2, 2016, highlight the vast different movements that can occur:
The 167th meeting was preceded by a near linear drop in prices among top U.S. exchange-traded oil stocks.
The 169th meeting was preceded by a drop in prices, which returned to their starting value just before the meeting. The following week saw a rise in prices, which within another week had lost any gains made.
After both meetings, oil shares saw large price shifts in the longer term — the six months following each meeting — bouncing between highs and lows differing by over 15 percent.
What To Keep In Mind
The OPEC meeting last December had a distinctly noticeable impact on prices due to organization's decision to implement a production cut for the first time since 2008.
Investors should be wary of speculating based on past meetings; the only evident trend in their effect on oil share prices is that there is no trend.
Investors should also note that OPEC's effect on prices is ultimately determined by its members' willingness to abide by its decisions, and they should pay attention in the long run to see if the petroleum exporting countries stick to their obligations.
Related Links:
Chris Kettenmann's Oil ETF Trade
OPEC Cuts Aren't Cutting It
______
Image Credit: "OPEC HQ in Vienna, Austria," By Priwo (photo taken by de:Benutzer:Priwo) [Public domain], via Wikimedia Commons
Posted-In: News Education Emerging Markets Eurozone Futures Commodities Previews Politics Best of Benzinga
View Comments and Join the Discussion!