An ETF Prescription For Post-Election France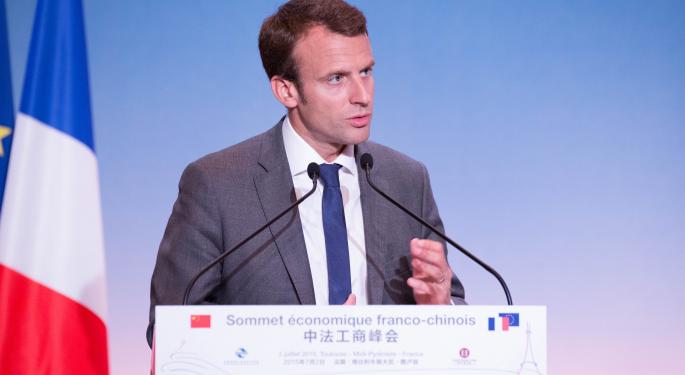 The outcome was already baked into French assets and the euro, but allegedly liberal France did an allegedly liberal thing by electing male socialist Emmanuel Macron over a female candidate as the next president of the eurozone's second-largest economy.
Macron's Victory Over Le Pen
The euro rose in anticipation of Macron's victory due in large part to the fact that his opponent, Marine Le Pen, favored France's departure from the European Union. After rising nearly 3 percent over the past month, the Guggenheim CurrencyShares Euro Trust (NYSE: FXE) lost 0.6 percent Monday.
Even if investors can somehow gloss over Macron's dangerous view that France does not have a problem with Muslim extremism, market participants should not overlook some of the other hurdles he faces going forward. Some of those economic and political hurdles could actually work in favor of diversified currency hedged Europe ETFs, including the WisdomTree Europe Hedged Equity Fund (NYSE: HEDJ).
"Macron must cobble together a ragtag group of Socialists and Greens to fall in line, even though many members of parliament are steaming from the political battles just waged by Macron," said WisdomTree in a note out Monday. "He can ask for support from pro-business Republicans, but that cadre wants to claw back its base, many of whom left permanently for Le Pen's anti-establishment message. Le Pen's Euroskepticism ruffled feathers in the 7th arrondissement, but there are millions of votes elsewhere that Republicans may want to court by snubbing Macron."
Similar Chorus: Currency, Economy And Elections
When it comes to the euro, the reality is France should not want a strong common currency. The French economy is export-driven with many of the largest companies on the country's benchmark CAC 40 Index generating substantial portions of their sales outside the eurozone.
France and Germany, which holds national elections later this year, combine for half of HEDJ's weight. The ETF allocates about 53 percent of its combined weight to export-heavy industrials and consumer sectors that benefit from a weaker euro.
While there are good reasons to consider Eurozone equities right now, not the least of which are compelling valuations relative to the U.S., the Macron-induced euro rally seems ill-fated, particularly when the U.S. could still increase interest rates multiple times this year.
"Furthermore, clear monetary policy divergence that makes hedging the euro particularly interesting at this moment is unfolding: the U.S. Federal Reserve (Fed) is hiking interest rates and removing accommodation, while the ECB may have to taper down its massive bond purchase program before it thinks about increasing its deeply negative short-term rates," said WisdomTree.
Related Links:
What's Good For France And Europe Is Great For Priceline
A French Connection For This ETF
________
Image Credit: "Emmanuel Macron at the French-Chinese economic Summit" By Pablo Tupin-Noriega - Own work, CC BY-SA 4.0, via Wikimedia Commons
Posted-In: Long Ideas News Specialty ETFs Eurozone Currency ETFs Politics Forex Events Best of Benzinga
View Comments and Join the Discussion!