Disney Stock: More Beauty Than Beast?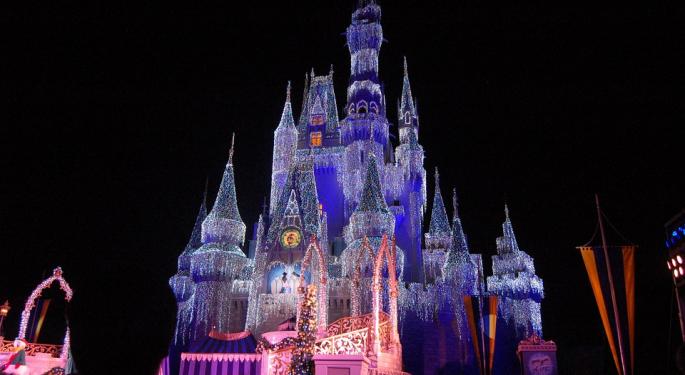 This article originally appeared on DriveWealth.
Walt Disney Co (NYSE: DIS) fans are feeling the true meaning of "happily ever after" this week—and not just because their animated films are so hart-warming. So, where did all the happy come from? Over the weekend, Disney's new film Beauty and the Beast was released both in the US and overseas, and it seems that movie-goers everywhere just can't say enough positive things about the film.
One of the most common reviews is that the movie, a live-action remake of the animated version from 1994, is said to contain a lot of "firsts" for Disney. Critics have stated that the film appropriately mixes both action scenes and musical compositions in order to take the classic story that we all know and love, and present it in a whole new light. Further, the film opens with several quick 3-D scenes – a more recent venture for the film company – which many critics believe is certain to draw a crowd. And, of course, the "big news" of Disney's first ever openly gay character spilled long before the film was released. Although this choice (which included a slight change in the plot) received mixed reviews when it was announced, it has actually received much positive feedback from fans over the weekend. And, last but not least, we can't help but mention the "spectacular" performance by the ever-popular Emma Watson.
Why is all of this important? Of course, all of this information goes to describe not just an interesting movie that you might consider seeing, but is also extremely relevant to Disney's stock price and future.
To start, let's talk about the use of so many big "firsts." Many critics have seen this movie as an attempt for Disney to show how relevant it still is. For many, Disney's live-action remakes have never been even close to the top of the list "next movies to see"—and especially not while they're in theaters. But, with extensive special effects, 3D scenes, and more modern takes on old films, it is very clear that Disney is trying to keep up with the times.
And, if we check the numbers, we can see that Disney is certainly succeeding at keeping up. In fact, last weekend proved to be the best opening weekend for a March movie ever. Take that, Batman. The film raked in over $170 million in ticket sales in just North American theaters alone. Overseas, the film grossed nearly $180 million, as well, for a combined $350 million in sales in just the first weekend. Considering Beauty and the Beast cost about $300 million to make and market, we know that Disney has grossed $50 million already. So, it basically goes without saying that the film had an extremely strong opening weekend—a fact which shows the strength of Disney's marketing department, as well.
Lastly, this weekend may have even gone so far as to validate Disney's live-action remakes as a whole. This kind of film has been one of the filmmaker's most prominent products as of late, and the concept itself has carried a pretty heavy weight on its back. Think about it: Disney's entire history is as an animated filmmaker. So, for quite some time, critics have been searching for the company's next move. While live-action films may not be the end goal, Beauty and the Beast has certainly showed us that Disney will remain in the game with the best of 'em—breaking records, no less.
And, of course, Disney's stock felt some of the love after this weekend, too. It shot up Monday morning nearly 2% at the opening bell and has continued in a positive trend so far this week. With much more life left to live in theaters, many people are expecting to see that positive trend continue. Do you think that the success of Beauty and the Beast could have long-term implications for the success of Disney? Whatever happens, we know that this Beauty is certainly a step in the right direction.
Posted-In: DriveWealthLong Ideas Education Markets Movers Trading Ideas General
View Comments and Join the Discussion!