A Dandy Dollar ETF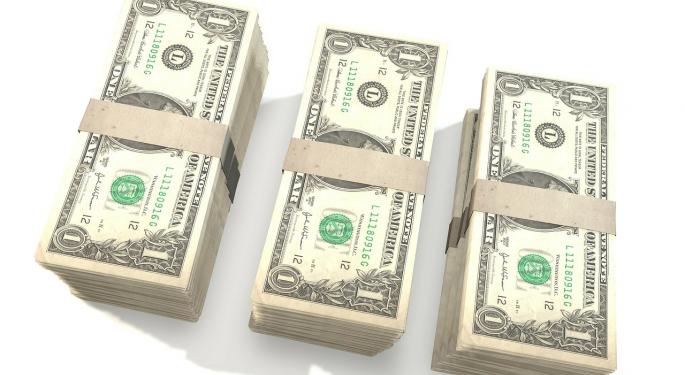 The U.S. dollar is one of several assets benefiting in significant fashion from the surprise election of Donald Trump as the 45th U.S. president. The Federal Reserve helped the dollar's cause with a December interest rate hike and with expectations abound that more interest rate increases are forthcoming, the dollar figures to be one of 2017's most watched assets.
The Dollar And ETFs
That could translate to good news for exchange-traded funds, such as the WisdomTree Bloomberg U.S. Dollar Bullish Fund (NYSE: USDU). USDU is an actively managed alternative to standard currency ETF fare and is a compelling alternative to traditional dollar index ETFs, which only gauge the greenback against developed market currencies.
While the current dollar rally, relative to historical norms of previous dollar bull markets, is perhaps no longer in its early innings, there are reasons to believe the U.S. currency can keep moving higher for another year or more.
Central Banks And Qualitative/Quantitative Easing
"While the pace of appreciation accelerated in mid-2014, when the European Central Bank (ECB) cut rates into negative territory and the Bank of Japan (BOJ) expanded its qualitative and quantitative easing program, we remain somewhat comforted by the fact that very few strategists currently see the dollar as grossly overvalued," said WisdomTree in a recent note. "In our experience, markets are prone to overshoot to the upside and the downside. As a result, we believe that the dollar cycle could continue for at least another 12–18 months, likely appreciating by approximately 5 percent in 2017."
Going Long On The Dollar
Nearly half of USDU's weight is long the dollar against the euro and yen, not bad places to be in an environment of diverging monetary policies and amid Japan's plans to continue weakening the yen. Additionally, the euro is one of the least favored currencies among professional traders with some speculating regional political volatility could force the common currency to parity with the dollar.
USDU's advantages have recently been on display. Over the past 90 days, the ETF is up 3.1 percent, more than double the returns of the U.S. Dollar Index over the same period.
The current dollar bull market "began from the most undervalued point in the dollar's history. While current appreciation trends appear similar, the dollar must potentially move even higher before reaching equilibrium. Additionally, many investors remain skeptical of dollar upside, because the longer this cycle extends, the greater the likelihood the U.S. tips into recession. While we could debate the prospects of recession being delayed due to the results of the U.S. election, the dollar strengthened through two recessions during the 1980s as well as after the 2001 terrorist attacks and ensuing recession in the second cycle," added WisdomTree.
View Comments and Join the Discussion!
Posted-In: Long Ideas Currency ETFs Politics Forex Top Stories Federal Reserve Markets Trading Ideas Best of Benzinga