Hedge Fund Expert On Trump Administration: 'Long/Short Equity Managers Will Benefit'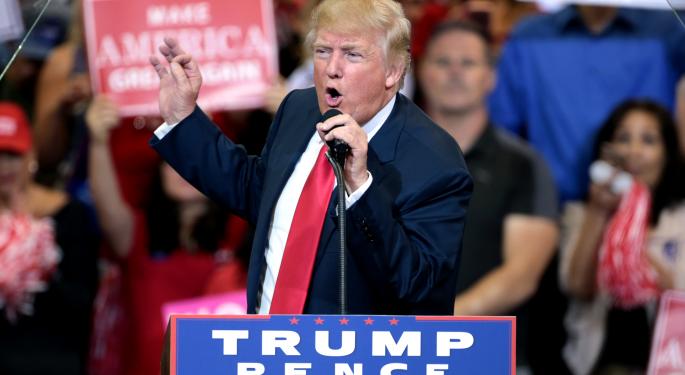 Don Steinbrugge is one of the best-known experts in the hedge fund industry, with over three decades of experience in the field. He has been running Agecroft Partners, a global, award-winning hedge fund consulting and marketing firm for almost 10 years now.
Benzinga had the chance to chat with this seasoned hedge fund industry expert, who shared some predictions for trends in the space in 2017. In the first part of this article, we looked into hedge fund fees and how they'll evolve over the year; in this second part, we'll go into the expert's explanation of why hedge funds will benefit under the Donald Trump administration.
Correlations And Volatility
"We think hedge funds, especially long/short equity [funds] should do better with the election of Donald Trump as the president," Steinbrugge voiced, expounding that, in contrast, over the past few years, long/short equity managers have had a tough time outperforming the market because:
"Correlations, or the relative movement of stocks, has been very high."
"At the same time, the volatility, or the movement of stock prices, has been really low."
"This has been driven by an accommodating Fed — and monetary authorities all around the world trying to stimulate their economies," the expert added. "That, and a lot of money going into ETFs and index funds, has caused the relative movement to be very high."
"If you are a long/short equity manager, you are trying to buy stocks you think are going to go up, and you are trying to sell short stocks you think are going to go down," Steinbrugge went on. "And if the stocks you sell short go down, and the stocks you go long go up, you make a lot of money; but, if they are all moving kind of in the same direction, it's difficult to generate strong returns."
"So, with Trump as a new president, we think it's going to cause a lot more volatility in the marketplace, because his whole agenda is to make change. And when you have change, certain companies and certain industries are going to benefit relative to others."
The Risks
"In general, the market is pretty positive on Trump, but there's risk with Trump," Steinbrugge commented. "There's a possibility that some of his policies might not go through, or that he might do something that might cause the markets to sell off."
"So, we think correlations are going to go down between stocks, volatility is going to go up, and that is going to make it easier for long/short equity managers to generate returns," he concluded.
Image Credit: By Gage Skidmore from Peoria, AZ, United States of America - Donald Trump, CC BY-SA 2.0, via Wikimedia Commons
View Comments and Join the Discussion!
Posted-In: Long Ideas Short Ideas Hedge Funds Politics Top Stories Trading Ideas Interview General Best of Benzinga