Marijuana-Related Stock Makes It To The NYSE, While Dispensaries Prepare For The Thanksgiving Spike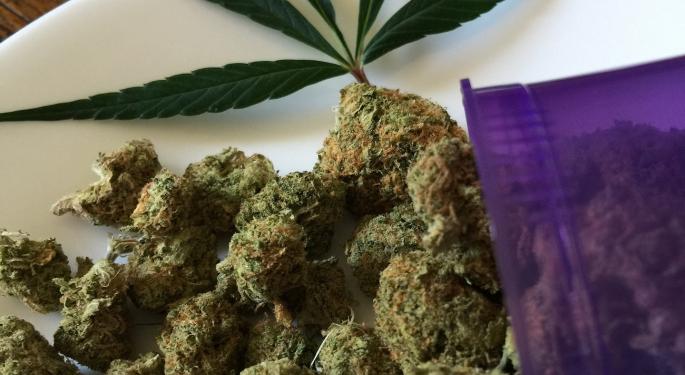 Alaska, California, Colorado, Main, Massachusetts, Nevada, Oregon, Washington (D.C. and state) currently have recreational marijuana laws, tapping into a market estimated to be worth almost $20 billion. And, as an increasing number of U.S. states legalize cannabis in one form or another, new opportunities continue to arise.
The Thanksgiving Spike
It seems like Americans are progressively linking Thanksgiving not only to turkey and family but also to pot. A study of Washington dispensary sales data revealed that, last year, on the day after Thanksgiving — appropriately dubbed "Green Friday" to distinguish it from Black Friday, the sales event on the same day — legal marijuana sales were 13 percent higher than on an average Friday.
"In states where adult use is fully legal, like Colorado and Oregon, cannabis promotions around Black Friday have been common, and we expect we'll see more of that happening as prohibition eases across the country," Adam Bierman, co-founder of MedMen, a cannabis management consulting firm, told Bloomberg.
However, the spike in demand is not limited to Friday, the Bloomberg article assured. The day before Thanksgiving saw a 27 percent bump in sales last year, leading marijuana analytics firm Headset to baptize it Weed Wednesday.
"It looks like people stock up before the holiday on products that are easy to share amongst friends and family," Headset Chief Technology Officer Scott Vickers explained, adding that the largest increase in sales came from edibles and beverages. "These products also allow inconspicuous consumption so could be used to relieve the monotony or tension of some family get-togethers where cannabis is frowned upon."
Major Capital Markets Welcome Mary Jane
As discussed in previous Benzinga articles, the legalization of marijuana has been seen by many investors as a real estate play. And it certainly has been.
Now many the top real estate names in the cannabis industry are racing to major stocks exchanges. Unfortunately for most, the marathon already has a winner. Last week, Innovative Industrial Properties became the first medical marijuana properties-focused REIT to be accepted in the New York Stock Exchange, surprising many analysts who believed the REIT wouldn't be accepted due to its non-compliance to federal laws.
As per a Forbes article, the company's approval might have had a lot to do with its executive chairman Alan Gold, who co-founded Biomed Realty Trust Inc (NYSE: BMR), now owned by an affiliate of The Blackstone Group, and Alexandria Real Estate Equities Inc (NYSE: ARE), an $8.9 billion market cap REIT still traded in the NYSE.
Other marijuana-related stocks traded in major stock exchanges include GW Pharmaceuticals PLC- ADR (NASDAQ: GWPH) and Insys Therapeutics Inc (NASDAQ: INSY). Additional non-cannabis-focused REITs poised to benefit from a marijuana-industry-driven explosion in real estate include Kalyx Development and First Industrial Realty Trust, Inc. (NYSE: FR).
View Comments and Join the Discussion!
Posted-In: Cannabis Long Ideas News REIT Politics Topics Legal IPOs Best of Benzinga