How Far Along Is Ford's Autonomous Driving Plan Vs. Other Automakers?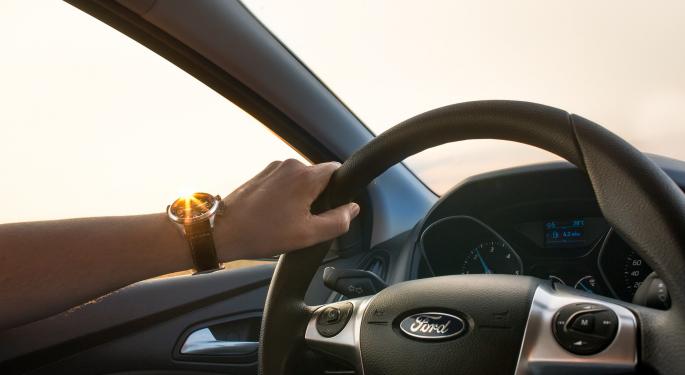 Ford Motor Company (NYSE: F) announced plans to have a fleet of fully autonomous vehicles on the streets by 2021. Ride-hailing and ride-sharing companies like Uber and Lyft will be among the first to gain access to these long-awaited tech wonders. Individual customers will have to wait at least until 2025 to get these driverless cars, the company stated.
Michelle Krebs, a senior analyst at AutoTrader, said the announcement came as "Ford has lagged the industry."
"A number of companies have announced they will have autonomous vehicles in that timeframe," Krebs told Benzinga. "General Motors will have an autonomous Chevrolet Bolt EV in Lyft fleets by then. Delphi announced on Aug. 1 autonomous vehicles for a specific area in Singapore with US locations to be announced later. We know Google and Apple have autonomous vehicles in the works."
CB Insights identified at least 33 companies are working on autonomous vehicles and related technologies.
"Ford has said it will have a fully-automated vehicle – that's a Level 4, not a Level 5," Krebs said. "That means no driver is necessary in special applications like specific lanes, closed communities for this kind of thing, etc."
"It appears Ford is adopting a model similar to GM's, in that these autonomous vehicles will be limited to ride/car sharing fleets in specific areas," Krebs concluded.
Related Link: Ford Plans To Release Fully Autonomous Vehicles For Ride Sharing In 5 Years
Why are automakers limiting autonomous cars to controlled fleets?\
"Much needs to be learned about these systems and the interface between the vehicles and the people using them," Krebs continued. "Major automakers like Ford and General Motors cannot afford to get this wrong. Autonomous cars will remain a niche for some time. Ford and GM are high-volume vehicle producers whose mainstay will remain for some time non-autonomous vehicles for everyday drivers. Autonomous technologies need a lot more developing and testing.
"Tesla remains a niche player, and it already has experienced serious problems with its improperly named Autopilot feature," she pointed out.
How Ford Compares To The Competition
Ford is making big investments in autonomous driving, more than doubling its Silicon Valley lab staff, expanding its staff and research facilities in Palo Alto, taking a stake in Velodyne Lidar, purchasing SAIPS and putting money down in Civil Maps.
Earlier this year, General Motors Company (NYSE: GM) spent $500 million to acquire a 9 percent stake in Lyft and more than $1 billion to purchase self-driving software startup Cruise Automation.
Apple Inc. (NASDAQ: AAPL) invested $1 billion China's ride-hailing firm Didi Chuxing, while Volkswagen AG (ADR) (OTC: VLKAY) poured $300 million into taxi-service company Gett, acquiring a controlling stake.
Sources have also said Toyota Motor Corp (ADR) (NYSE: TM) also invested $1 billion into a research institute focused on using artificial intelligence to make cars safer, and an extra a $22 million in a University of Michigan artificial intelligence, robotics and autonomous driving research facility.
Earlier this year, Jaguar Land Rover contributed about $14 million to a couple of projects aimed at advancing connected and autonomous vehicle technologies.
Last year, IHS Automotive estimated that Alphabet Inc (NASDAQ: GOOGL) (NASDAQ: GOOG) had spent roughly $60 million in autonomous vehicle R&D.
Even the U.S. government seems to be chipping in, as it recently promised to invest $4 billion in autonomous driving technologies over the next 10 years.
Posted-In: Autonomus Driving AutoTrader Didi ChuxingNews Travel Events Tech General Best of Benzinga
View Comments and Join the Discussion!