How 3D Printing Lost Its Momentum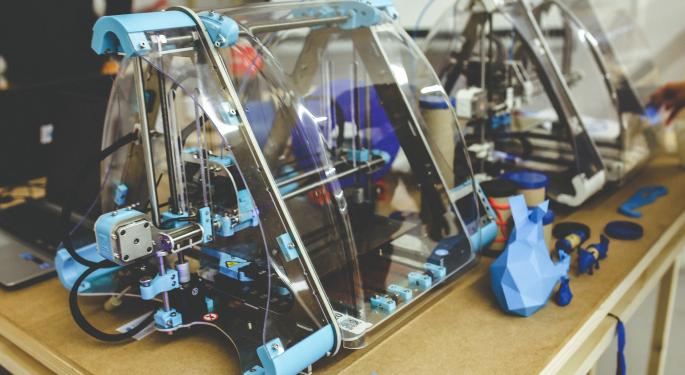 3D printing and companies used to be all the hype.
3D Systems Corporation (NYSE: DDD) saw its stock flirt with the $100 per share mark in late 2013 and early 2014 to now trade at a single digit price. Stratasys, Ltd. (NASDAQ: SSYS) saw it stock trade above $100 per share from late 2013 to late 2014 and is now trading near $20 per share.
What happened? Inc.com might hold the answer.
Inc's John Brandon recalled when he was able to print a Darth Vader figurine using Stratasys' MarkeBot printer. It was certainly cool, but when he needed the 3D printer to actually design something he needed, the device was unable to do so.
This was back in December of last year. The industry was supposed to have evolved over the years and offered consumer a meaningful and useful product by 2016.
Too Complex Even For 3D Designers
Brandon asked a well-known Thingiverse designer for help in printing a cupholder for his car. Unfortunately, the designer responded that doing so represents something that is too complex and even a "hassle."
Brandon decided to use the opportunity to explore the uses and limitations of what a 3D printer can really offer.
Water bottle cage for a bike? For $65 one can be printed, or a similar item can be bought online for around $4.
"One of the main reason 3D printing was mostly about the hype was due to the fact that many of the people writing about the field had never actually printed anything," he wrote. "Ironically, it's because it's so complex. I'll admit that it took me a few days to print out my first Darth Vader toy, especially since there's some trickery with how you connect your laptop over Wi-Fi to even make your first Yoda head."
Bottom line, Brandon suggested anyone who actually paid attention to the 3D printing market in 2014 would know all the chatter was "always speculative."
View Comments and Join the Discussion!
Posted-In: 3D printers 3D Printing Inc Inc.com John BrandonLong Ideas Tech Trading Ideas Best of Benzinga