Is Apple Headed To Your Value ETF?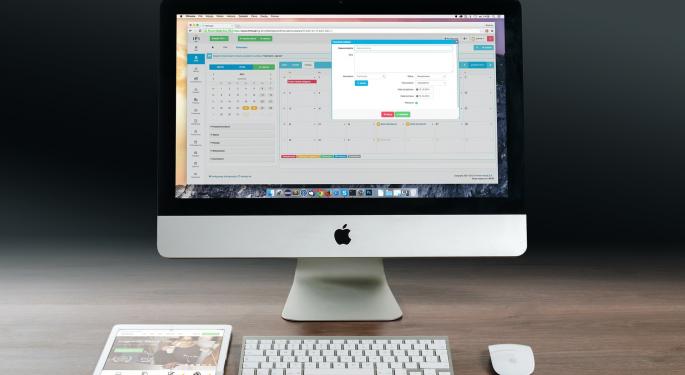 Monday's news that Warren Buffett's Berkshire Hathaway Inc. (NYSE: BRK-A) (NYSE: BRK-B) is now a shareholder of Apple Inc. (NASDAQ: AAPL) is stoking chatter that the iPad maker is now a legitimate value. After all, Buffett is widely regarded as the greatest value investor of all time.
Apple, A Value Stock?
However, being tagged with the value label is often seen as a scarlet letter for technology companies. While Apple will not be confused with Hester Prynne, avoidance of the value label explains why for so long so many tech companies refused to pay dividends. Of course, that has changed and Apple is a big reason why.
Related Link: Apple Suppliers Reportedly Ramp Up Hiring For iPhone 7
Investors anxious to dub Apple as a value stock might also be wondering if the iPhone maker will soon be appearing in exchange-traded funds dedicated to the value factor. Approximately 100 ETFs currently feature some exposure to Apple, but many of those are far from dedicated value funds. S&P Dow Jones Indices, the largest provider of indices for use by ETF providers, classifies Apple as a growth stock.
The index provider reviews stocks labeled as growth and value in December, so even if Apple is going to be appearing in some ETFs in which it currently does not reside, it will be a while before that happens.
Growth Vs. Value
"The stocks in the S&P 500 are ranked by the ratio of their growth score to their value score. The first third of the rankings — highest ratio of growth to value — are growth stocks, the last third — lowest ratio of growth to value — are value stocks and the middle third are apportioned between growth and value based on their scores," S&P Dow Jones Indices Index Committee Chairman David Blitzer in a note out Tuesday.
So Apple currently is not a member of the iShares S&P 500 Value Index (ETF) (NYSE: IVE), which as its name implies, follows an S&P index. Other index providers apparently view Apple as a growth stock, too.
For example, the iShares Russell 1000 Value Index (ETF) (NYSE: IWD), which tracks the Russell 1000 Value Index, does not hold Apple. The Vanguard Value ETF (NYSE: VTV), which follows the CRSP US Large Cap Value Index, does not own Apple, either. The Vanguard Growth ETF (NYSE: VUG) features Apple as its largest holding.
What stands to confound investors about Apple's growth or value status are inconsistencies among index providers and their own respective views of value. For example, the SPDR S&P 1500 Value Tilt ETF (SPDR Series Trust (NYSE: VLU)) owns shares of Apple, but the aforementioned IVE, following an index from the same provider, does not.
Investors also should not assume that quality and low volatility imply value because some ETFs following the quality and low volatility factors feature Apple, while value ETFs from the same provider do not.
Posted-In: David Blitzer iPadLong Ideas Broad U.S. Equity ETFs Top Stories Tech Trading Ideas ETFs Best of Benzinga
View Comments and Join the Discussion!