Shake Shack: Time To Put On The Watch List?
Shake Shack Inc (NYSE: SHAK) is an interesting stock to follow because it acts perplexing to the casual follower. Some investors believe that stocks only tend to go down if their earnings disappoint.
For example, the theory would say if a stock like Chipotle would beat its earnings estimates, it would still go up over time even though it was expensive. This theory would be flummoxed by Shake Shack because the company had a great 2015, yet the stock underperformed after reached bubble heights and then plummeted to the ground.
The stock went through the hype cycle as it was able to capitalize off its IPO like few companies have ever done.
A very high percentage of its stores were located in NYC where the IPO was, so this self-fulfilling cycle of investors on Wall Street seeing the long lines with their own eyes and pushing the stock up led it to be one of the most expensive stocks in the market in the spring.
The stock has cooled off because of valuation and because the firm now has to lap its amazing 2015. Management tried to quell expectations for 2016 by putting forth guidance of 2.5% to 3% comp store growth. Same store sales increased 13.3% in 2015.
This is a sign of extreme hype. Analysts on the last call kept asking about why the guidance was so low, but the true answer is management is aware the hype has to die down at some point. Most investors don't anticipate a reversal in the company's fortunes. Customers currently visiting a Shake Shack in NYC, may have waited on 2-hour lines. That can't last.
As seen in the 2016 estimates on the Scout Finance Mobile App, revenue, gross profit, and EPS are all supposed to grow quickly. If Shake Shack is able to grow revenues at 20%+ this would be an excellent performance given the tough 2015 comparisons it is facing.
This makes for enticing situation to invest in which is why astute investors should put it on their watch list and hope to get the chance to buy it at a more reasonable valuation.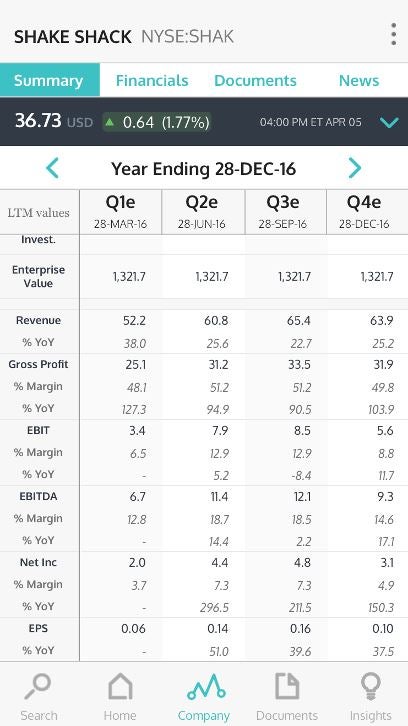 At $36.85, which was the month's closing price, the stock trades at a 1 year forward PE of 73.7 (2017 estimates). Potential investors may hope for some disappointing sales results in 2016 as the hype wanes that way the stock becomes more reasonably priced. This is a natural deflation, which needs to occur before the firm can grow into its valuation.
The stock has already come down from about $90, which was absurd as seen in the chart from Scout.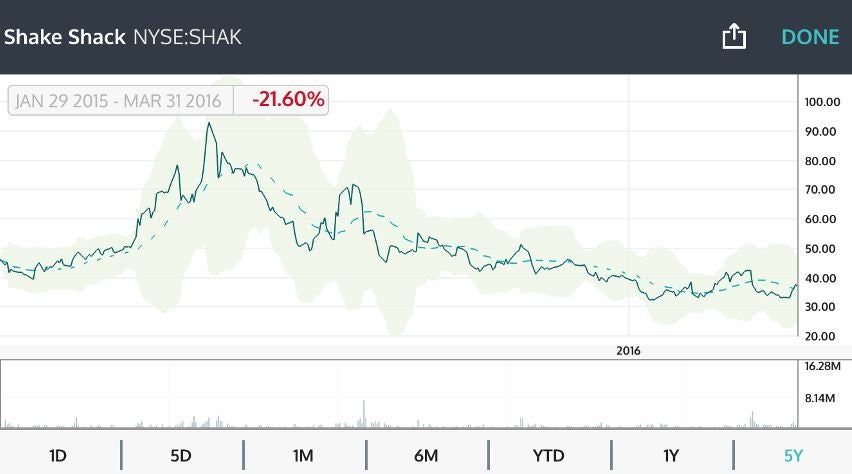 The firm can grow into its valuation, but investors should avoid the stock if the recent $32 price is the bottom. There is no reason to chase a stock with over a 70 PE, which has tough comparisons. If a recession is imminent, high beta consumer discretionary stocks are to be avoided.
When the recession is at its deepest, Shake Shack will be a great stock to buy as it has much room to grow by increasing its store count from the 84 it has today.
Posted-In: Long Ideas Trading Ideas
View Comments and Join the Discussion!