U.S. Companies Race To Set Up Shop In Cuba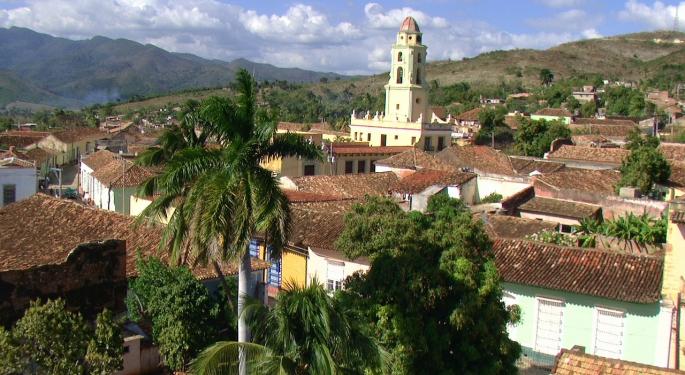 Last year, the U.S. embassy in Cuba reopened after more than 50 years. This week, President Barack Obama became the first U.S. head of state to visit the Caribbean country since the 1959 revolution.
Executives from major U.S. companies joined the leader, looking to create new business opportunities. Among the firms joining Obama were Google's parent Alphabet Inc (NASDAQ: GOOGL) (NASDAQ: GOOG), Airbnb, Paypal Holdings Inc (NASDAQ: PYPL), Priceline Group Inc (NASDAQ: PCLN), Xerox Corp (NYSE: XRX) and Stripe.
Two of the main areas of focus, sources have said, are Internet access and money transfers. Travel-related companies will also have a lot to do in the Central American country.
Related Link: Cuba Fund Pops And Drops During Obama's Visit, Castro Q&A
Travel
Commercial flights connecting the U.S. and Cuba will resume this fall. Companies flying to Cuba include American Airlines Group Inc (NASDAQ: AAL), Delta Air Lines, Inc. (NYSE: DAL) and JetBlue Airways Corporation (NASDAQ: JBLU), among others.
With the imminent increase of American tourism in the island, hotels are also getting ready. Starwood Hotels & Resorts Worldwide Inc (NYSE: HOT) signed a deal to refurbish three hotels there, becoming the first American hospitality company to return to Cuba after 50 years of embargo.
Booking.com, owned by Priceline, will also start operating with Cuba. In the next few weeks, Americans will be able to book hotels via Booking.com, thanks to a deal the company stroke with the island's government.
Finally, there's Airbnb, which has been offering Americans to book non-hotel accommodation in Cuba for about a year now. As of this April, the site will offer people from other countries to book houses, apartments and rooms.
Money Transfers
According to the U.S. State Department, Americans send roughly $2 billion to Cubans each year. This figure represents approximately 3 percent of the country's gross domestic product.
Executives at PayPal assured the company would start offering payments services in Cuba, via Xoom, this year. But PayPal will not be the only company in the segment. The Western Union Company (NYSE: WU) on Monday said it expects to begin offering its services in the island by the end of the second quarter.
Finally, San Francisco payments startup Stripe said it was offering its new Atlas service to entrepreneurs in Cuba, helping them set up their businesses.
Internet
Internet access in Cuba is quite limited, however, that might change soon. During his trip, Obama revealed that Google had inked a deal to set up more wi-fi and broadband access in the island. The company noted that the talks are only in "early stages."
Posted-In: Airbnb Booking.com CubaEmerging Markets Politics Markets Tech General Best of Benzinga
View Comments and Join the Discussion!