Why Marriott Will Likely Make A New Offer For Starwood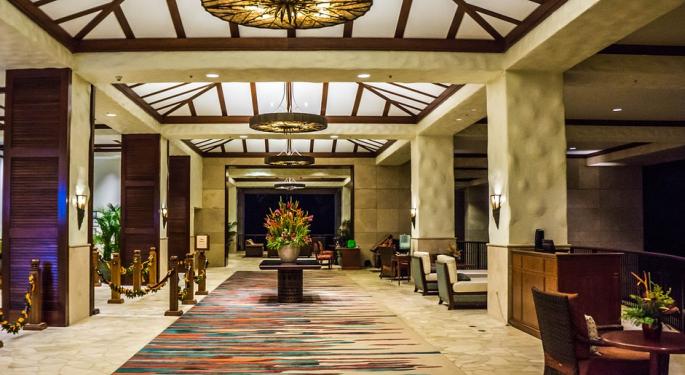 Starwood Hotels & Resorts Worldwide Inc (NYSE: HOT) appears to be quite the hot (pun fully intended) hotel commodity.
Year to date, the stock is up roughly 16 percent and roughly 14 percent over the last five trading days. The most recent surge has been attributed to ongoing M&A talks.
While Starwood has been engages in months of takeover talks with Marriott International Inc (NASDAQ: MAR), the companies confirmed earlier this week that a Chinese consortium, Anbang Insurance Group, made an unsolicited bid for Starwood.
On Friday, the situation became all the more convoluted, on the back of analysts reports that the China bid trumps Marriott's bid by 15 percent, and while Starwood has informed Marriott of its intent to terminate based on the superior bid, the Starwood board still recommends Marriott.
Related Link: R.F. Lafferty Says China Consortium Bid For Starwood Trumps Marriott Offer By 15%
The Initial Marriott Offer And Merger Agreement
Marriott agreed to purchase Starwood in late 2016 for the price of $12.2 billion. The deal included 0.92 Marriott shares per each Starwood share at $70.08 per share, $7.80 per share equivalent value for a Vistana spinoff and $2 cash per Starwood share.
According to the terms of the agreement, if the merger agreement were to be terminated, Starwood would owe Marriott a $400 million termination fee.
The China Offer
Anbang's initial offer came in at $76 per Starwood share with the value of the offer around $13.9 billion at that time.
The R.F. Lafferty note explained the appeal of Anbang's offer, "Even after taking into account the penalty ($400 million termination fee if Starwood accepts Anbang's offer), I calculate that the net offer of $79.15 ($81.50 - $2.35) is still ~12 percent above the current MAR offer."
Initial Reactions
Following the news of the unsolicited offer earlier in the week, Marriott issued a press release confirming its determination to remain committed to the Starwood deal. "The combined company will offer stockholders significant equity upside and greater long term value driven by a larger global footprint, wider choice of brands for customers, improved economics to owners and franchisees leading to accelerated global growth and continued strong returns," Marriott's Monday press release read.
According to sources, at that time early in the week, Starwood was cited as still favoring Marriott's deal.
Starwood's Friday Response
However, in a Friday press release from Starwood, the company publicized that it has received a revised bid from Anbang, sweetening the deal by $2.00 per share.
"Starwood Hotels & Resorts Worldwide, Inc. ('Starwood') today announced that it has received a revised binding and fully financed proposal from a consortium consisting of Anbang Insurance Group," according to the press release. "Under the terms of the Consortium's proposal, which contains definitive documentation, the Consortium would acquire all of the outstanding shares of common stock of Starwood for $78.00 per share in cash, an increase from the $76.00 per share proposal made by the Consortium on March 10."
The press release then outlined that Starwood had contacted Marriott "that Starwood had received the binding proposal from the Consortium that Starwood's Board has determined that the Consortium's proposal constitutes a 'Superior Proposal' and that Starwood's Board intends to terminate the Marriott merger agreement and enter into a definitive agreement with the Consortium."
Starwood then mentioned Marriott's right to negotiate revisions, which Starwood assured it would "negotiate in good faith."
Starwood's press release concluded, "In light of these developments and the resulting need for Starwood to be able to provide sufficient time […] Starwood is postponing its Special Meeting of Stockholders" until further notice."
At this point, the press release confirmed, "Starwood's Board has not changed its recommendation in support of Starwood's merger with Marriott."
Marriott's Friday Response
On Friday, Marriott issued another press report, stating, "Marriott International, Inc. has been informed by Starwood Hotels and Resorts Worldwide, and Starwood has announced publicly, that the Starwood Board of Directors has determined that it considers an Anbang consortium proposal to acquire Starwood to be a 'superior proposal' to Marriott's existing merger agreement with Starwood."
Furthermore, the press release confirmed that Marriott had been informed by Starwood that the latter intended to terminate the current agreement contingent upon no further revisions; if Marriott were to propose a new deal that Starwood's directors "determines to be superior to the Anbang proposal," the Marriott-Starwood merger could potentially remain on track.
"Marriott continues to believe that a combination of Marriott and Starwood is the best course for both companies and offers the best value for Starwood shareholders," Marriott's press release said. "Marriott is in the process of reviewing the Anbang consortium's proposal and is carefully considering its alternatives."
"The company is considering postponing its Special Meeting of Stockholders which is currently scheduled for March 28."
What's In A Name? It's All In The Rhetoric
Therefore, based upon evidence from analysts and confirmation from Starwood itself, the prevailing opinion is that as it currently stands, the revised Anbang offer is superior to the Marriott offer.
However, despite the notice of intent to terminate Starwood sent Marriott, Marriott is likely to counter-bid, supported by Starwood's claim in its press release that the board maintains its recommendation, still favoring Marriott over Anbang.
Furthermore, the rhetoric of Marriott's press release asserts the sentiment that the company is seriously considering offering a counter-bid, as it reaffirmed, "Marriott is in the process of reviewing […] and carefully considering its alternatives."
Posted-In: Long Ideas M&A News Rumors Travel Markets Movers Trading Ideas Best of Benzinga
View Comments and Join the Discussion!